1/5
Installation view of Royal Academy Summer Exhibition 2014 © Benedict Johnson
2/5
Installation view of Royal Academy Summer Exhibition 2014 © Benedict Johnson
3/5
Installation view of Royal Academy Summer Exhibition 2014 © Benedict Johnson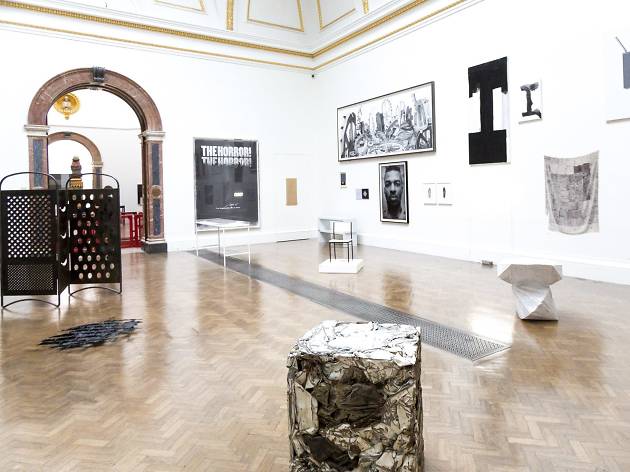 4/5
Installation view of Royal Academy Summer Exhibition 2014 © Benedict Johnson
5/5
Installation view of Royal Academy Summer Exhibition 2014 © Benedict Johnson
This year's Royal Academy Summer Exhibition feels more than ever like a series of shows within a show. This is a good thing. Just as your appetite, say, for the hot-hued and textured (as in the Hughie O'Donoghue-curated Gallery IV of paintings and sculptures by the likes of Frank Bowling and Phyllida Barlow) starts to wane, you can wander off to the cooler climes of Cornelia Parker's black-and-white themed gallery, given over to the likes of David Shrigley, Martin Creed, Mona Hatoum and Gillian Wearing in monochrome (though not polite, thankfully) mode. When poring over architectural models – including Thomas Heatherwick's 'Garden Bridge' for the Thames – gives you back and eye strain, you can take in the epic sweep of an Anselm Kiefer, Sean Scully or Christopher LeBrun canvas over in Gallery III. And when looking at numbered artworks and finding the corresponding names in the little book takes its toll there's always James Turrell's 'Sensing Thought' light installation to soothe your frazzled mind. Turrell likes to think of it as a work that lets you 'see yourself see', but here it works more as a kind of visual sorbet.
Pushed to the fore this year is work by recently elected Academicians – including sculptor Conrad Shawcross and painters Chantal Joffe and Marlene Dumas. Only Wolfgang Tillmans seems to have supplied a major work, a vast red abstract which, for added impact, is visible through the doorway to Parker's monochrome gallery.
The exhibition feels stripped back. Even so, there are still more than 1,200 works to take in. We've selected our favourites (see our Top 10 list here), including Cathie Pilkington's unnerving mannequins and Creed's potty-mouthed neon. Those that stick in the mind really earn their place there. But, then, each circuit of the galleries is likely to throw up new favourites – and, reassuringly, a few guilty pleasures.
Martin Coomer
Rating Breakdown
5 star:

0

4 star:

1

3 star:

1

2 star:

1

1 star:

0
This is my first time at RA's Summer Exhibition and really had no idea what to expect.
It starts off as you would expect of an exhibition, the first room is rather inviting. Each room generally sticks to a certain format, i.e. Prints are in one room vs. originals in another, etc. As much as some of the prints were beautiful/interesting/artistic, they were really expensive when really they are just copies of the original... I don't get it...
Some original works were amazing... but the price tags were out of this world.
Surprisingly, it was quite easy to take a liking to a piece of art which is made by an artist of the RA (without knowing at first that it was).
To sum up - don't expect to be able to afford anything, but it's a good exhibition to test whether you can identify a masterpiece before checking the booklet the maker.
Spoiler alert: if you enjoy the annual ritual of looking through the list of works to find the highest price tag for a single artwork, avoid the last paragraph of this review.
There's something about the summer exhibition that's both exhilarating and infuriating at the same time. The gallery walls groan with crowds of artworks (a whopping 1,262 this year) and the gallery floors groan with crowds of people. Yet in its 246th year, this show is an enduring fixture on the London calendar.
It feels as if it's the art that's likely to hold its value that gets sold, regardless of what it actually looks like. This year's predictable welter of red dots on prints by Tracey Emin is a case in point. There's also a striking lack of originality from a number of the academicians on display. For example, it would be nice if Joe Tilson came up with some new ideas other than his ubiquitous postcards from Venice (there are at least four in this exhibition, and he's been doing them for years). And the 'salon style' of two of the rooms, with barely a square centimetre of wall space uncovered, just makes it difficult to focus.
But if you can avoid being overwhelmed, there should be something to take your fancy. From a model of the proposed garden bridge over the Thames by Thomas Heatherwick, to a range of beautiful canvases by Frank Bowling, to the 'Two Nuns Bike' by Ron Arad, there's some impressive art on display here.
And this year's highest (displayed) price tag? It's a cool £600,000 for a slightly bonkers piece by Ron Arad, one of the first artworks you'll see after you've walked into the exhibition. Like the painting of a jar of Marmite being held down and attacked in the Small Weston Room, you'll either love it or hate it.
For more art in plain English, check out http://curatedlondon.co.uk
Last years summer exhibition presented the visitor with the predictable vanilla selection of rather highbrow and cliche exhibits. touted as from established and unknown artists.
But it left me with the nagging doubt that it truly represented such artists surely it would reveal examples from more contemporary or alternative genres. But alias. I suspect, as this is an exhibition whose pieces are selected by people who i have inevitably been through the established artistic paths, including the Academy itself, such original pieces never get through the selection process.
I hope this years show might break the mould with the inclusion of something unexpected.
On the flip-side, it will surely be colourful and varied, with a crowded frenetic feel to the exhibition space.
So if you're a visitor interested in such things, go see it.
However, if you're an artist who creates alternative or unorthodox art, be cautious of forking out the money and hope before submitting, as some things in the established artistic community may not have changed.