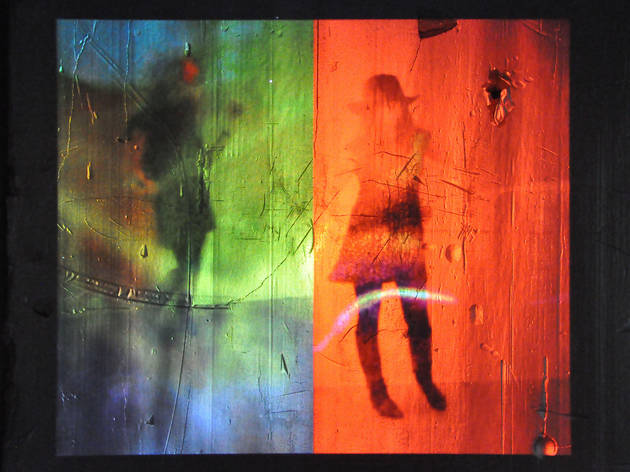 Bopping around on one's own to a favourite song, lost in music, is a joyous experience. It is also the inspiration for this trippy installation, 'Danse-moi vers la fin de l'amour', by collaborative artists Samuel Levack and Jennifer Lewandowski. Taking place in the duo's own artist-run gallery space, 'French Riviera', slow-motion film footage of individual dancers is projected on to partitions of silver insulating board that, combined with deliberately random furnishing additions including an oriental rug and a red velvet curtain, give this small shop-turned-studio its own intimate sense of space.
The artists invited 14 friends and acquaintances, a couple of art critics and curators among them, to be filmed individually, each dancing to a song of their choice, shot through coloured gels. All the dancers unknowingly move to a different beat: a French cover version of Leonard Cohen's 'Dance Me to the End of Love' (hence the exhibition's title), sung by Levack and Lewandowski in their other incarnation as the band 'Das Hund'.
More coloured gels applied to the gallery window accentuate the pleasingly retro ambience (especially if the sun is shining), as does the addition of stills from the films, screenprinted onto the tinted glass tops of old coffee tables. It's a strangely uplifting if superficial experience – perhaps more art as party than as participation – but at least capturing something of the hedonistic liberation of dancing and referencing the dreamy aesthetics of '60s psychedelia.
Rating Breakdown
5 star:

1

4 star:

0

3 star:

0

2 star:

0

1 star:

0