Heads up! We're working hard to be accurate – but these are unusual times, so please always check before heading out.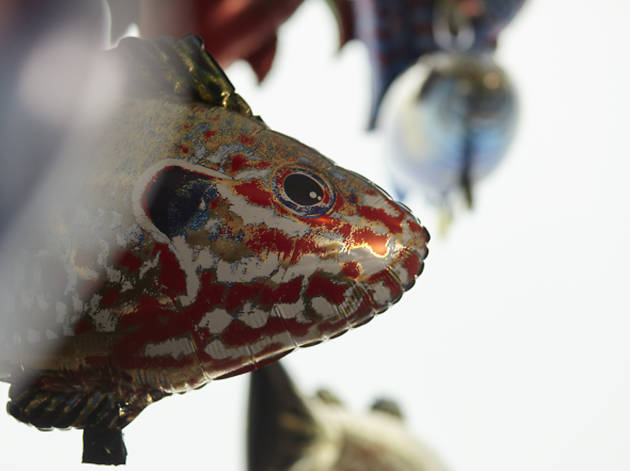 Seven things we sort of know about Philippe Parreno's Turbine Hall commission
French artist Philippe Parreno has turned the Turbine Hall into a giant ballet of lights, objects and sound. It's amazing but insanely complicated, so here's what we know so far
1. It's constantly changing
The Turbine Hall has been filled with lights, screens, speakers and inflatable fish by the brilliant French artist Philippe Parreno. He sees his installation as a giant object made of many parts, all of which move and interact. But even though it's all choreographed like a whacked-out art ballet, it's designed to constantly realign in new ways. You'll never see it the same way twice.
2. It's controlled by bacteria
You'll notice a 'bio-reactor' in the Tate. It's basically a high-tech petri dish filled with micro-organisms, and the whole thing is connected to an antenna on the roof which monitors the weather. As the weather changes, the bio-reactor alters the patterns of the lights and sounds in the Turbine Hall. So everything in the show is controlled by the weather, via some bacteria. Yeah… we don't know either.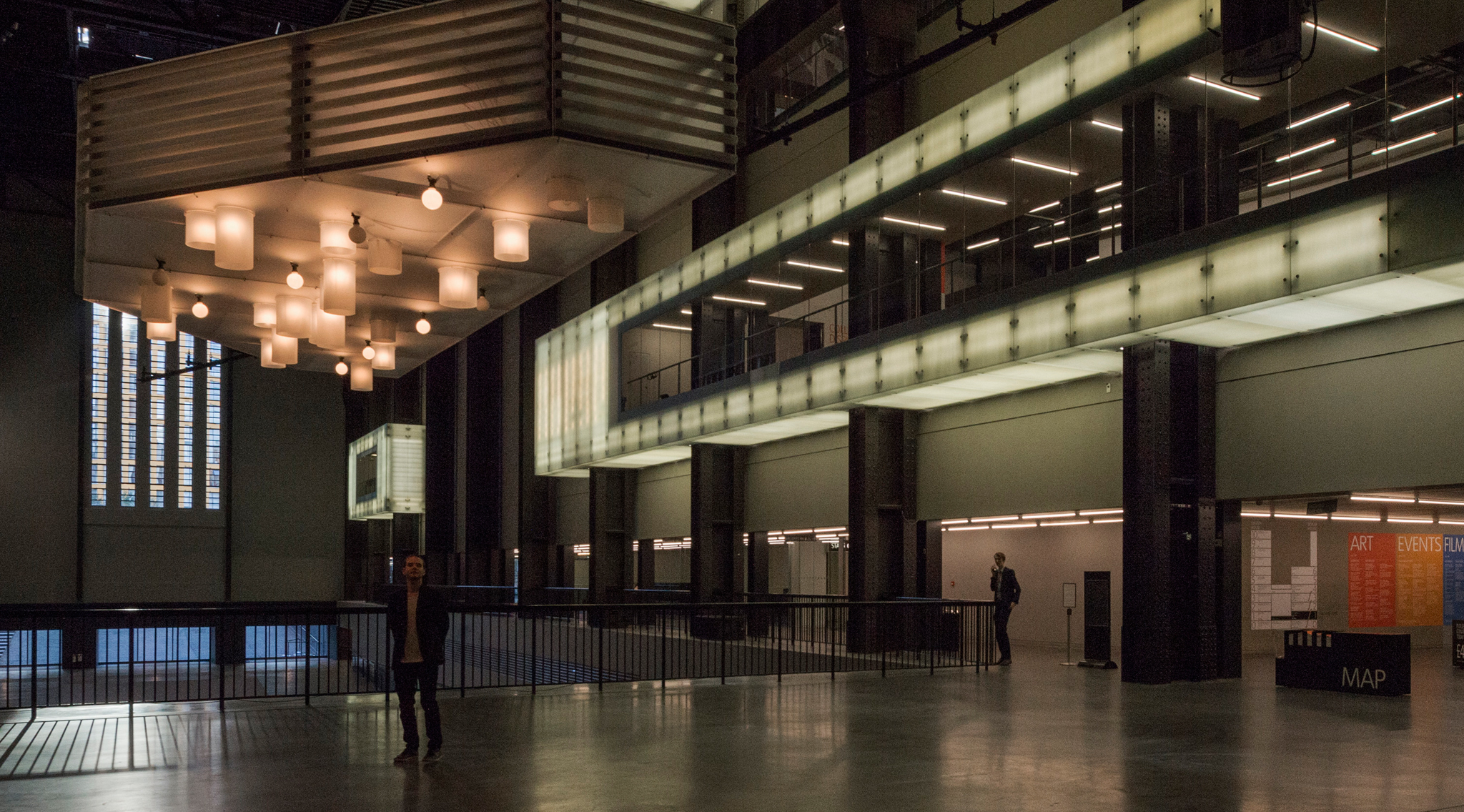 © Tate Photography
3. It's bright
But also sometimes very dark. Either way, the first thing you'll notice is the lights. The balconies peering into the Turbine Hall have been turned into big light boxes that flicker and dim in response to sound from within the hall. Then there's a big canopy of lights hanging over the bridge, like a sort of massive modernist chandelier. You'll be plunged into darkness, dunked into light and then surrounded by shadows. And it's all controlled by the bacteria.
4. It's noisy
One wall is covered with hundreds of loudspeakers, which move up and down on ropes. You'll hear sounds piped in directly from outside the building – buskers and tourists milling about by the river – and recordings of a kids' football match alongside the roar of airplaines taking off and a proper immersive soundtrack. Yes, all controlled by the bacteria. Look, we're just as confused as you, really.
5. There's a cinema. And a ventriloquist
So… there's a cinema, right, and it sort of moves up and down from the ceiling to ground level where you'll be able to get in and watch a movie featuring actor/comedian/ventriloquist Nina Conti, or a film Parreno made about cuttlefish. He likes cuttlefish. He keeps one as a pet in a big aquarium in his Paris studio. So… yep.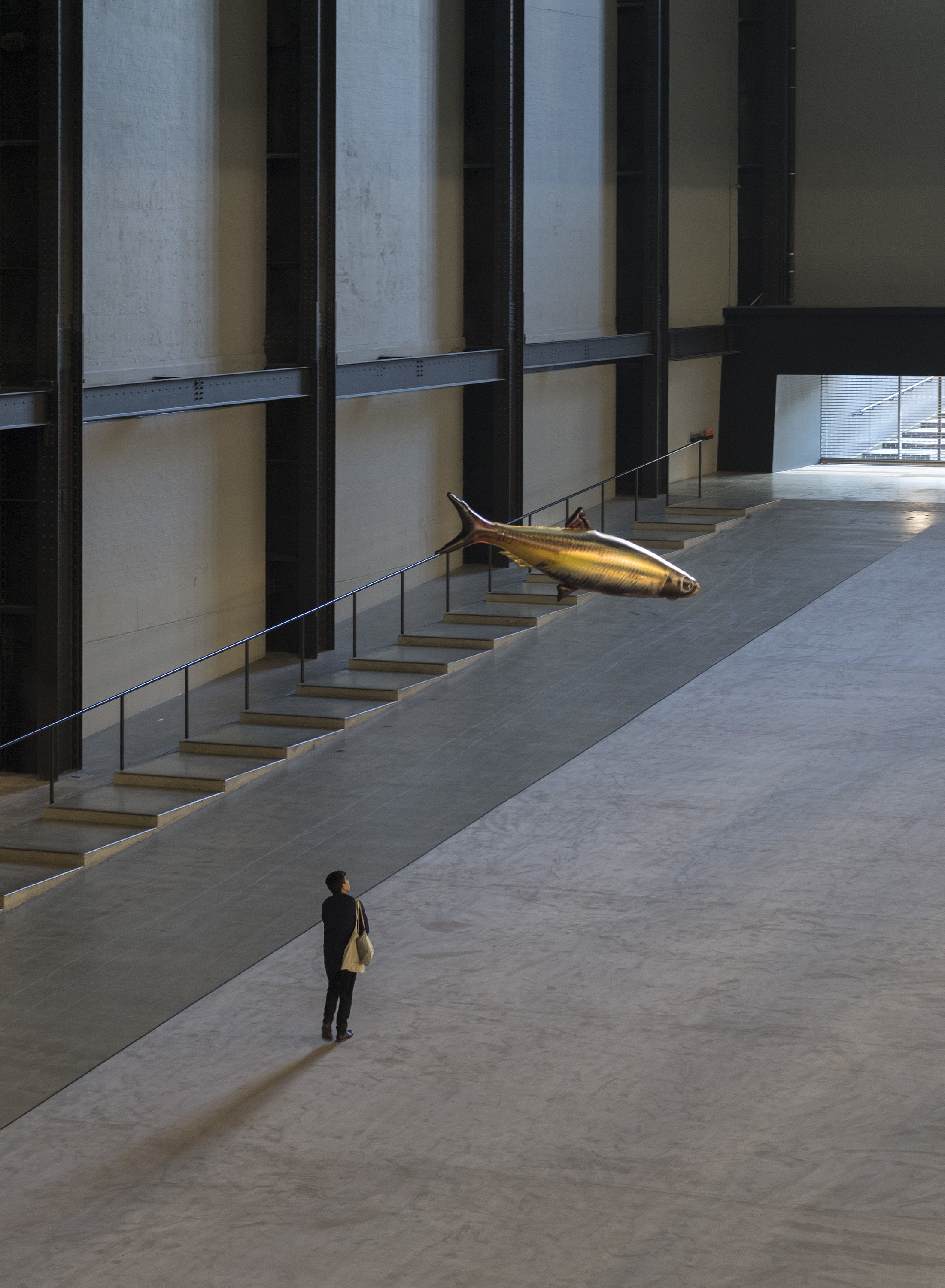 © Tate Photography
6. There are some other fish too
Okay, listen, there's a bunch of fish balloons, based on species which used to be native to the Thames but have now been wiped out. They're filled with helium and they just sort of bob about in the space. Honestly, at this point we have no idea what the hell is happening.
7. It's seriously collaborative
Parreno hasn't done all this alone – obviously, there are about 10,000 things going on, he'd be knackered. Alongside Conti, he's collaborated on it with artists Liam Gillick, Tino Sehgal and Isabel Lewis, Hollywood sound designer Nicolas Becker and scientists Jean-Baptiste Boulé and Nicolas Desprat. All of them worked on different bits of the lighting, sound design and 'dramaturgy'. It all sounds very fishy to us.
The Hyundai Commission is at Tate Modern from Tuesday October 4 until April 2 2017.
Read our full guide to the Turbine Hall
This year, the annual Hyundai Commission for Tate Modern's vast Turbine Hall has fallen into the hands of Philippe Parreno. As expected, the French artist has gone big, gone grand, and gone and filled the space with bio-reactors, helium canisters and loads of fish. Parreno's epic installation will be on display from Tuesday October 4 2016 until Sunday April 2 2017 so plan your perfect visit with our guide.