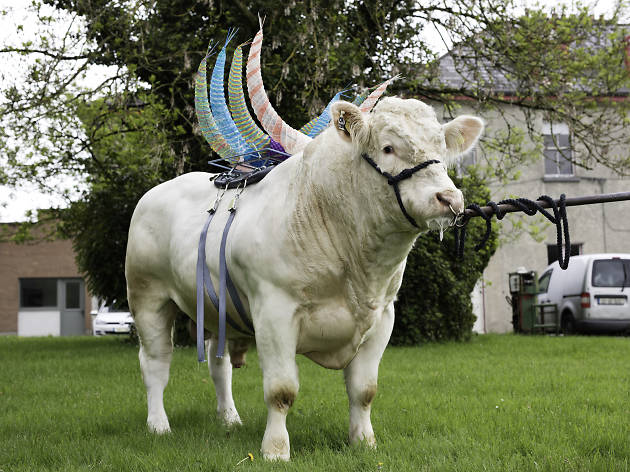 Semen straws are used to artificially inseminate cattle as part of a process to breed the best and beefiest bulls. But artist Maria McKinney has another use for them: building sculptures. The artist's photos of moody-looking bulls wearing these sculptures make up the first room of 'Somewhere in Between'.
McKinney's stud-farm snaps, titled 'Sire', are part of an exhibition that looks at the point where science and art meet – so far, so very Wellcome Collection. Each artist featured approaches the theme in totally different ways. Daria Martin's 'Sensorium Tests' and 'At the Threshold' are two short films about mirror-touch synesthesia, a fascinating and often debilitating condition where a person physically feels the things they see – like the pain of a knife slicing into a grapefruit.
Next is 'Alien Sex Club' by John Walter, a psychotropic-maze-meets-gay-sauna exploring a new era of life and sex with HIV now that medicine can control the condition. Neon cartoon viruses dance on the walls, a marrow wearing a woolly hat (a bit like those Innocent Smoothie ones) lies in a glass case and Caravaggio's 'Boy with a Basket of Fruit' has had his fruit replaced by giant condoms.
It's a hyperactive sensory assault and one that's followed by its natural opposite, three gloriously tranquil films by Martina Amati showing free diving. Of the four installations, it's Amati's that performs the science-art balancing act the best.
With the others, the scales always swing one way or the other: in Martin's films, the subject is the most interesting thing, and in 'Sire' the twisted, undulating plastic shapes are eye-catching before you know what they're made from.
Deep underneath the water, the divers look like submerged tightrope walkers as they slowly bob back towards the surface: something for everyone to appreciate there, artist or scientist.