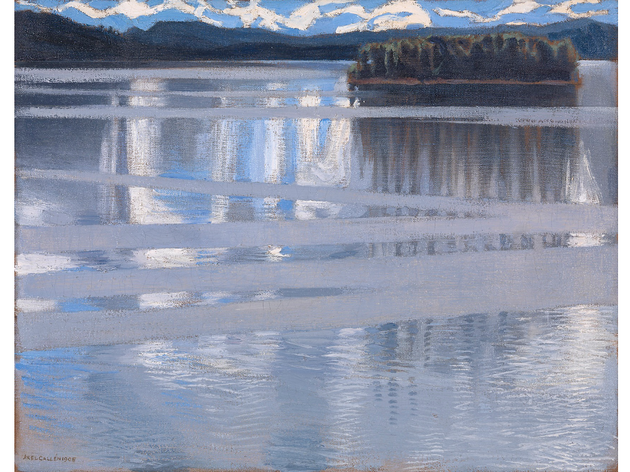 1/6
'Lake Keitele' (1905) by Akseli Gallen-Kallela, chosen by Chris Watson
2/6
Coastal Scene' (1892) by Théo van Rysselberghe, chosen by Jamie XX
3/6
'The Wilton Diptych' (1395-99), chosen by Nico Muhly
4/6
St Jerome' by Antonello da Messina (about 1475), chosen by Janet Cardiff and George Miller
5/6
'The Ambassadors' (1533) by Hans Holbein the Younger, chosen by Susan Philipsz
6/6
'Bathers (Les Grandes Baigneuses)' (c1894-1905) by Paul Cézanne, chosen by Gabriel Yared
Forget the art slides and flying machines at the Hayward. The most controversial show of the summer, the one that's sending some critics into a Victor Meldrew-ish tailspin of invective, involves six paintings and a few loudspeakers. You'd think, given the outcry, that someone had drilled holes in Holbein's 'The Ambassadors' and glued super woofers to the back, so that the dudes in fur coats might appear to rap. They haven't. In the basement spaces of the National Gallery – now a dark and rather mysterious labyrinth, thanks to all the soundproofing – half a dozen paintings are, for a couple of months, being spotlit in rooms to themselves while the thoughtful responses of sound artists and musicians are relayed through discreetly positioned speakers.
The real shock is not how distracting it all is but how much sound concentrates vision: there's a clarity here that's spine-tingling. Turner Prize-winner Susan Philipsz has gone for one of the collection's biggies in selecting 'The Ambassadors', Holbein's early Renaissance puzzle picture. This image is loaded with allusions to wealth, learning, the role of religion and (with its distorted skull) mortality. Philipsz runs with the idea of the lute that has a broken string as a symbol of discord to create a piece for violin that creeps round your own skull with an intensity that glues you to the spot. Jamie XX, meanwhile, translates the basic components of Théo van Rysselberghe's pointillist 'Coastal Scene' – dabs of colour – as burbling electronic beats, building an intricate, synergetic track that pushes and pulls you through the space. Nico Muhly accentuates the otherworldly beauty of 'The Wilton Diptych' – its azure blue and gold glowing in dramatic darkness – with a mysterious, processional piece for viola da gamba that circulates around it.
This show, by its own admission, is an experiment for the National. It feels brave (showing just six works rather than 106) and rather smart: it's not trying to tell you anything, just inviting you to experience a few of its works a bit differently, or for the first time. There are a couple of instances where the sound from one installation leaks into another, but when it works – Philipsz's achingly fragile violin piece for the Holbein alone is worth the admission price – it makes you wish the National would think about employing a composer-in-residence on a permanent basis. Kanye must have ideas about all those paintings of Jesus, surely?
Martin Coomer
READ OUR GUIDE TO 'SOUNDSCAPES' WITH EXCLUSIVE CLIPS AND INTERVIEWS HERE
Average User Rating
4.1 / 5
Rating Breakdown
5 star:

3

4 star:

3

3 star:

2

2 star:

0

1 star:

0
To be able to enjoy and analyse the paintings with this inspirational music was a great and relaxing experience. The paints are more alive than ever :) . I highly recommend it.
A really interesting and engaging exhibition. Unfortunately my enjoyment of the pieces was greatly hindered by what I can only describe as the rudeness of fellow viewers.
The quality of the sound and efforts made by the artists and National Gallery staff were repeatedly spoiled by other visitors whispering inanities to each other ('It's really good isn't it?' isn't a thought that requires urgent expression).
Maybe I'm being unnecessarily fussy, but a whispered comment in this scenario was as obtrusive and unappreciated as someone whipping out a smartphone for a chat in the middle of the cinema.

In the brief intervals between audience chitchat, the pieces themselves were greatly enhanced with the addition of the audio works and would recommend checking it out, especially if you can find a slot where no one else is there.
This is a brilliant and brave concept and hopefully we will see more of this style of art in the future. A lot of work has been put into combining sound with the art from specialists in their field who personally chose the art for the exhibition and created their own unique sounds/music for that piece. The sound systems they used at the exhibition were flawless but because of the varieties of sounds and art it doesn't mean it will appeal to every one. The sound may not be to someone's particular taste, not every piece of art will be to everyone's taste or people may just not agree with the particular sound combined with the piece. I think in future I would like to see perhaps one particular style of sound combined with a particular artist or genre of work and I really hope there is a future for this style of exhibition. Personal favourites were from Nico Muhly and Jamie xx
Great way to spend time with paintings, some lovely work done by composers. Very enjoyable and peaceful.

This is a brilliant way to look at pictures. The combination of the soundtrack and a separate, blacked-out space for each individual work, with just the paintings lit, adds up to an intense, almost meditative experience. It's definitely worth reading what the composers are aiming for in the exhibition guide before you enter each room and making time to watch the short documentary in which the composers are interviewed at the end.