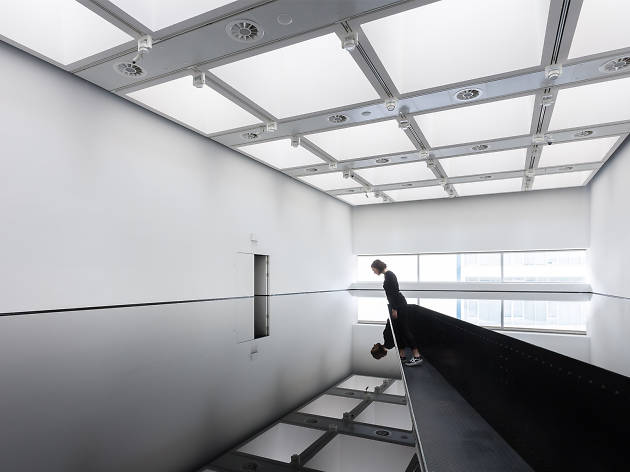 If I had a penny for every time I heard about the importance of light in art I'd have a shitload of pennies. From Caravaggio's dramatic chiaroscuro to Turner's swirling dusky seascapes and Monet's shimmering waterlilies, light has been a necessary obsession in art for centuries. But it wasn't until the 1960s and the birth of minimalism that artists really started using and messing with light, rather than just attempting to capture it.
This show of art that teases and toys with light and space is an eye-bending journey into the brightest recesses of minimalism. And you're a part of it. From the minute you walk in, you're reflected and doubled and twisted and turned.
Anish Kapoor's big silver phone box blobs and blabs your reflection like a funfair house of mirrors. Opposite it, Jeppe Hein's giant rotating mirrors constantly cut and re-cut the space; Alicja Kwade's mirror and rock installation makes you question what's solid and what's air. Just three works into the show, your mind is melty and your eyes are achey.
And you've still got Larry Bell's smoke and reflections corridor to come, then Fred Eversley's purple lozenge and a whole installation of Yayoi Kusama's little metal balls before you even get to the visceral ultra-sensory shock of Richard Wilson's famous room of crude oil.
What eventually hits you is that the works here don't just exist in space, they exist through it. They cut and reorganise rooms, they double the light or suck it away, expand the space or shrink it. Some make you reconsider your environment, some make you think about your own narcissism, but all of them show you the brain-tingling power of letting light be the star.
Sure, some of the works here look like really fancy hotel mirrors. And some – like the Leonor Antunes brass piece or Monika Sosnowska's twisting rail – barely seem to fit the brief. But when Richard Wilson's oil bifurcates the room and stings your nostrils, when Roni Horn's glass fruit pastille begs you to find out if it's liquid, you realise you don't always need paintings of Greek allegories or conceptual installations about post-Deleuzian approaches to entropy. Sometimes, you just need light.
@eddyfrankel
Venue name:
Hayward Gallery
Contact:
Address:
Southbank Centre
London
SE1 8XX

Opening hours:
Mon noon-6pm; Tue, Wed, Sat, Sun 11am-7pm; Thu, Fri 11am-8pm
Transport:
Tube: Waterloo