The ICA Off-Site's artists explain their London subcultures
For a mega new exhibition 60 creatives are filling cabinets with mementos of London's subcultures. We find out what they're bringing to the party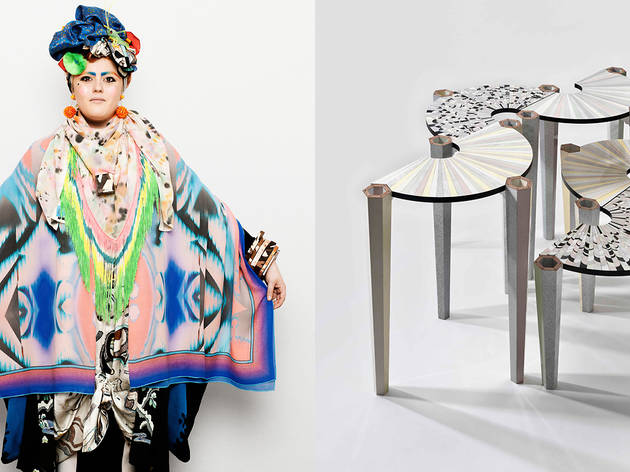 1/5
What have you chosen?
'Stuff! A mix of books and objects that remind me of moving to London in 2007 and the works I made in response to the city. The objects – including Super Super magazine, which featured my ill-advised outfits in its "get my look" section, along with colour tests for my "Playtime" tables and inspiration for work that I began at the Royal College of Art – represent the huge sense of belonging that I felt in finding a dress-up world to take part in.'

What era does it represent?
'2007 to now.'

What does it say about London creativity?
'That with a glue gun and glitter you can make anything, be anything.'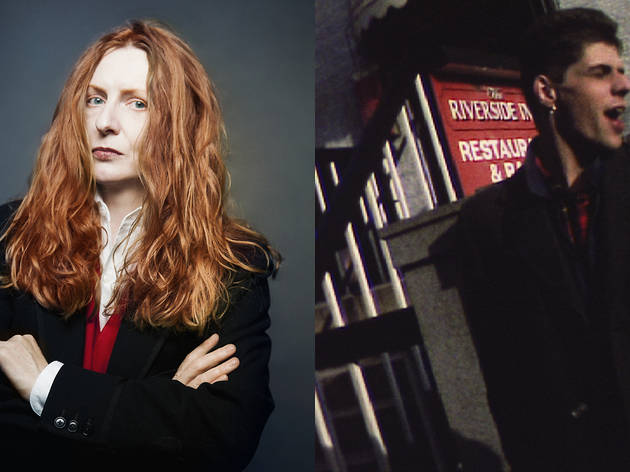 2/5
What have you chosen?
'I'm showing photos documenting two gigs by the cult drag act The Trindies, who emerged in 1982 from the post punk/New Romantic club scene. There's also a 30-minute super-8 film that I made in 1984, in collaboration with Bertie Marshall, called "Tissue", and some super-8 party footage from 1983, featuring Judy Blame and Dave Baby, among others.'

What era does it represent?
'The early 1980s. It was a euphoric time for my generation. We'd just caught Punk as teenagers in the '70s but it was over so quickly. The club and fashion scene that emerged subsequently was at full tilt by the time these photos were taken, and packed with new talent. Some of our peers, such as Boy George, were already on the road to superstardom. The Trindies both celebrated and parodied this new scene and its emerging celebrities, singing karaoke-style over hits of the day by artists like The Human League and Spandau Ballet, but with their own hilarious lyrics. They'd combine contemporary gear – like Body Map with Seditionaries T-shirts and vintage Dior – the clothes frequently becoming trashed in a chaotic show where poppers might be distributed to an audience that would often end up on stage too. At that time I was working occasionally as a freelance photographer for the music press, while experimenting with film and performance, after being thrown out of St Martin's School of Art (graphic design) for non attendance!'

What does it say about London creativity?
'That moment in 1982 was incandescently playful… nothing was sacred and just about anything could be mined for its creative potential. The decimating spectre of HIV/AIDS had not yet joined the party. By 1984, when I made 'Tissue', we were all in a different place – tougher, more ambitious, entrepreneurial – but my film was a meandering, solo, dreamy rejection of that. I returned to Central St Martin's School of Art to study painting in 1986 and moved to New York on graduating – just as the YBAs were about to put London on the Art World map.'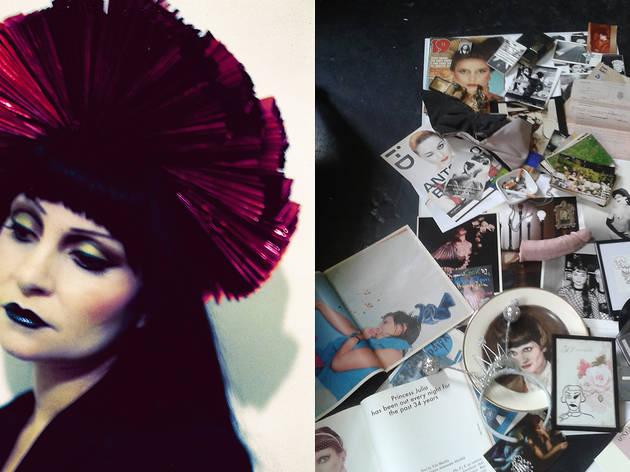 3/5
What have you chosen?
'A magazine portrait by Wolfgang Tillmans, part of a "penis" shadow work by artists Tim Noble and Sue Webster, given to me as a birthday card. There's also a court summons for fare evasion, a vinyl record, my five-year diary, cassette mix tapes, notes from my personal archive, flyers, invites and a St John restaurant ashtray full of fags.'

What era does it represent?
'I touch on a teenage me in the form of a photo booth picture from the 1970s but my case represents more than four decades spent exploring and supporting art, fashion and music... people and things that inspire me.'

What does it say about London creativity?
Hopefully my selection sends out a few messages, the idea of pursuing, experimenting and creating... tracing a timeline of fascinating moments both mundane and escapist through the decades. The show as a whole unfolds a series of connecting disciplines. Artists and collectors alike reveal a story that I feel has never been told before quite in this fashion, a revealing glimpse into how ideas can be traced from one creative moment to another – how people interconnect and inspire each other creating a flourishing melting pot of new ideas.'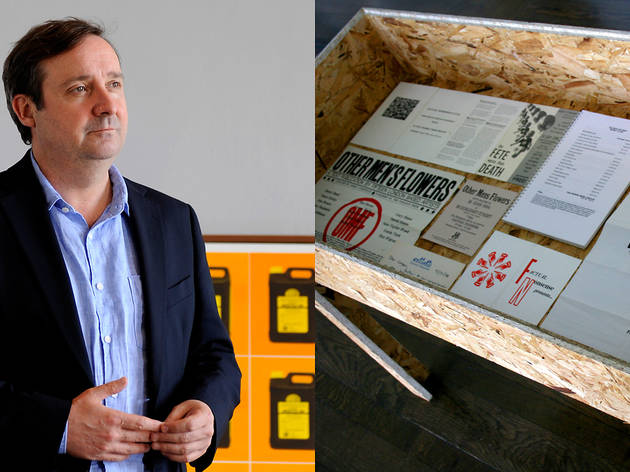 4/5
What have you chosen?
'I've selcted a number of items relating to Factual Nonsense, a Hoxton-based gallery run by this remarkable young man called Joshua Compston. What's amazing is to me, is this sense of get up and go behind much of what Compston was doing. I remember going to a show held in an abandoned power station with no roof. I've included Joshua's business plan for "A Fete Worse than Death", with all the YBAs setting up stalls like a village fete. There are headings in the plan that read "Llamas, pigs, goats, etc". From cover to cover, it's one of the funniest things I've ever read, making it all the more incredible that he actually did manage to get the Beijing Opera to play outdoors in Hoxton Square.'

What era does it represent?
'The mid-1990s.'

What does it say about London creativity?
'That London is a unique breeding ground for creative people who can turn nothing into something.'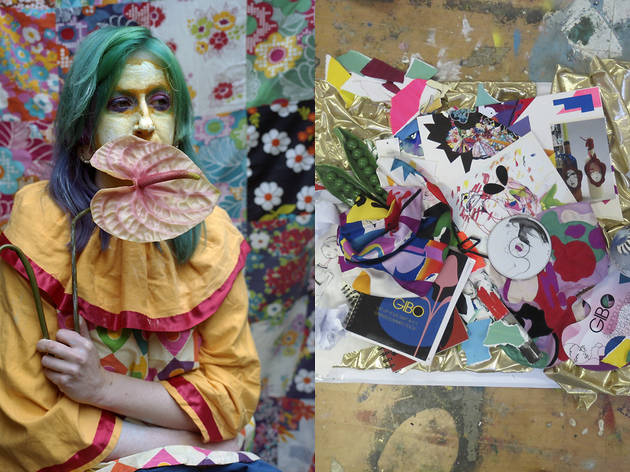 5/5
What have you chosen?
'Ephemera from my multitasking years, covering my role as creative director of Gibo. I was hired to design a fashion line for the Italian manufacturing company. We chose to show in London during Fashion Week and promptly, and somewhat prematurely, opened an ambitious shop on Conduit Street. This was also the time of my first London exhibition at Mobile Home gallery.'

What era does it represent?
'2002-04.'

What does it say about London creativity?
'It says that London is open to happy accidents and controlled chaos. I can't be far from the city for long it stunts my creativity if I am deprived of the Big Smoke.'


A Journey Through London Subculture: 1980s to Now
, takes over the cavernous and atmospherically tumble-down Old Selfridges Hotel (you'll find the entrance next to the main store's Food Hall), where glass tanks filled by the likes of Gilbert and George, Giles Deacon and Louise Gray are on show alongside installations, billboard-size images and films. We caught up with five contributors to chat about their choices.
Top art features
Our critics' pick of the must-see art exhibitions in town this season
Read more
Sponsored listing
Whitechapel Gallery
This East End stalwart reopened in 2009 following a major redesign and expansion that saw the Grade II listed building transformed into a vibrant, holistic centre of art complete with a research centre, archives room and café. Since 1901, Whitechapel Art Gallery has built on its reputation as a pioneering contemporary institution and is well remembered for premiering the talents of exhibitions by Jackson Pollock, Mark Rothko and Frida Kahlo among others. Expect the rolling shows to be challenging and risqué.
Venue says: "Magical objects, antiquated libraries and elaborate habitats. Explore the immersive world of Mark Dion in Theatre of the Natural World."