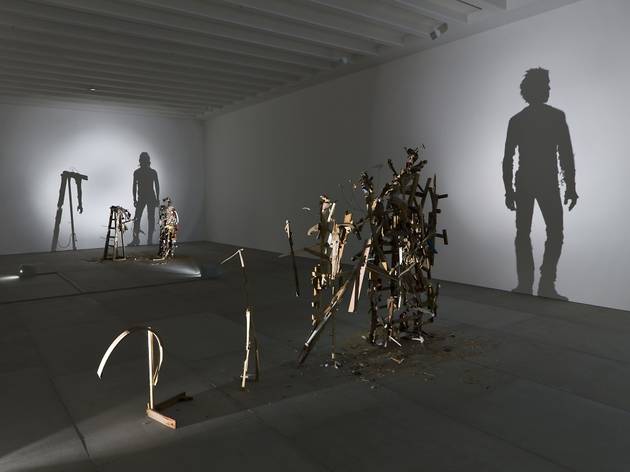 There's been other stuff, of course – the Vegas via Southend illuminations, unforgettably, the 'Joy of Sex' drawings, even a Time Out cover. But what Tim Noble and Sue Webster have done best over the past 15 years is to create, from fastidiously arranged, cleverly illuminated urban flotsam, a series of deft shadow self-portraits that marry the twin ideas of the artist as magician and media star.
It's no shock that new examples of their most successful work fill Blain Southern's reassuringly expensive-looking new premises. The surprise is that the exhibition reveals mileage in what felt from the start like a closed, if at times engagingly Freudian loop – between foraged objects (the sculpture) and foregone conclusion (the silhouette).
The developments are two-fold. The artists have never shied away from sending themselves up but here they seem to be coming apart. For instance, in 'Nasty Pieces of Work', Webster stands nonchalantly next to a barely-formed scarecrow/droid that reads as an undoing of Noble, while 'The Individual' beams a fractured, Medusa-headed version of Webster on to the wall. And just as the silhouettes start to become really interesting when the bodies disintegrate, the sculptures attain newfound autonomy when, instead of reading as a list of nameable detritus – claw hammer, plug, paint roller – they hover at the edge of description – off-cut, shard, er, no idea…
Teetering near the entrance, 'My Beautiful Mistake', a single, unlit totem comprising chairs, books and a wheelbarrow suggests a new direction for the duo. Yet, curiously, it's not the most interesting sculpture here. Maybe it's not quite time to bring up the house lights yet.