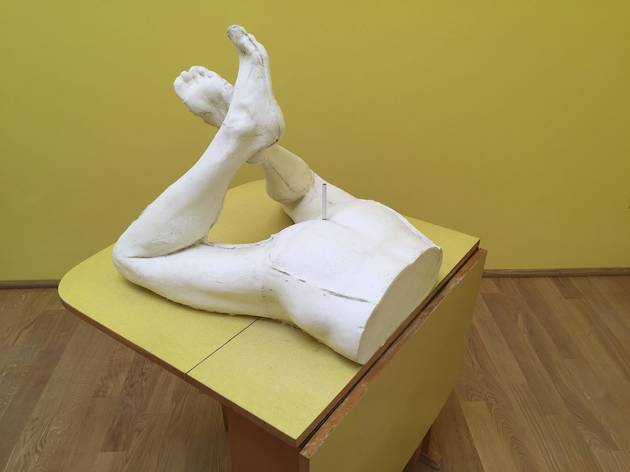 1/10
British Pavilion: Sarah Lucas Amid the often blunt quasi-political statements and faintly hectoring atmosphere of this year's Biennale, Sarah Lucas's 'I Scream Daddio' for the British Pavilion stands out for sheer irreverence. Doing what she does best, Lucas has painted the walls an egg custard shade of yellow and installed variously pendulous and priapic sculptures, as well as creamy-white body casts that sprout ciggies from their orifices. Smokin!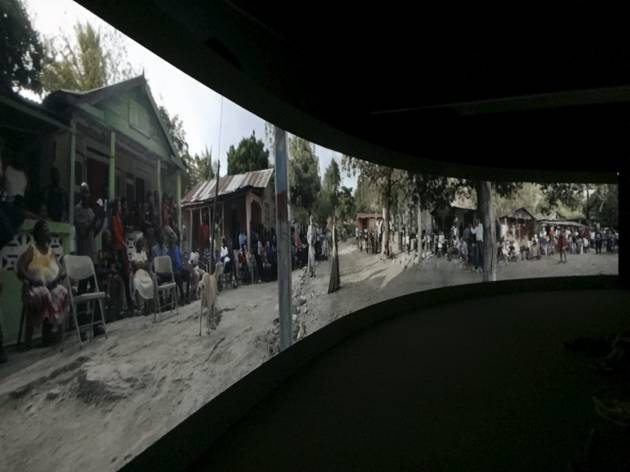 2/10
Polish Pavilion: CT Jasper and Joanna Malinowska Complex links between Poland and Haiti underpin this video installation in which opera is performed to Haitian villagers. You can unpick the social, political and historical ties, or just focus on the bizarrely beautiful spectacle – it's probably the only time you'll see a goat at the opera.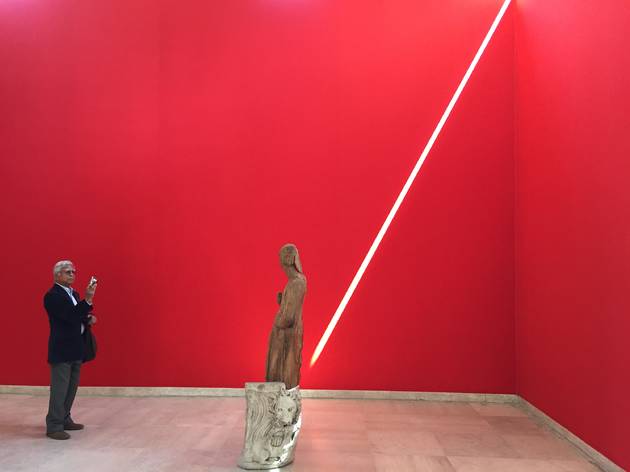 3/10
Danish Pavilion: Danh Vo The Danish/Vietnamese art star puts always puts on a restrained show, and he also likes to confuse things by presenting sculpture from different periods. 'Mothertongue' is no different. However, the hot red walls provide some emotional temperature while titles lifted from lines in 'The Exorcist' such as 'Do you know what she did, your cunting daughter?' are enough to turn the air blue.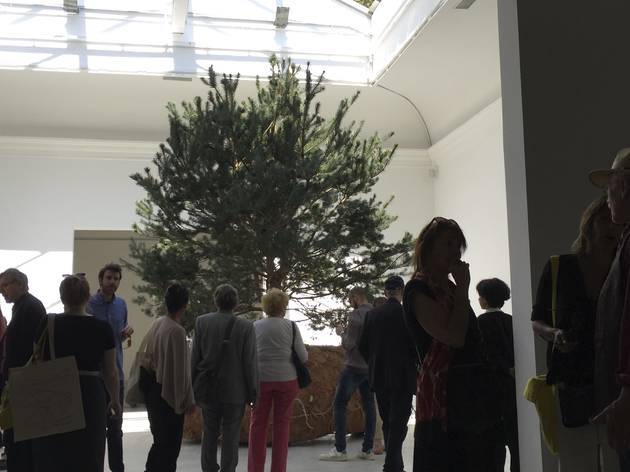 4/10
French Pavilion: Céleste Boursier-Mougenot The artist who enchanted us in 2010 with his Barbican Curve installation of guitar-playing birdies, gets the run of the French pavilion in the Giardini – and turns it into a kinetic forest of sorts as Scots pines slowly start to move on their huge root balls, accompanied by a loud electronic buzzing sound made, we're told, by the trees themselves. Perhaps they're crying at the indignity. Talking of which, in the side galleries are tiered seats that look like they're solid but are in fact made of foam. You will trip over as you tread on them: people will laugh.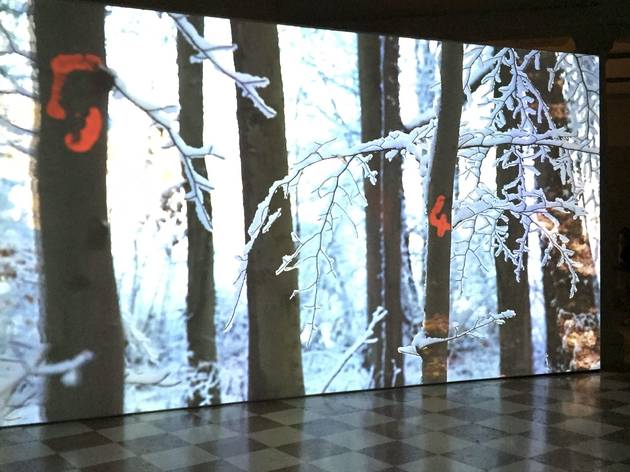 5/10
Wales in Venice: Helen Sear Wales in Venice takes place not in a pavilion but in a beautiful church, Santa Maria Ausiliatrice, between the Giardini and Arsenale. Helen Sear fills the space with birdsong and gorgeous, fleeting imagery for '…the rest is smoke', her video of a forest year. It's the perfect place to escape the heat of Venice and the pace of the Biennale.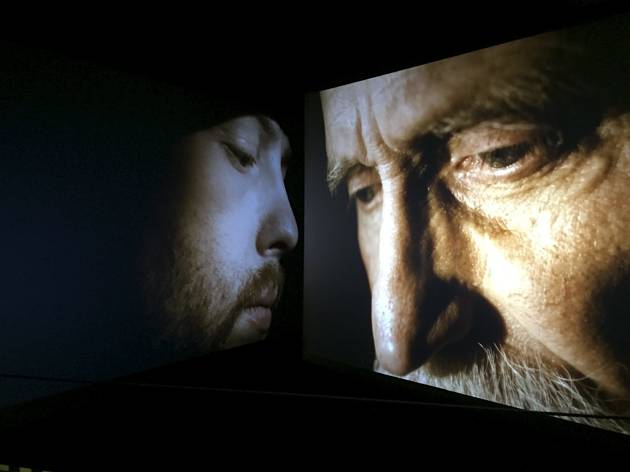 6/10
Latvian Pavilion: Katrīna Neiburga and Andris Eglītis 'Armpit' doesn't sound like it's going to offer a particularly poetic experience but this installation by artists Katrīna Neiburga and Andris Eglītis for the Latvian Pavilion in the Arsenale is an unexpected delight. Focusing on men tinkering in their garages and workshops, it becomes a kind of shrine to the marginal and vernacular, as well as a meditation on our urge to create that cleverly sidesteps obvious manifestations of creative endeavour.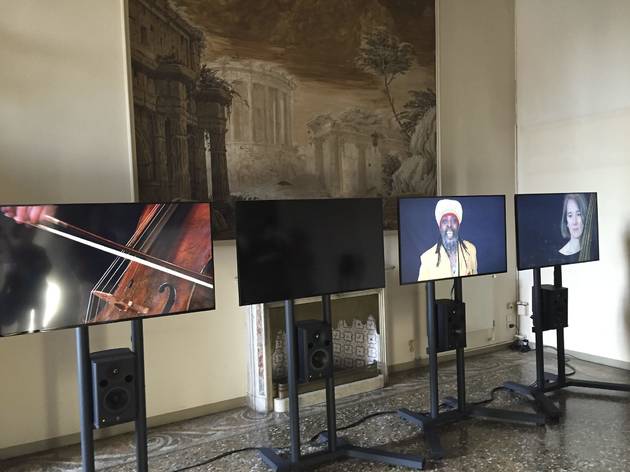 7/10
Scotland in Venice: Graham Fagen Palazzo Fontana is off the main drag of the Biennale, in fact you can easily miss it (it's down an unprepossessing alley off the Strada Nuova). But Graham Fagen's installation is a highlight. His four-screen video teases out links between his longstanding love of reggae, his Scottish heritage (the piece incorporates as new arrangement of Robert Burns's 'The Slave's Lament' by composer Sally Beamish), colonialism and commerce, made all the more affecting givien the slightly crumbling feel of this waterside palace.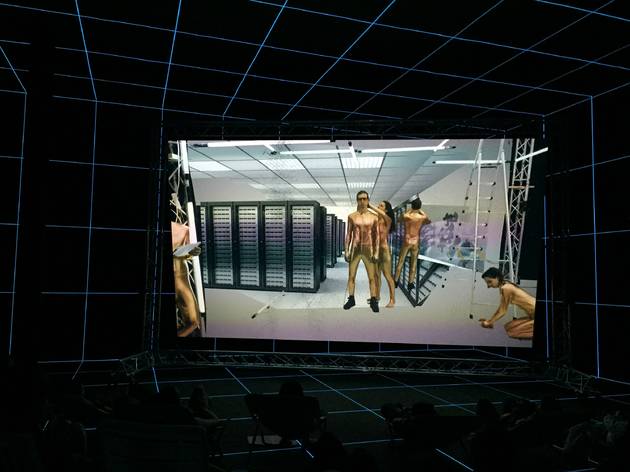 8/10
German Pavilion: Hito Steyerl Hito Steyerl's 'Factory of the Sun' is one of four works in the German Pavilion but you'll forget the others because this 'Tron'-style video installation (a kind of sci-fi-inflected mockumentary that flips thrillingly from the real to the virtual and features some killer dance moves) puts pretty much everything else in the shade. It's as coolly epic as you'd expect from possibly the hottest artist in the world right now.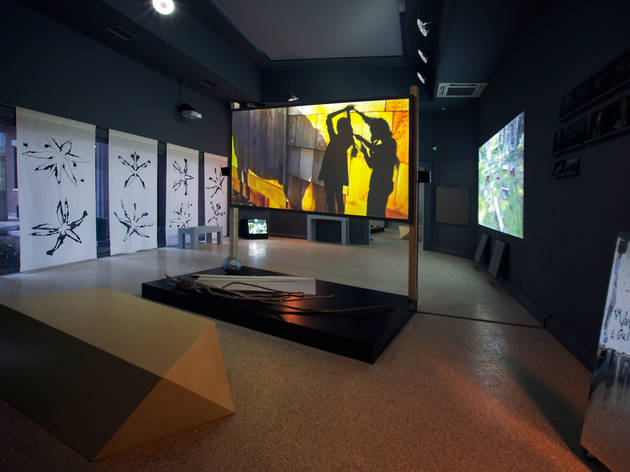 9/10
US Pavilion: Joan Jonas A performance art legend finally getting her dues lends the US Pavilion a special kind of glow this year. But 'They Come to Us Without a Word' isn't backwards-looking. Joan Jonas's installation of videos, drawings, kites and props effortlessly links past, present and future withing an overarching ecological theme that never feels forced. The only downside: you'll have to queue to see this hit of the Giardini.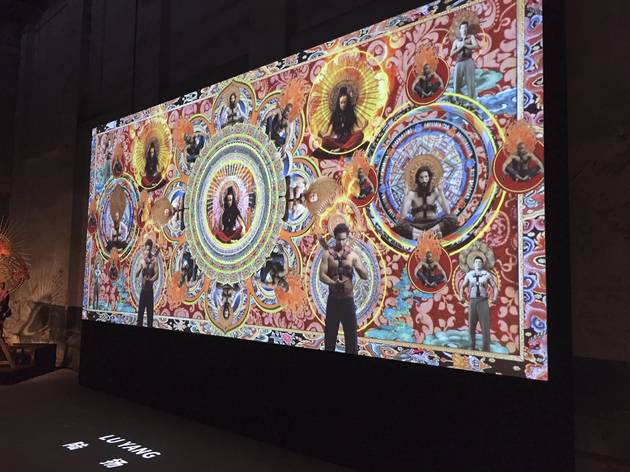 10/10
Chinese Pavilion: Lu Wang One of the final things you see at the Arsenale is the Chinese pavilion, where Lu Wang's video, a kind of moving multi-faith magic carpet of sublime camp, makes sure the show ends with a bang. 
Venice Biennale: the highlights
We pick ten of the best national presentations at this summer's Venice Biennale
The Venice Biennale is where countries pit their best artists against each other in pursuit of a Golden Lion. So, while we're always told that culture isn't a competition, this is in fact contemporary art's World Cup, Olympic Games and Eurovision Song Contest rolled into one. To wander round the national pavilions in Venice's enchanting Giardini, then, is to engage in some good-natured patriotism – to gun for your own representative and check out the competition – which always adds a certain frisson to proceedings.
Here are 10 highlights from the national pavilions at Venice Biennale 2015.
Read our five reasons to take a punt on the Venice Biennale 2015
The Venice Biennale is on until November 22. For more information visit www.labiennale.org
Support Time Out
We see you're using an ad-blocker. Ad revenue is Time Out's main source of income. The content you're reading is made by independent, expert local journalists.
Support Time Out directly today and help us champion the people and places which make the city tick. Cheers!
Donate now