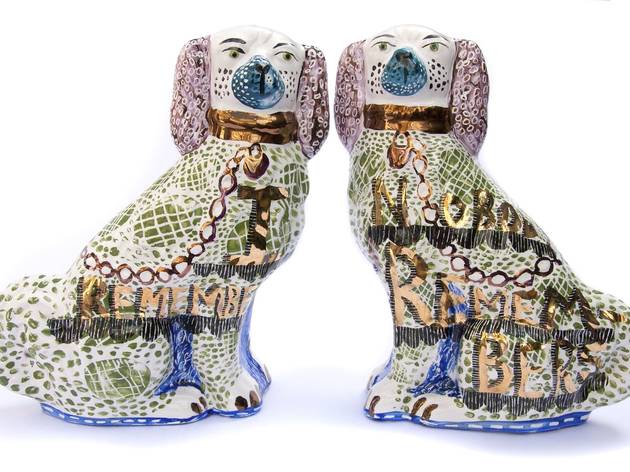 1/9
'I Remember, Nobody Remembers', 2010
© the artist
'Ryan is having fun with traditional Staffordshire ceramics,' explains Sonia Solicari, curator of the show. 'He's taken original moulds and created new figures, decorating them with texts and slogans. He's interested in mass production – which started in the nineteenth century – and what that does to an object. The Staffordshire figure becomes kind of a blank canvas, ripe for reclamation.'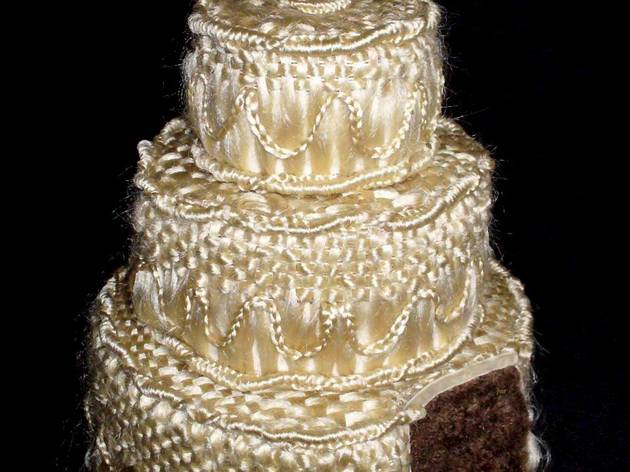 2/9
'Shorn Out of Wedlock', 2012
© the artist
According to Solicari, Hoodless's cake 'probes the Victorian fascination with the symbolism and cultural meaning of hair – in particular the social codes governing freely flowing hair for married women. The intricate hair-work that makes up this "wedding" cake speaks of the changing role of women in Victorian society.'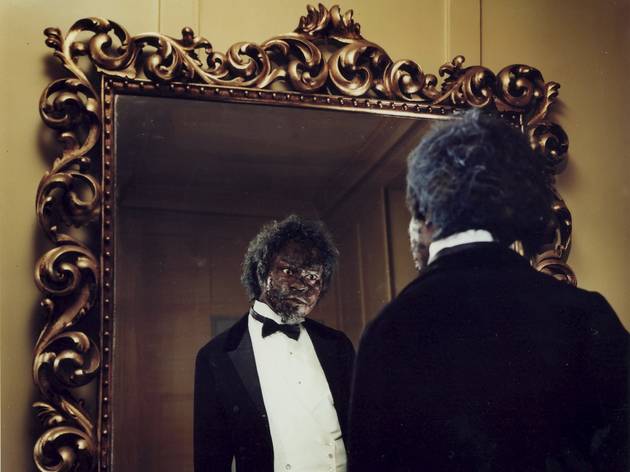 3/9
From 'Dorian'
© the artist
'Shonibare's series of 12 photographs is one of the key works in the show,' says Solicari. ' It's interesting because, positioning himself as Dorian, Shonibare plays with his identity as a black British man and also the shifting identity of Dorian Gray over the decades. In fact, the artist came to Dorian via Albert Lewin's 1945 film version of Oscar Wilde's 1890 story, so there's this extra historical layering to it.'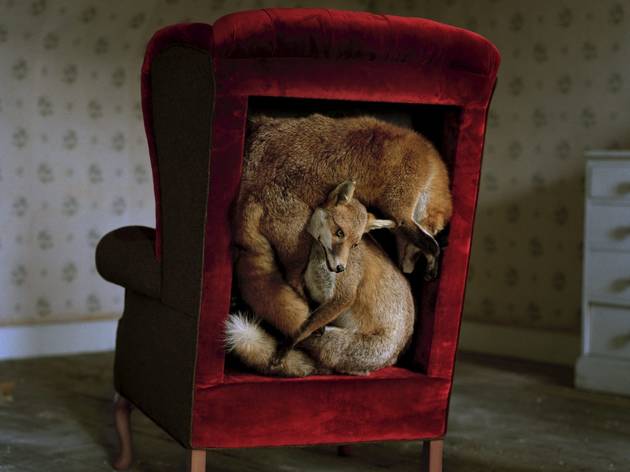 4/9
'Trophy Chair', 2009
© the artist, photo: © Tim Walker
'There's a tension between the terms "art" and "craft" in the show,' says Solicari. 'Miss Pokeno sidesteps the issue by describing herself as an armchair destructivist.' Pokeno (better known as Alannah Currie, from 1980s synth-pop trio Thompson Twins) has snuggled taxidermy foxes in the back of a red plush wingback that will take pride of place in the show's 'Reimagined Parlour' of Victorian-inspired furniture and homewares. 'It will explore what we mean by hearth and home today.'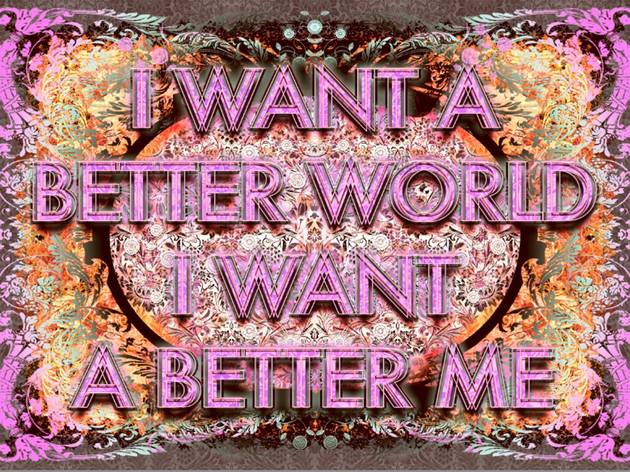 5/9
'I Want a Better World, I Want a Better Me'
© the artist
To create this digital print, Titchner has layered William Morris-influenced patterns mass produced by multinational companies criticised for poor labour conditions in developing countries. 'It's in the style of a nineteenth-century trade union banner,' explains Solicari. 'As well as being about Morris's decorative lineage it's about his avant-garde politics.'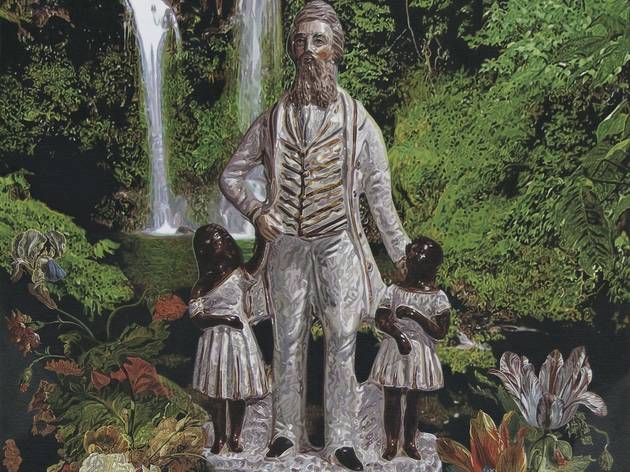 6/9
'Hangman', 2010
© the artist, image courtesy Alison Jacques Gallery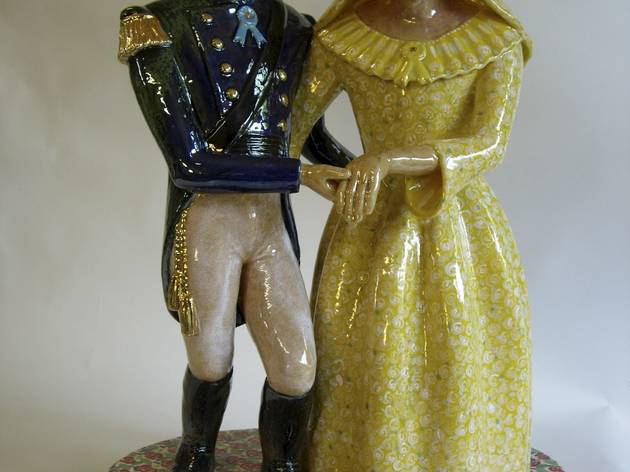 7/9
'Dearly Beloved'
© Carole Windham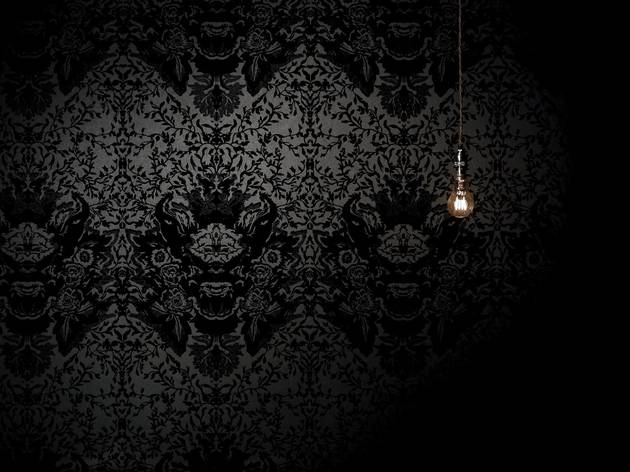 8/9
'Devil Damask Flock Wallpaper', launched 2007
© Timorous Beasties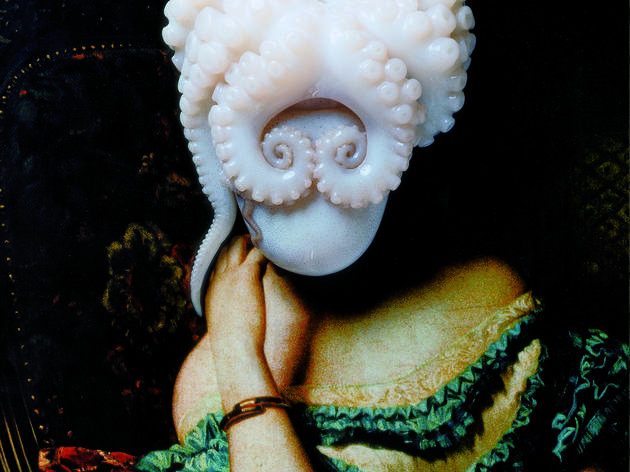 9/9
'Octopus Portrait', 2009
© the artist, image courtesy Michael Hoppen Contemporary and GP Gallery
Victoriana: The Art of Revival, the Guildhall Art Gallery's first exhibition of contemporary art, isn't the nostalgia fest the title suggests. Sure, there are Staffordshire dogs (not to be confused with Staffies) arranged on a mantlepiece. But you should check out the lamp, a moth-speckled hallucination by YBA provocateur Mat Collishaw. And the wallpaper – 'Devil Damask Flock' by Timorous Beasties, which was last seen adorning Irene Adler's bedroom walls in 'Sherlock'. Clearly there's a fevered narrative beyond the frills and chintz. While these neo-Victorians aren't a unified group, the show is full of artists who look back to the nineteenth century with wary eyes.
Find out all about the show: read our interview with curator Sonia Solicari here.
Average User Rating
3.5 / 5
Rating Breakdown
5 star:

1

4 star:

0

3 star:

0

2 star:

1

1 star:

0
Considering it was £7 entry, it was rather disappointing. Not much doing, sparse, and thrown together with not much cohesion. There is so much more out there that they could/should have included. Both my partner and I announced simultaneously "Is that it?!". The ticket price does allow you to explore the Guildhall itself and their collection of art which makes up for it a little, however overall your money and time could be better spent elsewhere. Could have been so much better with a bit more effort. Amateurish.
If you like the weird and the wonderful, this is the expo for you. Wedding cake made of human hair? Tick. Bees with tiny ants on their backs carrying spears? Yup. Those with an appreciation of the daft, bizarre, amusing, clever - and maybe a penchant for goth and steampunk as well -will be in seventh heaven. It's just the sort of show that Pertwee Anderson and Gold and The Museum of Curiosity might have created. I loved it and could have lingered for much longer, but my companion whizzed through it with a desultory shrug. ( Fortunately he could be kept amused by the Roman ampitheatre below whilst I kept him waiting.) Some may feel this display is a small feast for the eyes for a £7 entrance fee, but I guess City folk have bigger pockets than mine!