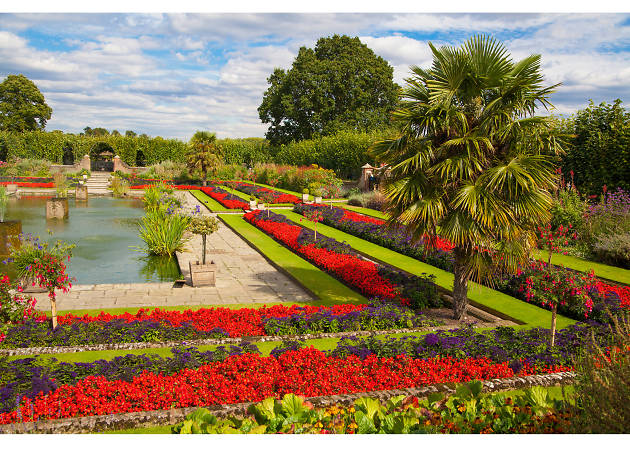 1/2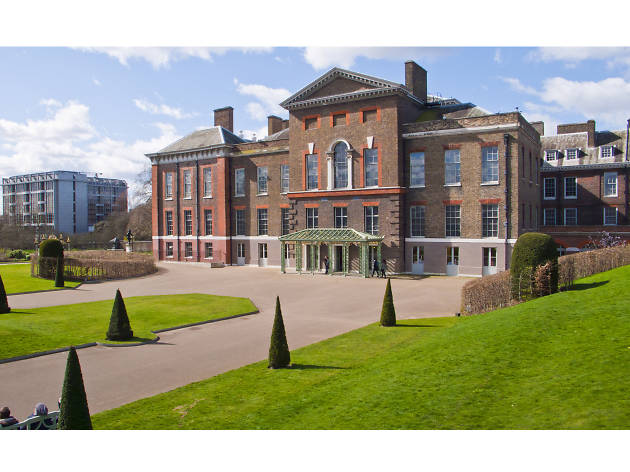 2/2
Spend a few hours hanging out at the fashionable W8 residence of royals from William III to William and Kate
One of the exciting aspects of all London's Historic Royal Palaces is that they invite you into spaces and places where hundreds of years of incredible British events actually took place. No need to use your imagination while looking at little models in a museum – you can wander down the same corridors Henry VIII did, see where Anne Boleyn had her head orf and look out of the windows where King George's party guests would have stood gossiping.
Kensington Palace might not boast the scale of the Tower of London and Hampton Court, but it has its own unique selling points. It is linked to some of the most loved princesses of modern times. Victoria lived here and you can see where she was woken up on the morning of June 20 1837 to be told that she'd been promoted to Queen. Princess Margaret resided here for 42 years, and Diana, Princess of Wales lived here from the day she married Prince Charles to the time of her death, when the iconic gold gates of the Palace became the focus for thousands of tributes and flowers to the 'queen of hearts'.
Margaret and Diana were, in their time, both fashion leaders, whose designer dresses didn't just reflect the latest trends but often pioneered new ideas and inspired high street crazes. As a result, over recent years Kensington Palace has become the royal residence most associated with the glamour and style of royal heritage. Fittingly, it's currently hosting 'Diana: Her Fashion Story', a celebration of Diana's life but also a major new exhibition at the palace, showcasing famous dresses including the velvet gown she wore when she danced with John Travolta at the White House.
The Fashionable Palace is a fitting reputation. When George I ascended to the throne he had the Palace lavishly decorated and during the reign of his son, the king and Queen Caroline entertained London's in-crowd and were at the heart of eighteenth-century salon culture. Their apartments are included on any tour of Kensington Palace, as are the Queens' State Apartments from the time of William III and Mary II. You can wander around the grounds and the entrance areas of Kensington Palace for free (the café is a lovely spot on a sunny day and the Orangery does a fabulous afternoon tea), but there are also formal gardens included in the main Palace entry ticket worth wandering if you have time.
Family activities here are strong points, too. 'Digital Missions' are interactive routes around the palace, powered by an app, but for more traditional meanders follow the 'Family Trail', where Queen Mary will guide intrepid kids, discussing her pet pugs, pastimes and favourite flowers.
Venue name:
Kensington Palace
Contact:
Address:
The Broadwalk
Kensington Gardens
London
W8 4PX

Opening hours:
Mar 1–Oct 31 daily 10am–6pm (last admission 5pm); Nov 1–Feb 28 daily 10am–4pm (last admission 3pm). Closed Dec 24–26
Transport:
Tube: High St Kensington or Notting Hill Gate
Price:
£18 (online £16.90), £14.30 (online £13.20) concs., free under-16s. Nov 1–Feb 28 2017: £16.50 (online £15.40), £13.70 (online £12.60) concs., free under-16s. Prices include voluntary donation
Do you own this business?
Another post-modern mix of myth, musical, comedy, romance and unfettered pastiche from the impressively inventive Luhrmann, here ransacking pop culture's iconographic archives - rather than the real Paris of 1900 - to mount a hyperkinetic update...

Read more

Has JK Rowling been taking divination lessons at Hogwarts? With spooky clairvoyance, the first movie in her new five-film wizarding franchise opens with two factions in America at each other's throats. No, not Republicans and Democrats. It's 1926,...

Read more

Clever old Bridget. There's been a hell of a lot criticism of her for crimes against feminism. But here she is, triumphantly returning in her forties, less of a twit, funnier, wittier, and – perhaps most importantly – happier with herself. And unl...

Read more
Diana: Her Fashion Story

Diana's fashion story – like her life story – ended just as things were getting good. Thrust into the limelight aged 19 as the fiancée to the heir to the throne, she only owned one dress: she had to learn about fashion and discover her sense of style...

Exhibitions

Until Thursday August 31 2017

The Luna Cinema

It's location, location, location with Luna Cinema. The beauty of this touring outdoor cinema is walking into a palace, Royal park or other equally magical location with a picnic just as everyone else is leaving. Luna's most popular venues include Kew...

Wednesday July 26 2017 - Thursday September 21 2017
You may be interested in:
Average User Rating
2.3 / 5
Rating Breakdown
5 star:

1

4 star:

2

3 star:

2

2 star:

3

1 star:

5
As a relatively modern & low key palace which has not be used as a primary monarch's residence in recent times it does not feel as steeped in history or have the grandeur of the big hitters like Windsor, Hampton Court & Buckingham Palace. That is not to say it is without charm & is a pleasant place to spend an afternoon- particularly in the gardens on a warm autumnal day. The highlight for me & well worth a visit in it's own right is the current exhibition showcasing the wardrobes of the Queen, Princess Margaret & Princess Diana. From the exquisite Norman Hartnett dresses of the 1950's "New Look" to the sleek & statuesque designs of the 1990's championed by Diana this is a small but fascinating exhibition highlighting changing fashions & the styles of 3 elegant & timeless ladies. Without the crowds of Buckingham Palace this feels intimate & there's no pressure to rush so you can ogle the beautiful gowns & accessories at leisure.
I did not enjoy my visit to the Kensington Palace. The only bit that I like is the rose garden.
I had previously visited Kensington Palace two years ago. It was in a dismal state. The electricity had been switched off and some art student squatters had moved in. At least that's what it had looked like. The World of Walnut-furnished interior and obligatory guilt accoutrements I had in my mind's eye had made way for rooms full of arty installations like skeletal trees and headless animatronic princesses lit by a dim neon blue glow. Kensington Palace had undergone the theme park treatment and was now labelled 'The Enchanted Palace'. Creative? Atmospheric? Certainly. But it failed to enchant me. The problem was it told me very little about the Palace and the rich lives of its super rich inhabitants. Putting my previous experience down to a temporary fit-out (the Palace was undergoing renovation at the time) I decided to pay another visit this summer hoping to actually discover some history. The lights were on this time but there appeared to be no-one at home. The interiors could be seen in their finery but there was hardly any furniture to give any sense of history. No pen-written notes and half-drunk cups of tea on desks to create the feeling of a moment just passed. Hardly any information boards either. Just a few remnants from its previous arty incarnation such as a pack of playing cards stacked in a fireplace. The idea (perhaps inspired by Pride & Prejudice), however, for whispering gossiping voices emanating from window seats in the ballroom was clever because it gave some much need dialogue. But as for snippets of history your Time Out review above reveals more information than I gleaned from my visit.
Having thoroughly enjoyed Buckingham Palace tour/visit some months ago, and being a life-long Royalist, my family and I were pleased to 'take in' Kensington Palace on the 17th of November. What a huge disappointment this was! It was a real waste of money and could not be remotely compared to Buckingham Palace (or Sandringham. or any of the other many Royal venues we have visited). The trip was not helped by having to walk past a tramp in the gardens urinating against the wall, and this on the day of the Israeli demonstration where hundreds of Police were a matter of metres from the tramp's performance! Wills and Kate have chosen a bit of a dump of a 'pile' to make their home.
The "new" Kensington Palace is a chaos of kitschy, "hands-on" art installations that fail to enhance the experience. Only the Victoria tour offers any substance at all. Truly the most disappointing of all the grand house tours I have ever done. Who art directed this mess?
Enchanted Palace: absolutely avoid this complete money-grabbing tacky experience.
Made the big mistake of going to The Enchanted Palace experience this week. The rooms that are open are so atmospherically (ie: darkly) lit, that very little of the actual palace can be seen. Of zero educational value. If your idea of entertainment is audio tapes of unseen little girls crying, displays akin to Hallowe'en shop dressing, then this might appeal. It came across as a very trashy and unimaginative way or raking some money in.