1/8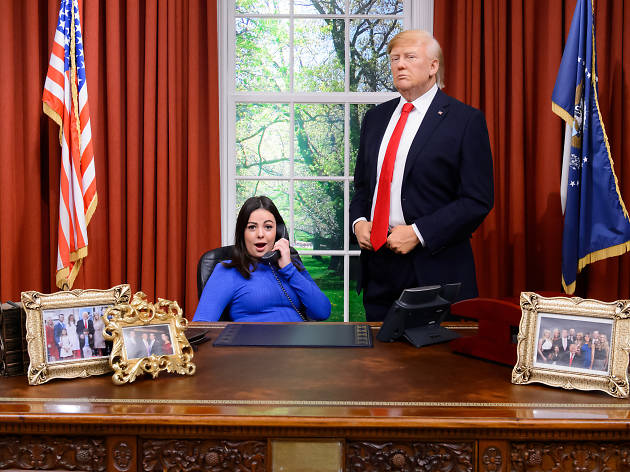 2/8
3/8
4/8
5/8
6/8
7/8
8/8
In 1884 many things happened. The first steam cable trams set off in Highgate, Mr Kellogg patented 'flaked cereal' and Marie Tussaud moved into Marylebone Road. Having already made her waxwork debut in the capital in 1802 (32 years after she founded the show in Paris), Tussaud decided to lay down permanent roots and she's been there ever since. While Madame Tussaud the real life woman passed away in London in 1850, her legacy lives on.
Visitors to Madame Tussauds nowadays will find some 300 lifelike models that come from the worlds of music, movies, fashion, sports, royalty, politics, history and fiction. Major actors such as Angelina Jolie, Brad Pitt and George Clooney, come together with favourite characters from 'Star Wars', 'Hunger Games' and 'ET'. The likes of Einstein, Dickens, Monroe and Chaplin offer a blast from the past. Usain Bolt, Mo Farah and Jessica Ennis-Hill lead the sports personalities, while Kanye, Rihanna and Madonna give off ultimate attitude in the music section. Elsewhere The Queen stands proudly with Will and Kate, Trump and Cameron get a look in, and YouTube stars Zoella and Alfie Deyes (no, us neither) are on hand for the youngsters.
The exhibition goes back as far as 400 years, in their 'Spirit of London' ride – a mocked up London taxi that takes you on a journey through the city's history. Other rides include the floor drop (hold onto your stomachs) in the 'Chamber of Horrors', where you'll find a history of crime and punishment over the last 500 years, with scary special effects and instruments of torture.
It's the experiences and rides like these that make Madame Tussauds much more than a museum of dummies. This is a lively place to come, and although its' hugely popular, the journey through is well managed. Even the most reluctant star spotter among your party can't help but crack a smile.
Tussauds also hosts Marvel Super Heroes 4D. Interactives and waxworks of Iron Man, Spiderman and an 18ft Hulk provide further photo-ops, but the highlight is the nine-minute film in '4D' (as well as 3D projections, there are 'real' effects such as a shaking floor and smoke in the auditorium). Throughout the year there are special exhibitions themed to the seasons or the latest entertainment stories or films.
One of the most recent additions is the truly impressive Star Wars area. Working with Lucasfilms Ltd to get costumes, looks and set design right, Madame Tussauds have excelled themselves. You can explore the swamps of Dagobah, pose for photos alongside Han Solo in the Cantina, take your place at the controls of the Millennium Falcon with Chewbacca or try to free Princess Leia from her chains in Jabba's Throne Room.
Step into the swamp to meet Yoda and feel the soft ground beneath your feet as the musky smell of a 900-year-old Jedi's home fills the air, then balance yourself on a glass-walled balcony and imagine what it would be like to reach out to the black-gloved hand of Darth Vader.
And proving they remain right on top of trends and current affairs, there's now a section dedicated to YouTube stars Zoe and Alfie, as well as the introduction of Donald Trump in full presidential setting, standing alongside political luminaries such as Nelson Mandela, Martin Luther King and Barack Obama. Plus there's an all-new Sherlock Holmes experience (tickets an extra £5) and even a 'Fashion Week' area, where you can walk down the catwalk with the likes of Kendall Jenner and Cara Delevigne.
Top stuff.
Venue name:
Madame Tussauds
Contact:
Address:
Marylebone Rd
London
NW1 5LR

Opening hours:
9am-4pm or later, check website for weekly updates
Transport:
Tube: Baker St
Price:
£24.50–£35
Do you own this business?
Rating Breakdown
5 star:

9

4 star:

23

3 star:

8

2 star:

1

1 star:

0
Born and raised in London, yet I've never been to Madame Tussauds before. So the excitement when I realised I had won a pair of tickets for Madame Tussauds Late nights.
I've walked and driven past the venue numerous times throughout my life, always looking at the never ending queue outside. However to my surprise, we arrived at 7pm on a Friday night with no queue, BONUS. Swiftly passed through the friendly security team and began our night on a little ride which put us in a magical mood.
We then arrived at the Marvel section and was whisked away into a theatre room ready for a 4D short movie. Still excited to see what was next, we then started our journey through the various wax works from Starwars to bollywood and then to hollywood. This is where we got to redeem our free drink voucher. We mingled with the stars and hydrated ourselves.
After refreshments we moved along to the sports section, royals and music stars. This was my highlight of the evening. Having a go on the Voice chairs and actually being able to press the buzzer and turn for your favourite act. We had a fantastic Tussauds staff member helping us here and making us feel as if we were real judges.
Overall it was a great night, not to packed with visitors, able to enjoy and take pictures to our leisure with the wax works. We didn't feel rushed and it felt as if we have it on private hire, thats how calm it was.
Highly recommend the late night at Madame Tussauds.
Went to the Friday nights late which meant no kids or queues. It was great fun & so many hilarious photo ops. Really enjoyed the superheroes 4D movie & posing with the various famous people was surprisingly entertaining. All the staff were really friendly & contributed to a unique & unusual night out!
saw bare celebs, cheeky so and so's didn't even give me a hug; stay classy from ya mum xxxxxx <3
We enjoyed our visit to Madame Tussauds Wax museum. The most enjoyable part for me was London Taxi ride. Did not like making a wax hand. The wax was too hot to dip my hand into. The skin on my hand was red and burnt ( like sun burnt) kind of effect Where is the health and safety? The other section that I did not enjoy was the scary chamber. They have actors to dress up to scare people. This horrible figure just keep blocking my way and would not let me cross. When I start pushing her out of the way, she got angry and started shouting "no touching , this is only a job." I think she got a dangerous job there. If it gets too much, visitor may start punching her. That explained why she block my way and not my husband because I am much smaller.
We enjoyed the visit to Madam Tussand. We met both Samuel and Michael, Jackson. This is a great place to hire for a company party, but if the cost is prohibitive you could check out other venue options at http://partyideaslondon.com/ or visit the Party Ideas Incubator on YouTube. The statues at Madame Tussauds are so real that you easily start speaking to one before realising that it hasn't responded. Imagine if they took it to the next level and sampled the person's voice and fitted motion detectors and face recognition to sense when someone spoke to the statue, so that it replied and calls your name. Anyone who now develops this idea needs to send me a gratuity. Twitter/bigsands.
Definitely worth a morning! Negatives: Queueing - if you don't book online (which if you want to use a 2 for 1 voucher like we did, you can't), then expect to queue for about 2 hours, this is about what we queued on a weekend in august, arriving at madam tussauds at 9am Scream - a new attraction, included in the general admission price, however, we didn't really rate it, we didn't find it scary and so it just ended up holding up our day and with us having to queue a bit more whilst we were in there, however, there is the option to skip this part, I'd take it! The crowds - obviously there are a lot of other tourists and trying to get a picture with your favourite wax star is a bit of a battle, but certainly not impossible, leave the manners at home and be forceful! Positives Price - we had a two for one voucher which meant it was only £15 each, which is an absolutely bargain, we would have been happy paying £30 each for it, and if you book online or buy tickets as part of an attraction pass it's cheaper anyway. The waxies - obviously lots of fun! The Marvel 4d cinema - fantastic, if you haen't been in a 4d cinema before you're in for a surprise! Taxi ride through the history of London - I think this is the part of Madam Tussauds that changes, but we loved this part and if its counterparts are as good then I'm sure you'll love those too! Tips Make sure you not hungry before you go in as you'll be in there for while! It wouldn't hurt to take a few snacks in with you, you can buy food in there but I'm not sure what the prices are like! We spent about three and a half to four hours there including queueing time, and I'm sure a lot of people linger a lot longer, so allow a full morning or afternoon! Obviously it depends where you're staying as to how you get there, we were staying near Trafalgar square and we found it an easy 25 minute walk at that quiet time of the morning, which saved us a little bit on the tube! Enjoy!