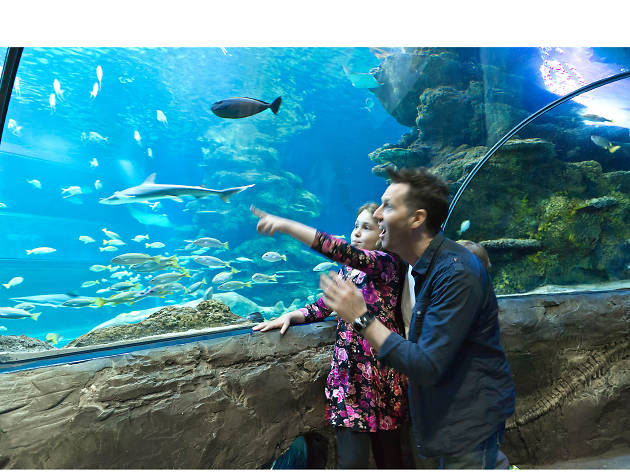 1/9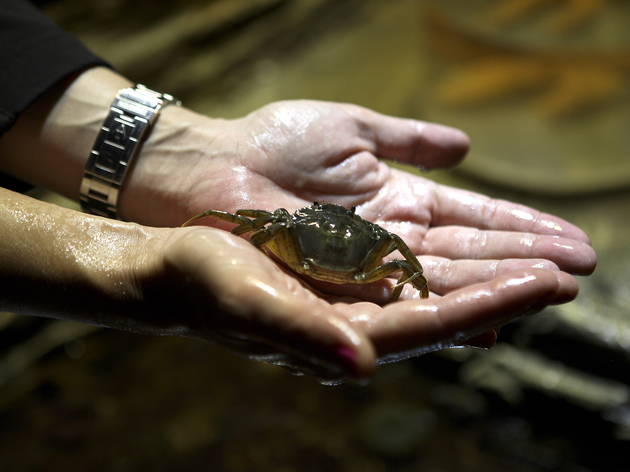 2/9
Michelle Grant / Time Out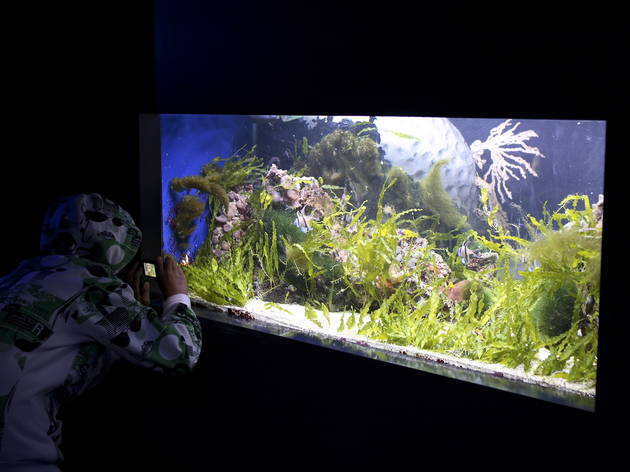 3/9
Michelle Grant / Time Out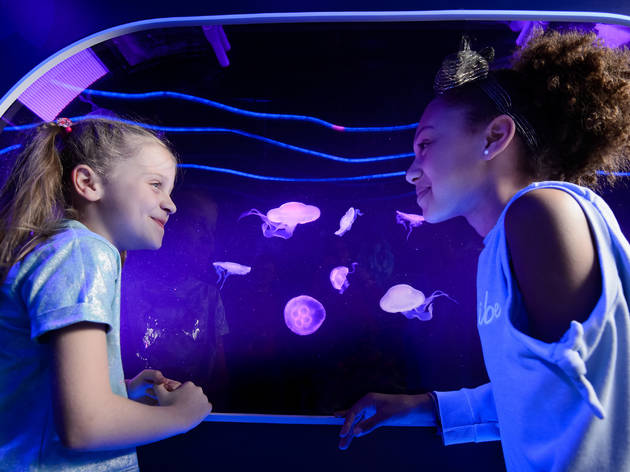 4/9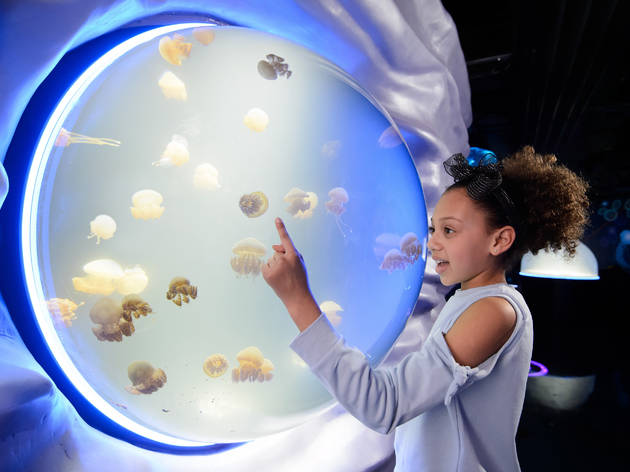 5/9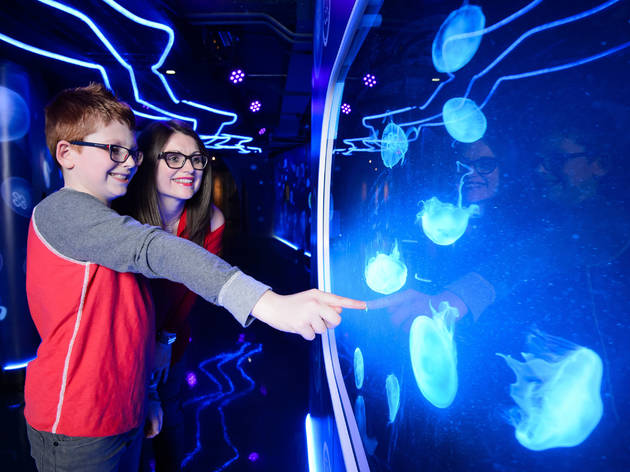 6/9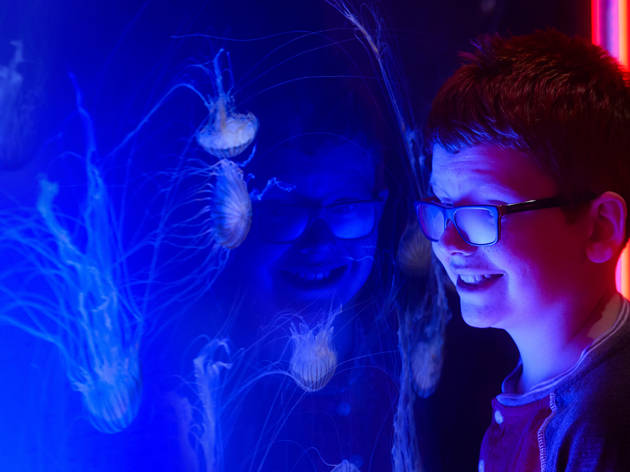 7/9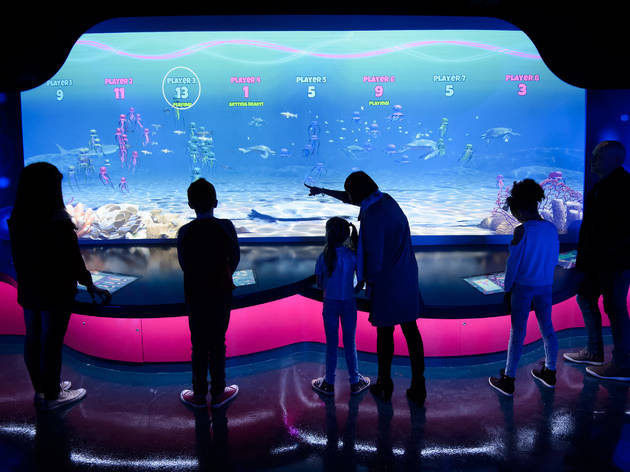 8/9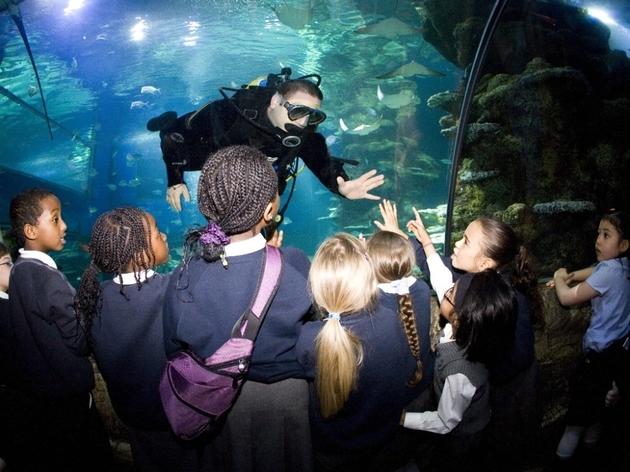 9/9
© Sea Life London Aquarium
Time Out says
Walk through, over and under colourful aquatic worlds from the tropical to the Arctic at one of London's busiest attractions
It's not every day that you see sharks and penguins in London, but on the South Bank you can. Almost literally, too, if it wasn't for the fact that Sea Life London Aquarium is closed on Christmas day. Thousands of tourists and local alike visit this old council building daily, which has been home to a remarkable watery wonderland since 1997.
Upon entering – over a glass window that peeks down to the Pacific waters display – you'll follow a winding route through every attraction in the building. Wade into Shark Walk before reaching the Atlantic Depths (look out for sand eels and octopuses here) and then drifting into Tidal Reach, which houses creatures common to British waters. Life gets a little more exotic and vibrant as the display merges into the Ray Lagoon and the Dive Discovery tropical waters.
Along with rockpool displays of brightly coloured anemones and the gliding green sea turtles that swoop past overhead as you walk through the Ocean Tunnel, there's a chance to get down deep with the sharks as you peer into the Pacific Wreck gallery and see if you can find Nemo among the clownfish in the Coral Reef zone.
Visit during off-peak hours if you can, in order to avoid the usual hordes and get a better glimpse of the wild inhabitants. Like the piranhas, for example, the poison dart frogs and Cuban crocs in the rainforest section. Also see if you can time your visit with a feeding, because that's when everything comes out of any hiding places they might have been lurking in.
There's also a new permanent exhibition called Ocean Invaders, in which you'll be able to learn more about the weird, wonderful and wobbly world of jellyfish. Visitors can discover the most dangerous species and even create their own digital jellyfish. Sea Life also carries out research and conservation work, and the Thames Walk experience (opened in summer 2015) reveals some of the insights into life in the waters that flow just outside the aquarium, and the work done to make them a cleaner environment in which fish can thrive. The Breed Rescue Project display invites budding marine biologists of all ages to find out more.
Head down solo, with your beau or in a group and get hold of one of the special package tickets, which allow entry to other London attractions, or a VIP ticket, which entitles you to a tour behind the scenes. The latter is a particularly cool option as you get to snoop around parts of the aquarium that the public aren't typically allowed into. And if you really want to get up close and personal with the sealife, the brave adventurers out there can book a 'snorkelling with sharks' experience and dive into the shark tank.
Details
Address:
County Hall
Riverside Building
Westminster Bridge Rd
London
SE1 7PB

Transport:
Tube: Westminster or Waterloo
Price:
From (adv online) £19.50, £14.50 under-16s, free under-threes. Tickets on the door will cost more
Contact:
Opening hours:
Open Mon–Fri 10am–7pm (last entry 6pm); Sat–Sun 9am–7pm (last entry 6pm). Closed Dec 25. The aquarium opens for longer hours during school holidays, check website for details
Do you own this business?
Average User Rating
3.4 / 5
Rating Breakdown
5 star:

12

4 star:

28

3 star:

21

2 star:

1

1 star:

10
I visited Sealife recently with a close friend and we had an amazing afternoon. We enjoyed especially the big tank with sharks and big fish because it was so impressive and immersive. The way fishes are shown in the other rooms is also very good because it makes the fishes coming toward you and more people can enjoy them at the same time.
The Rainforest adventure exhibition was a bit disappointing because most of the animals you could see where tiny and very difficult to spot. The cockroach tank was my favorite because they were huge and you could really immerse yourself into it.
I recently visited the new Rainforest experience at Sealife. As an enthusiast of the natural world, I really enjoyed this and felt that a lot of thought has gone into this experience. The music, flooring ( which is actually dirt that your feet slightly sink into so heels not recommended! and the various foliage, made me feel that I was transported to the amazon. I loved seeing the different varities of reptiles, amphibians and the fearsome freshwater fish such as the piranhas. I was surprised to learn that Sealife acts as a rescue centre with many unwanted animals left at the doorstep, in particular many terrapins and even an octopus on occasion! If you are an enthusiast of the natural world, I would highly recommend a visit!
The new Rainforest Experience at Sealife is certainly interesting. The two big promises of the opening however were not as billed, the piranhas and the bird-eating goliath spider are only babies! Interesting but perhaps a little less impressive than if you visit in half a year or so. Even as babies those piranhas can make their way through fish and the decoration gives a really fun rainforest feel to wandering around. Great for kids but pretty pricey, definitely a treat.
A trip to the London aquarium really transports you away from the hustle and bustle of busy London to a serene, calming atmosphere of peacefulness and serenity. Although a busy attraction, especially at the weekends, the aquarium is a great day out for all ages! The scenic walks through the caves and water tunnel tanks allows you to see hundreds, if not thousands of different breeds of marine life from sting rays, jelly fish and even sharks. It took us approximately an hour and a half to walk around the aquarium with short stops to watch the feeding, listen to the expert commentary and to stroke the starfish. Although the ticket prices are expensive, it is a really great day out, especially for young ones.
Never really been that bothered about Sea Life Centres before, I was dubious about going- but I took my Mum for a treat as she loves anything to do with the Sea.
Once you have battled through the crowds and got in the attraction, I must admit the overall atmosphere is quite calming which I was expecting. However, I felt the whole place was very darkly lie, which I'm sure is to keep the fish happy, but it did make the smaller ones harder to see.
I loved the shark area and could have watched them for hours, and compared to some other reviews I really enjoyed the Penguin enclosure. I have been a few years ago when it was the old penguin area, and yes I agree, this did feel cruel. The new space is much bigger, lighter and they seem to be having a lot of fun. Also, I have spoken to a friend of mine that works for Merlin and I know that a lot of effort and time has been put into making the penguins happy and have a safe environment, so I had no issue in seeing them and thought it was the highlight of the aquarium.
For your money you see so much! The space is huge and we easily spent 3 hours walking around. I even got to stroke a starfish! Which trust me, again is safe and not harming the animal. They are rotated around and always have a member of staff supervising.
Went here on a very successful date so forgive me if I am a little biased. I have to mention that I am also a massive fan of penguins so my excitement for this may have filtered though during the experience.
Firstly book in advance, this is a must if you want to avoid lengthy waiting times and secondly if possible try and avoid Saturdays (I understand this is easier said then done). The experience as a whole lasted around 2 hours dependent on the pace you choose to take. Overall lots of interesting fun facts to learn and creatures to see, some areas however looked like they were carrying out works (which some people may find slightly off putting) but it was masked well enough in my opinion. Aquarium definitely has the ability to bring out my inner child, look forward to visiting the silent disco soon.
WORST AQUARIUM EVER VISITED ANYWHERE IN THE WORLD. ALSO TOTALLY NOT KIDS FRIENDLY.


It all started with a family weekend plan to keep our daughter entertained and do something different. This is my view of the facilities and the overall experience as a parent with a 19 month old child.
The main entrance is hardly buggy friendly as only equipped with stairs. The only way to use the non-stair entrance is to purchase the priority entrance pass, which costs extra!
Secondly, about a quarter of the attractions were closed due to renovation work being carried out. Yet, the full admission price was charged. Also no mention of the work being carried at the ticket desk.
Thirdly, the aquarium was extremely crowded causing long queues at almost every stop.
Forth, hardly any bathrooms and only ONE baby changing room. Amazing.
Last, but not least, the penguins are kept in an enclosure which I can only guess is meant to simulate their natural habitat the Antarctic, amongst other places. Although, it reminds one more of a mental institution with a lack of fresh air/wind, sky etc. The penguins appeared lifeless and not happy at all. London Zoo is doing a much better job at keeping penguins outside, with a large outdoor pool and lots of interaction with nature.
Overall, the facility is run down and lacks everything a world class aquarium in a city such as London SHOULD offer to its visitors.
So if you are considering a family-day out which involves long queues, horrendously high ticket fees, unfriendly staff, a crowded aquarium where you have to force yourself to the front to get your kid to see anything and by default have a strong bladder to overcome the lack of bathroom facilities and baby changing rooms then you should visit.
Otherwise, stay away!
The tiny penguin prison is the most depressing sight. No natural light, with penguins slipping about on a fibreglass ice berg. I don't understand how it's allowed. Go to London Zoo instead - large animal enclosures wirh penguins on a naturalistic beach.
Lots to see but unable to see most of it as they don't limit the number of people in there. Had my son's buggy with me - impossible. Only care about the takings, not about visitor experience. My daughter enjoyed the parts she did manage to see but will not be returning anytime soon. The ones outside of the city are much more user-friendly.
The tiny underground enclosure for the gentoo penguins is heartbreaking.
Snap up exclusive discounts in London
Time Out's handpicked deals — hurry, they won't be around for long...