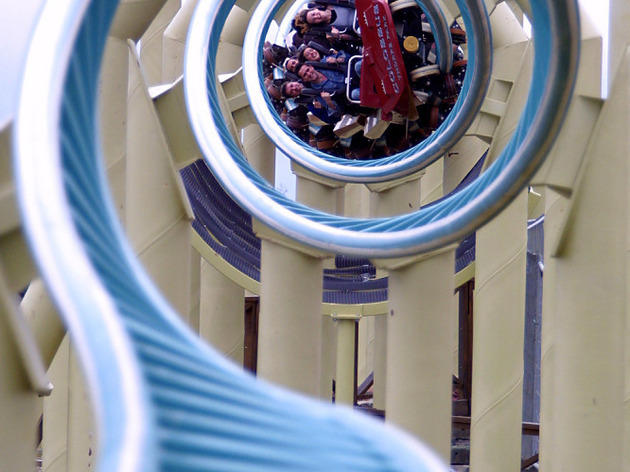 The park is famous for its white-knuckle rides: the Stealth launches riders 205ft in the air, going from 0 to 80mph in 2.3 seconds; Detonator winches riders 100ft into the air and then fires them back to earth at 75km an hour; Tidal Wave is an 85ft drop through water; Colossus is a rollercoaster which climbs to 100 feet then hurtles riders through ten loops; Nemesis Inferno is a suspended rollercoaster featuring a journey through the heart of an erupting volcano; Quantum is a stomach lurching vertical repeating ride; and The Swarm, Europe's tallest wing coaster offering 'a head- first, inverted drop from 127 ft' (since selected seats on 'The Swarm' face backwards).
Many of the rides here are designed for teens and older children, and have height restrictions. That said, parents with young (or short) children will find plenty to do at Octopus Garden (little, friendly rides) and the delightful Mr Monkey's Banana Ride, with its slightly sinister commentary.
Teenagers, meanwhile, will love the horrifyingly fast Stealth (standstill to 80mph in two seconds, plus a hideous vertical drop), the gore of horror-themed white-knuckler Saw (and the 'Saw Alive' horror maze,with six 'live action' rooms, opened next door) and the spiralling water drop raft ride Storm Surge.
The park's newest edition for 2015 is the I'm A Celebrity… Get Me Out Of Here! Maze where visitors navigate their way through bush tucker trails to collect golden stars. Dark crevices, rickety bridges, moving walls, creepy critters, 56mph winds, water jets and a 'Pipe of Peril' await would-be-celebs.
The staff at Thorpe Park are mostly young and extremely friendly, which makes for a pleasant atmosphere.
Top ride: The Swarm
There isn't another ride in the country quite like Thorpe Park's newest, a Swiss-made 'winged-coaster'. Instead of sitting on the track, or dangling below it, riders perch beside it, and the sci-fi bat-shaped cars have plenty of near-misses with plane wrecks and ruined buildings.
Don't want to go home?
Thorpe Shark Hotel is just a few steps away from the park entrance. It's effectively just a place to sleep, but it's cheap when combined with park tickets. Rooms that sleep up to four people cost from £52.50pp, which includes two days at the park and breakfast.
Venue name:
Thorpe Park
Contact:
Address:
Staines Road
Chertsey
KT16 8PN

Opening hours:
2014 dates: Mar 20 to Nov 9: opening times vary, call for details
Transport:
Rail: Staines rail then 10min bus ride
Price:
from £24.99 adv, £19.99 under-12s
Do you own this business?