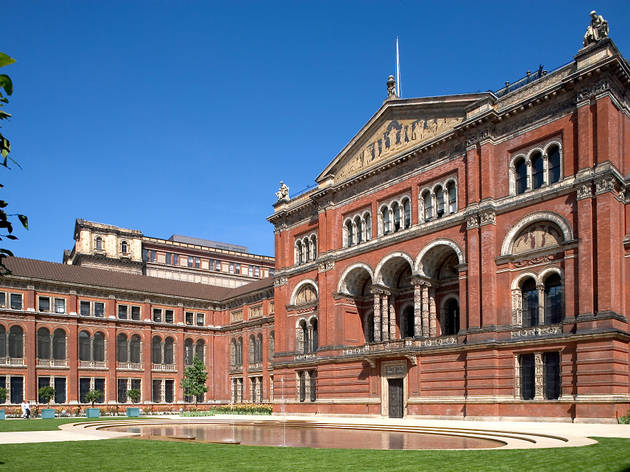 The V&A houses one of the world's greatest collections of decorative arts, in such varied fields as ceramics, sculpture, portrait miniatures and photography. Among the highlights are the British Galleries 1500-1900, which are arranged chronologically to trace the history of British design from the reign of Henry VIII to that of Queen Victoria.
The major names of each era are highlighted, from Chippendale to Morris, Adam to Mackintosh, and alongside the displays of furniture, textiles, dress, ceramics, glass, jewellery, prints, paintings and sculpture there are computer interactives, objects to handle, video screens and audio programmes.
The Whiteley Silver Galleries house collections of European Silver (1400 to 1800), containing more than 500 outstanding silver and gold objects dating from medieval times to the Napoleonic era. The other major displays are English Silver (pre-1800) and International Silver (1800 to the present).
Opened in 2006, the Dorothy and Michael Hintz galleries, which are part of the museum's ten-year refurbishment plan, house sculptures from the V&A's existing collections. Located by the Madejski garden, they allow in natural light to show the mix of contemporary and Victorian architecture used in their construction, including the nineteenth-century monochrome mosaic flooring revealed when the 1960s lino was stripped.
The Jameel Gallery of Islamic Art covers a period that begins with the birth of Islam in the seventh century and ends with the fall of the Ottoman Empire in the last century. Much of the work on display is from mosques and can broadly be defined as devotional. The most striking exhibit is the world's oldest dated carpet, the remarkably unfaded Ardabil carpet, made in Iran in 1539. It is viewed through a high tech glass case and light box suspended from the ceiling that is worth going to see itself.
The Buddhist Sculpture Gallery displays highlights from the collection, ranging from portable gilded Buddhas to monumental temple sculptures. The Rosalinde and Arthur Gilbert Galleries show highlights from the Gilbert Collection of gold and silverware and micromosaics.
The Ceramics Galleries tells the story of world ceramics from the earliest Chinese pottery to contemporary craft, with galleries dedicated to architectural ceramics and twentieth-century collections. The Medieval and Renaissance Galleries present the collections in continuous displays that tell the story of European art and design from the fall of the Roman Empire to the end of the Renaissance.