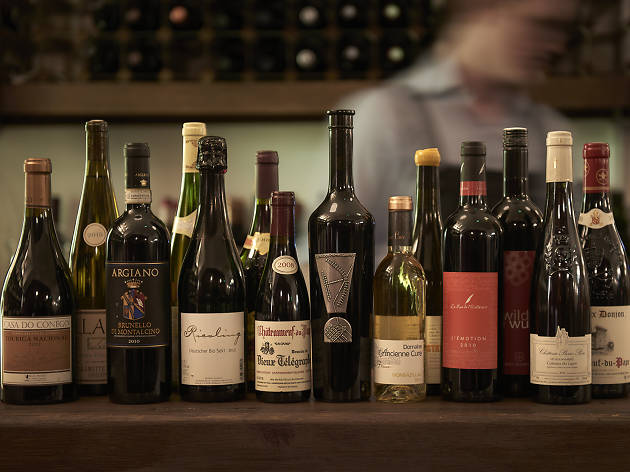 A laid-back wine bar in Shepherd's Bush.
'EastEnders' fans: you know Albert Square? Well, it's named after this Shepherd's Bush wine bar. Set just down the road from the old BBC Television Centre, the soap's writers used to drink here in the '80s. And while it's been spruced up a bit since then – the look's a little more chic than the Queen Vic – there's a certain cosiness about the place that makes it feel like a local.
A white-walled, wide-windowed room on the ground floor of a slender Victorian townhouse, there's a little wooden bar at the back, and lots of low, round tables lined with dark polished church pews. Current owner Allegra McEvedy remembers going to pick out those very pews with her mother Sarah, who started the bar back in 1978 (yup, Albertine's back in the family) and they look well-loved. Allegra's refurbished the place but preserved its soul: the vibe is charming and understated, with the focus firmly on the excellent wine list.
If you know nothing about plonk don't panic: the staff here will hold your hand. I started with a recommendation of Rosa Del Rosa rosé from northern Italy. My waitress described this as 'minerally', one of those words people use about wine that I've always pretended to understand. Half a glass down and I finally got it: crisp, light, lip-smacking savouriness that makes you think of earth and rain. Next up was a strong, heady pinot noir from Austria, which went brilliantly with rich, paper-thin parma ham and sweet melon. Albertine's got a restaurant proper upstairs, but the bar menu is excellent – taking in everything from charcuterie to linguine to lovely oily grilled sardines. Shepherd's Bush isn't exactly famed for its food and drink, so Albertine is a winey oasis in the desert. Pull up a pew: you'll want to stay forever.
Venue name:
Albertine
Contact:
Address:
1 Wood Lane
London
W12 7DP

Opening hours:
11am-11pm Mon-Wed; 11am-midnight Thu-Sat
Transport:
Tube: Shepherd's Bush Market
Do you own this business?
Average User Rating
3.9 / 5
Rating Breakdown
5 star:

8

4 star:

2

3 star:

1

2 star:

1

1 star:

2
It's a true West London gem of a wine bar, perfect for lazy hanging out or partying with friends.
Although it's best known as a wine bar, you can get a lot more than wine and a plate of cheese or charcuterie here, although very nice sharing plates of both are still very much on the menu. But there's a pretty stonking bar food and restaurant menu going on here now too!
Last time I was there in early September, the bar menu included a delicious farinata, some pickled aubergines with creamy tahini and crisp deep fried capers, as well as main course fish and meat options. The previous rather jaded looking room upstairs has now been completely refurbished into a bright and airy yet cosy dining room, with around 5 or 6 starter and main course choices from a Mediterranean inspired menu, and there's also a cool new private room on the top floor you can book for private parties.
An impressive list of carefully selected wines is mainly European (try the Schloss Vollrads Riesling guys, it's fab), with a few choice New World ones thrown in too.

FYI - Albertine has been closed for a while for a refurb, and has just reopened.
Just how a wine bar should be. Lots of Well/worn, very tactile wooden surfaces to go with the subtleties of the vast range of wines on offer, not that I very often veer from the house red - which is always good enough for me. That's whether I'm having a drink at the bar and chatting to Adam or one of the two G/Jennas and the other very nice and very interesting bar/restaurant staff - or eating Roberto's very good, always freshly cooked food. Just how it should be and hopefully will always be (as long as I last, anyway!)
Love, love, love this place. Cute, cosy, great wines, great food, always a good evening - great spot to while away an autumn / winter evening.
Lovely place, moderately priced, but it appears it's now closed Fridays, Saturdays and Sundays. What?
This place is awesome. The owner/staff are REAL. They know their wine, and they are just particularly friendly to those who care about it too. This place is THE top place for drinking delicious wine, having a worthy natter, and nibbling the best variety of cheeses, on carpentry-era wooden seats, by candlelight. WHO WOULDN'T WANT THAT?
I love this place - intimate, with quality wine and nice platters to share... I have many great memories of this place - a great spot to catch up with friends.
Anyone who's been here wouldn't recognise it from the review (which makes it sound mundane). This is very simply one of the few few 70s/80s style wine bars left in London and as such is unmissable. Wine is unbelievable value; the owner picks up much of the French wine direct from the producers on his biannual trips there and cellars it himself. So the mark up on your wine, rather than simply offering a quick profit for the restaurant is paying for his buying expertise and the time he has given over to its storage. The food is also locked in a delicious time warp - you might find the likes of smoked haddock salad, broccoli and cheese quiche or boeuf bourguignon on the menu alongside another dozen or so options and the below-mentioned impeccable cheeseboard. Decor, too is reminiscent of a different age. No sign of gastro-pub or All-Bar-1- isation here. If this place was in Soho it would be the talk of the town. But it's not - it's in Shepherds Bush. This means you can go there and almost certainly find yourself a seat. My advice is: do. before it's too late
I took my friend here a few weeks ago as I remembered I had loved it on my visit a year or so back. it was a special occasion so we ordered an expensive bottle of champagne, which was heavenly. Unfortunately we found the staff unattentive and arrogant and just standing at the bar talking very loudly, one girl in particular who was quite rude when we went to ask for more bread for the cheese board. There was also a dead cockroach in the toilets, which needed a good clean! I real shame as the ambience last time was so nice, but I don't think I would go back now.
Great wine bar with a very special wine list. I love it here.
This place is a gem if you want to wind away a few hours drinking fabulous wine in a relaxed and friendly atmosphere. I recommend the cheeseboard.
The wine was ok but overpriced - but the food was truly terrible, lacking any flavour at all. The staff were rude and were intent on chatting at the bar rather than providing service. enter at your peril.
Terrible food. Terrible service. Far too much money spent and the owner it's rude and unpleasant! Strongly recommend not to go there ever!
Snap up exclusive discounts in London
Time Out's handpicked deals — hurry, they won't be around for long...