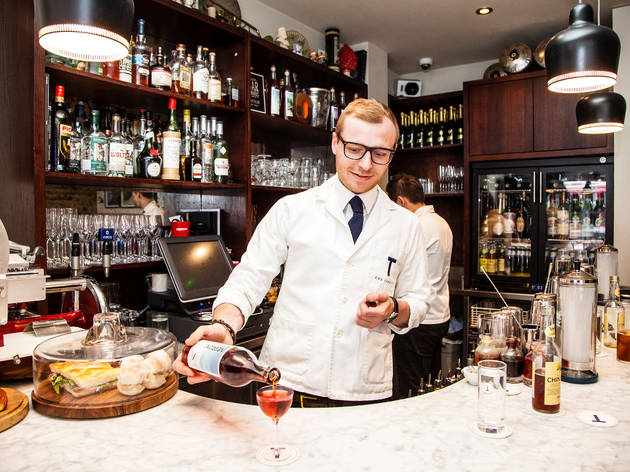 1/7
Andy Parsons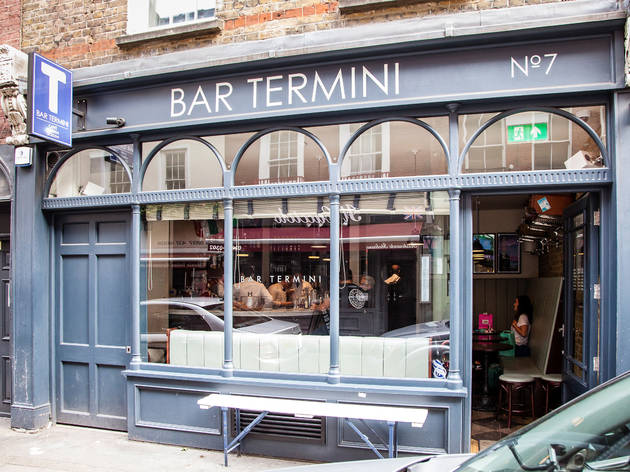 2/7
Andy Parsons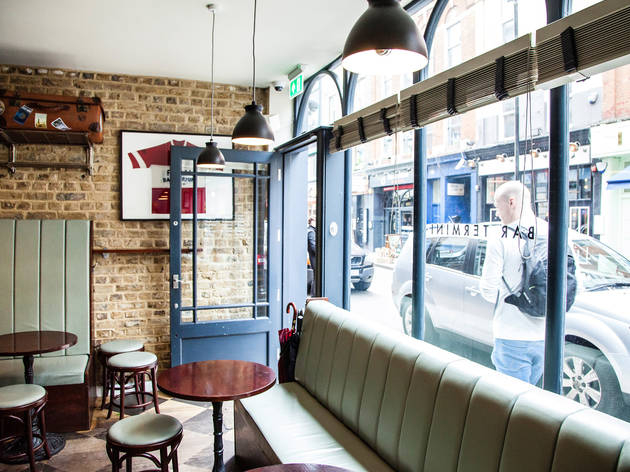 3/7
Andy Parsons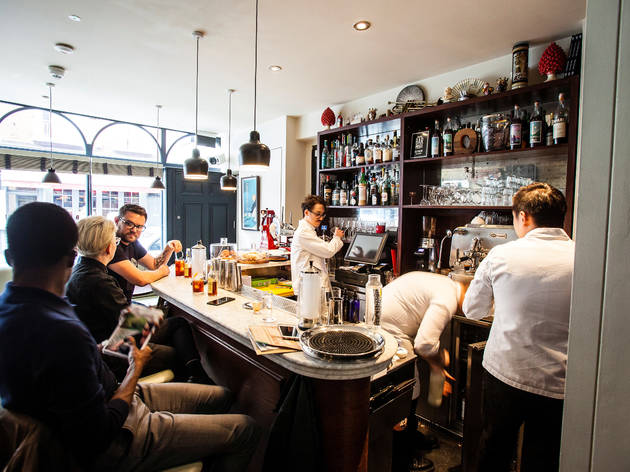 4/7
Andy Parsons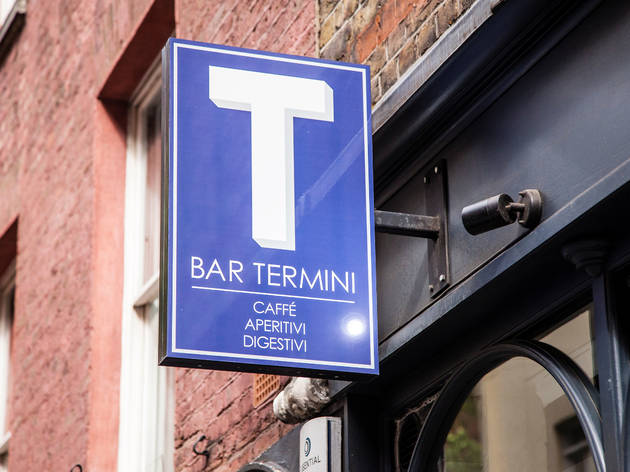 5/7
Andy Parsons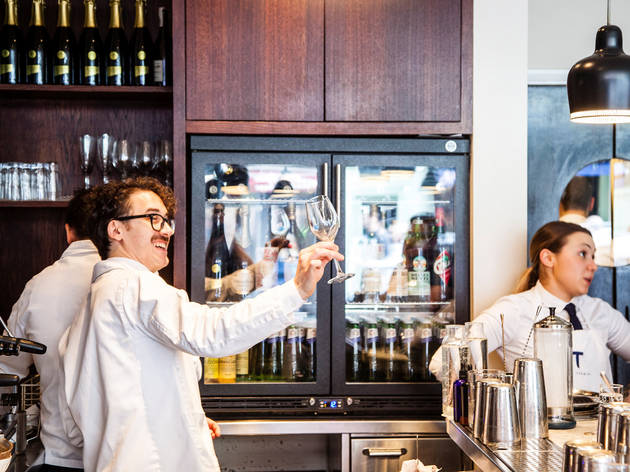 6/7
Andy Parsons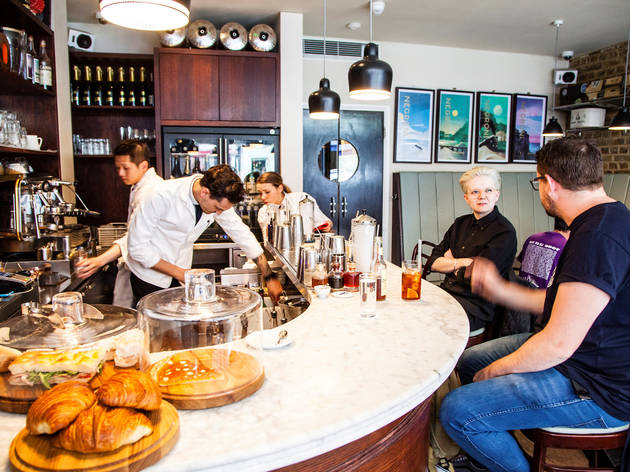 7/7
Andy Parsons
Time Out says
Quality coffee and cocktails from alco-alchemist Tony Conigliaro and Illy's head of quality Marco Arrigo.
When someone calls two people a 'dream team', my hype-detector lights up. But with Bar Termini, the DT moniker seems fitting.
Bar Termini does two things: coffee and cocktails. Coffee is overseen by Marco Arrigo, head of quality for Illy, who has probably trained more baristas – and trained them rigorously – than anyone else in the UK. Cocktails are supervised by Tony Conigliaro, the alco-alchemist behind 69 Colebrooke Row and Zetter Town House, among others. Teams don't get much dreamier than this.
So, have they found a supersized venue to match the giant reputation? Ha ha ha. There's room for 25, and seated service only, though you may stand if you order a single 'espresso al bar' (£1) for Italian-style drinking-and-running.
The coffee list has just four brews, all of them classics but with a twist. The alcohol list has three negronis, four 'aperitivi', three wines, one bottled beer. There is also a small food offering: baked goods from L'Anima in Shoreditch by day, charcuterie and cheese in the evening.
I went for coffee at lunchtime. The 'espresso al tavola' (they'll explain what it means) was unusual but flawless. On my second visit later the same day, I had a marsala martini: Beefeater gin, sweet marsala, dry vermouth, almond bitters served straight-up. A model of simplicity and balance, this is one of the best cocktails in London.
Prices for hot drinks are higher than the norm (£4, apart from single espresso), but that's a for triple espresso shot. Cocktails, by contrast, are cheap (£6.50-£8) for this quality and the Soho location.
The tiny Bar Termini is likely to become a hot ticket; booking (through OpenTable only, not working at the time of going to press) is required after 5pm. The dream team has dreamt up a vision of a bar. Get in there before everyone wakes up to it.
Click here for Time Out's exclusive offer on cocktails and food at Bar Termini's five-star follow up.
Details
Address:
7 Old Compton Street
London
W1D 5JE

Transport:
Tube: Leicester Square or Tottenham Court Road
Contact:
Opening hours:
Mon-Thur 7.30am-11.30pm; Fri 7.30am-midnight; Sat 9am-midnight; Sun 10.30am-10.30pm
Do you own this business?
Average User Rating
3.8 / 5
Rating Breakdown
5 star:

10

4 star:

9

3 star:

3

2 star:

1

1 star:

3
Really, really good coffee served here, illy of course. It is cosy and intimate and a great place for an aperitivo or cocktail. Top marks....
Blatant racial discrimination, and thus the worst experience I have had in a London bar. To begin with, the server appeared to look for an excuse not to seat us even though there were two free tables. We were seated, but it was clear we were less than welcome. After that, in a tiny bar (6 tables total!) we were completely ignored for over half an hour. Despite repeated requests no server came to our table, and they took great pains to avoid eye contact. In that time multiple parties entered after us, had their orders taken and were served their drinks (!) while we kept asking to be attended and continued to be ignored. It was evidently no coincidence that we were the only non-white people in the bar. I have had similar experiences in bars in other countries, but not in London, and never expected to be treated this way at Bar Termini. But I see from TripAdvisor and OpenTable that we are by no means the first non-white party to be treated this way. If you aren't white, I am sorry to say this may not be the bar for you.
Our mixologist was incredible. He was knowledgable, enthusiastic, and patient. You could really see his passion for flavour and have our attention at the right time. Great venue, great atmosphere :) thank you
Amazing place with very cool atmosphere! The staff are very friendly and make you so welcome. The best espresso martini I've ever had! Will 100% be back!
This place is great for a negroni in Soho (or a coffee too). It's decked out like a 60s Italian train station, but not in a gimmicky way. It feels subtly classy and the drinks are good.
This place is my fave little hideaway in soho for a good, proper coffee! Super central and easy to get to, really quick service and cool cocktails in the evening. Love that a quick shot of coffee is available at the bar too if in need of a quick boost! They also serve some light bites - cheese and charcuterie, which is always a plus for me!
A great bar for the Italian classics, with a menu heavy on negronis, martinis and bellinis. It's a small space but looks fantastic.
great overpriced coffee - ive never had one of the cocktails which look awesome so my review is really for the place and it's coffee. It's a great location, beautifully fitted out and has a good vibe. You can usually get a table quiet easily in the mornings.

Perfect spot for a drink, whatever time of day you happen to be passing! Everything as spot on as you'd expect from the people behind it.
Amazing place. Been there a few times now and booked each time. Tiny - not a place to go to for a big party, but fabulous for a date and the cocktail waiters are brilliant. Negronis are top notch in my opinion and there are many places that would charge more.
Booked tonight. Was warned in advance it's only for an hour. Great cocktails. Great recommendations. Nice space. Suited Soho. What's not to like?
Terrible experience. We booked a table and weren't told there was a time limit. The waiter then suddenly showed up and asked us to go. When we said no the manager came over and after telling us to leave said we didn't have any proof they hadn't told us the limit ( we did, as they'd left a voicemail) and she would ask the bouncers to throw us out. Unbelievable!
Good idea but far from being one of the best bars in London.
For a true negroni (that is not served in a shot-dessert glass! without ice and orange slice) I recommend the bar at maze grill.
£6.50 for a SIP of negroni?? I would pay double for a proper one.
Ps double check the prices before ordering the coffee.
Disappointed.
Cosy, haha. This place is tiny. My sister and I went there on Sunday evening. I was reminded of the crowded cabin scene in the Marx brothers' Night At The Opera. As my sister pointed out, whoever designed the place has made things more difficult for themselves by introducing banquette seating, reducing the space available even further, and building a bar that takes up almost half of the room. We were crammed in a corner, and everyone squeezes around one another constantly. There is a kind of eccentric charm about it for a while, as if one were trapped in the confines of some surreal 80s neo-noir, but after a while it does make you want to move on elsewhere. The review refers to there being one bottled beer available, but if memory serves it's Peroni, which is barely a beer at all, more of a lightly corrupted mineral water. Even if you wanted to stay with the Italian theme there are way better beers coming out of the country than that. The negroni classico was lovely - and tiny - and my sister's cocktail was also excellent. The service was great when the poor man could reach us, but really, why they chose this spot for a bar I cannot tell.