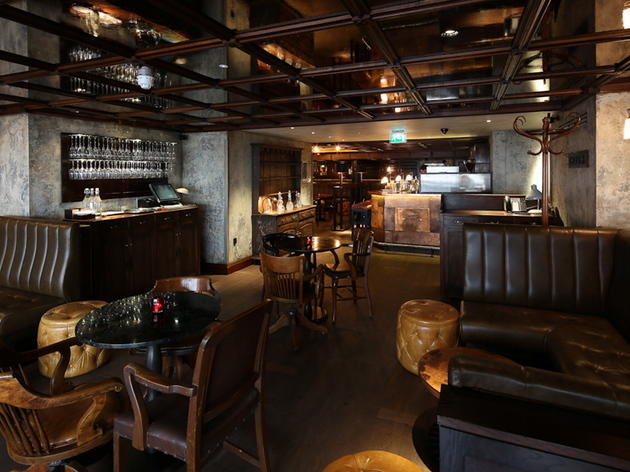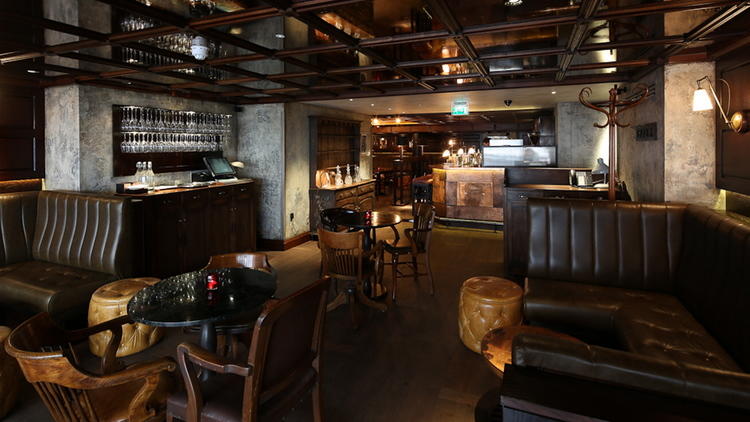 Time Out says
Though technically an upstairs adjunct to Jason Atherton's celebrated Social Eating House (which itself garnered a five-star review in Time Out), The Blind Pig is a worthy destination in its own right. Perhaps as a nod to its Prohibition-flavoured nickname ('blind pig' being US underworld slang for a good old-fashioned den of iniquity), it's not immediately obvious how to find it at street level; look under the vintage 'Optician' sign for the blindfolded hog doorknocker and boom, you're in. The decor is authentically retro but never schmaltzy; lovely touches like the antique mirrored ceiling, copper-topped bar and charmingly mismatched (yet never discordant) wooden furniture made me feel (on date night) like a wide-lapelled Capone crony painting the town with his broad. If this all sounds a little contrived and too-clever-by-half, the cocktail menu brings welcome comic relief. Who could resist a Slap 'n' Pickle (gin, brandy and pickle brine), Kindergarten Cup (incorporating 'Skittles-washed Ketel One'), or Robin Hood, Quince of Thieves? (brandy, quince liqueur, mead). The puns are employed with abandon, but everything I tried was ace (even, yes, Dill or No Dill). Better yet, the bar snacks are made downstairs, so the grilled baby peppers, confit pork rillettes and duck fat chips are straight-up gangster.
Details
Address:
58 Poland Street
London
W1F 7NR

Transport:
Tube: Oxford Circus or Tottenham Court Road tube
Do you own this business?
Average User Rating
4.2 / 5
Rating Breakdown
5 star:

10

4 star:

10

3 star:

3

2 star:

1

1 star:

0
I visited on a weekday afternoon in hopes it wouldn't be too busy and I wasn't disappointed - it was empty except for two other groups.
This meant I could snag a window table with a charming view down on the Soho backstreet the bar is situated on.
The view inside was just as lovely - ornate but not ostentatious with everything down to the toilets styled to the same antique opulence, and with the concealed have-to-know-it's-there entrance it gives you a taste of elegance and exclusivity without the extortionate price tag
Being a bar I expected to have to get up to order drinks but was instead treated to table service which was a pleasant surprise.
The cocktail menu was inspired by classic childrens literature for a nostalgic experience and the drinks captured the essence of the source material without being the overly faithful sugary concoctions you might find recipes for on pinterest - the butterbeer in particular was pleasingly heavier on the beer and less on the butter.
Overall a delightful experience and a charming way to spend an afternoon or lunchtime
I've never heard of the Blind Pig, or Social Eating House before - the reason I did now was a recent blog post from Time Out, which spoke wonders about the new, story-based cocktail menu. With Winnie the Pooh, Harry Potter and the BFG mentioned, among others, I just had to check it out.
The Blind Pig is a fancy establishment. Not the pretentious type where they look at you mean if you're not wearing a dinner jacket, but based on the crowd, you won't for a second forget you're in the heart of central London. On the other hand, the staff are surprisingly and outstandingly lovely and helpful. Having made a booking for 8.30 and turning up at 7, they did everything to sit us down. Our table had a booking on it before us - the people never showed though. So they did everything to reach them before they gave away the table, which is something you don't see often.
The interior design is stunning, with leather sofas, dark wood furniture, quirky bottles and jars on shelves and a low ceiling, with a large window to let in some natural streetlight at the end of the room. The cocktail selection is the outstanding element here though. Their new menu is like a story book, and all cocktails here are spot on. The BFG cocktail glows red in the jar; the Winnie the Pooh cocktail comes in a jar labelled 'HUNY' with a gummy Piglet on the side. I tasted the butter beer-based cocktail, which reflected exactly how I imagine butter beer to taste like - little bit beer-flavoured, goes down with a fizzy kick, and just enough sweetness to balance out your tastebuds. A cooled, fizzy wizard delight, which shows in a mini-beer glass, this is not the, albeit delicious, too sweet and sticky butter beer you get at Warner Bros studios.
The only thing I would criticise perhaps is the music. It just doesn't match the bar's otherwise old-school, somewhat jazz age-reminiscent design. It is just slightly too loud for proper conversation, and I'd rather be sipping my story themed cocktail to some relaxing piano music, live of course, played by a white-gloved old chap at a grand black. But nobody's perfect.
Literary nerds and cocktail enthusiasts, don't miss out on the Blind Pig's new menu! And although extremely difficult, try and fight the urge to steal one of their beautifully illustrated, story book menus...
The bartender returned and begrudgingly made us another drink,clanging bottles and glasses. It was obvious he was annoyed by us.
Unique vibe and exclusive atmosphere! The TOP.
My evening at The Blind Pig didn't start particularly well as I arrived before the rest of my group and asked to be seated at which point I was told that I couldn't be seated until the rest of my party arrived. Sadly this meant that by the time they got there (not that this is the fault of the bar in any way) the place had filled up and we had a long, cramped wait for a table. My point here is book book book because unless you are planning on getting there at about half five it will most definitely be busy.
The cocktail menu is inventive and fun - I enjoyed a cocktail that came served in a 'juice box' to be drank through a straw which was super fun before moving on to some of the more sophisticated offerings on the extensive menu. The staff are helpful, making suggestions without being pushy and we took their advice and were very happy.
It's a really nice atmosphere at the BP - think cosy, speakeasy with leather banquettes and heavy drapery. A nice throwback to the Soho of old. The perfect place to unwind over a few drinks (the food looks great too, though sadly we didn't try it!).
It's a little pricey so one for a special occasion but most definitely worth the visit.
I've only been here once but can already say that this is probably my favourite bar in London. I'd pretty much made up my mind on that about 10 minutes after walking through the door.
Met by the most welcoming staff, we were seated in one of their corner leather booths while a bartender sat down with us to get us talking through our likes and dislikes. I'm a trusting person, so we let him choose our first cocktail without looking at the menu and he chose extremely well.
Between us we went through another three rounds of drinks, each round ordering new cocktails which allowed us to try almost their entire menu.
The cocktails here are fantastic. A long menu with amusing names, each drink has great combinations and interesting ingredients that make it hard to choose between them and there was not one dud between the bunch. Highlights include the McBandaq, a refreshing drink that comes in a Blind Pig branded takeaway cup, Slap N' Pickle (a love for pickles is obviously necessary here) and the Flipster, which is a hipster take on an espresso martini, complete with a moustache garnish. Don't worry, despite what the menu says no actual facial hair is used here.
What I like about this place is that is has an identity. The décor, the subtle staff uniforms but also their etiquette, which is what really won me over. I can't recall a time where I've been so well looked after by every staff member that we encountered. Such continuity and alignment across the whole team made for a great experience, one which will no doubt see me become a regular customer for the foreseeable future.
Tastemaker tip: Their food menu should not go without mention. A choice between their bites, jars and steaks, we went through a number of their bites which were all delicious, especially the duck fat chips which come with an incredible curry aioli.
Buzzy atmosphere, terrific cocktails served with obvious care, but felt like a triumph of style over substance. Very low ceiling made it feel more cramped, crowded, noisy, and hot than it probably was. Great if you don't mind working hard for your drink and like shouting, less so if you fancy something more chilled out at these prices

Like lots of other bars in London, this place is trying very hard to convince you that you're in New York. Unlike plenty of West End cocktail bars, it isn't an awful place to spend a whole evening. The drinks aren't unreasonably priced, the beer comes in cute little tin tankards, and there's a big window looking out over Poland Street. It's also open later than most of the pubs in the area, making it a good place for a nightcap. All in all there isn't much to complain about here, even if it's hardly an authentic London experience. Or maybe, these days, it is?
Favourtie London cocktail bar by far!
Cocktails were tasty and strong despite their small size. I enjoyed the atmosphere. Shame about the slow service, I expected more since they automatically charge 12.5% for it.
Unusual cocktails that taste great, will definitely be going back
Thoroughly enjoyed a late afternoon cocktail or two here on Saturday - we drank Dill or no dill and Slap 'n pickle. A great, fun cocktail menu and excellent bar snacks - we had belly pork sliders (to die for) and duck fat chips....nom a nom. The room is clean and fresh, very attentive staff and complementary water on refill, a nice touch.....hope that was not just because it was 30 degrees outside. Stylish beyond doubt and so looking forward to trying the Social Eating House restaurant, which looks every bit the place to be seen. Well done, I am coming back soon:-)
Very nice atmosphere, amazing staff and yummy cocktails which are affordable.