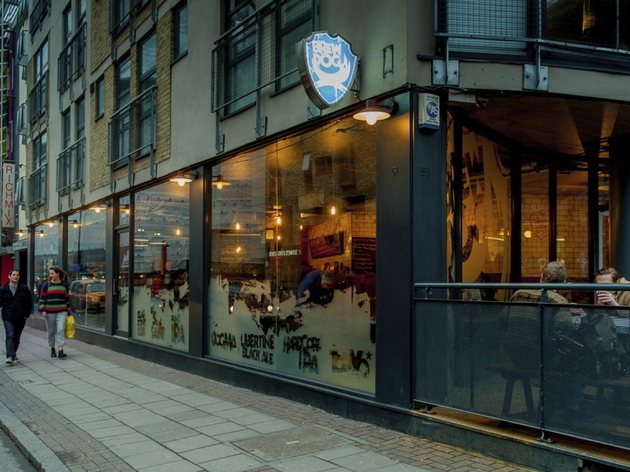 Time Out says
The premises vacated by Mason & Taylor are now home to the second branch of the Aberdeenshire brewery of the same name, after the original in Camden. You can buy Brewdog beers in Tesco and Asda now, and it has bars in almost every major British city, but it still somehow maintains independence and an air of rebelliousness.
Brewdog Shoreditch looks bit like a foundry (bare lights, bits of iron, moulded aggregate). It's not as sterile as it sounds, and there are wooden booths for a bit of privacy from the crowds. As with Camden, it's often rammed with hopheads male and female – it's all about the craft beers here. There isn't a single sop for Carling or Krony lovers in sight. Everything on offer is a celebration of the endless drinking possibilities that arise when malt, water, yeast and hops come into contact, from the dark and spicy Alice Porter to the sharp and fruity Raspberry Revolver. The most popular brew, Punk IPA, has enough hops packed into it to dispel all memories of any brackish brown beer you might have tried and hated. Average beer strength must be about 6.5 per cent, and none of it's cheap, so best stick to half-pints.
Brewdog Camden sells good pizzas and burgers; here it's 'Japanese street food'. In a Scottish brewery's craft beer bar in London. Why this is so isn't clear. But it's not bad – a 'gyudon roll' was stuffed with slow-cooked, salty sweet beef, and 'katsu skewers' were deep-fried morsels of lotus root and okra on sticks with dipping sauce. I'm not sure what they'd make of it in Fraserburgh, or Fukuoka for that matter.
There's now a third branch in Shepherd's Bush.
Details
Average User Rating
3.7 / 5
Rating Breakdown
5 star:

6

4 star:

9

3 star:

6

2 star:

0

1 star:

2
As cool as this pub is and as much as I love BrewDog and its beers, I still have some reservations against this specific branch. I had my birthday here last year - on arrival, I found that there were people at my reserved table, so went to the bar to check what we could do. I was rudely informed I was 10 minutes early, but was told to feel free to chase people away. As if they dared me.
I circled around, figured I'd wait 10 minutes, after which I went back to the bar to find someone else to help. On second try, the guy did what is expected and I consider common courtesy, and cleared the table and seats for me.
Otherwise it was all nice though, beers are great, there's a good amount of space and the location is ideal. So.. love, no matter what.
Do you love exploring and beer? Then this is the place for you. Relaxing atmosphere, hundreds of beers to try from... it's a great place to meet with friends and have a chat while tasting incredible some barley-based drinks!
This venue used to be an oasis away from the mainstream Shoreditch bars with good beers, good music, a relaxed atmosphere and friendly bar staff. On a recent visit, I was horrified at how far things have fallen. On entering the basement bar, I was queuing for a drink when an argument broke out between a tall, bearded barman and a girl. He got the order wrong and then started shouting at her rather than rectifying his mistake. While Angry Beard was slagging off the punters, two slow, preening barmen painstakingly constructed cocktails seemingly oblivious to the burgeoning queue.Over the next 25 minutes, several prompts for service from several thirsty customers fell on deaf ears. The atmosphere was toxic as the superiorist staff revelled in winding up the public by ignoring them. A flat pint of punk finally arrived on the half hour mark.After this repeated itself on a second bar visit, it dawned on me that this is now the way it is. Unhelpful, narcissistic bar staff with nothing but loathing for their customers. The BrewDog Shoreditch has become what it set out to fight against. It has become a soulless cavern of contempt.
maybe the doorman had been to italy and been subjected to racism himself
Hello guys! Friday 9/8 me and two friends of mine, we were going to the brewdog to drink a good pint around 11pm after a fantastic dinner but the bodyguard he did not allow us inside and when why asked "why", his fantastic answer it was " because you are Italians and you are not allowed". Obviously it was a defiance, but no reason why because we weren't drunk and anyway a racist behavior it shouldn't be allowed in London in 2013.. We are completely disappointed.
This bar is second to none. If you like beer, it's the place to go. Downstairs atmosphere's really cool- dimmed lights, comfy sofa- I just love it.
Beers are excellent, but the pseudo-alternative branding is so cringey it makes me double over. You'd think a fourteen year old boy had done their marketing. Also suffers from inevitable Brick Lane run-off.
Used to love this place when it was M&T and as much I love hops and what brewdog does with them, this pub has a far inferior selection than before and the new layout is uncomfortable.
Snap up exclusive discounts in London
Time Out's handpicked deals — hurry, they won't be around for long...