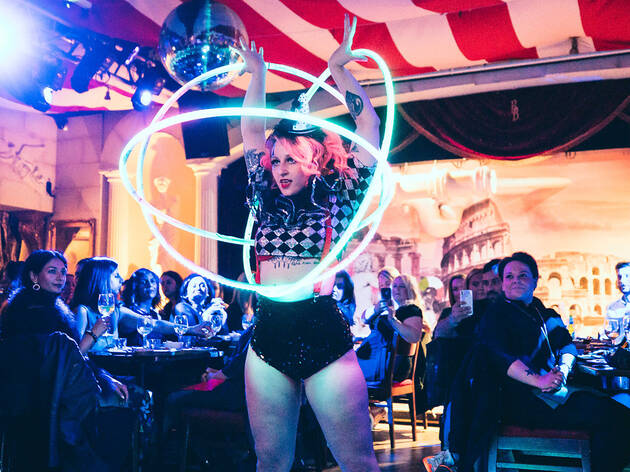 1/10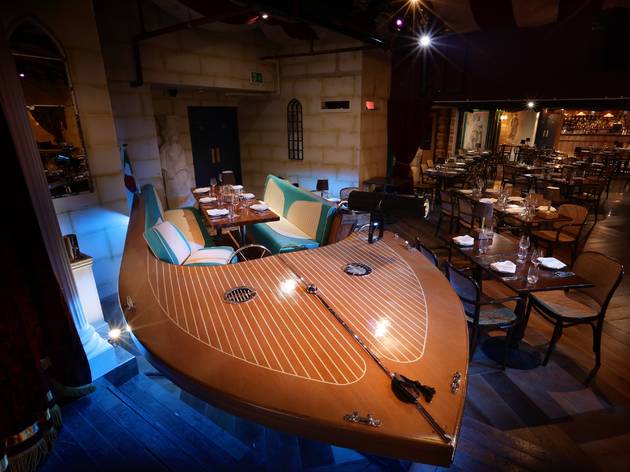 2/10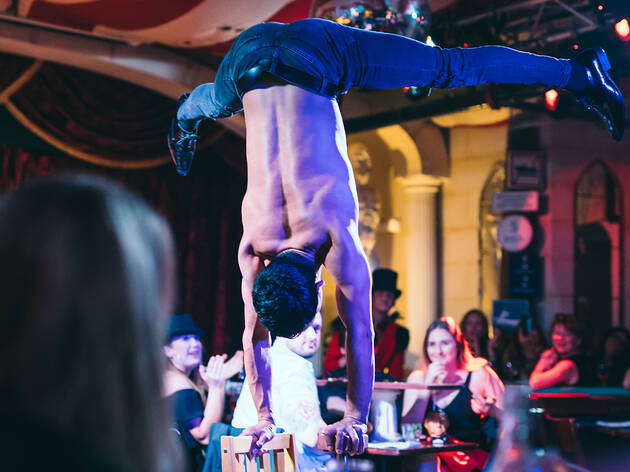 3/10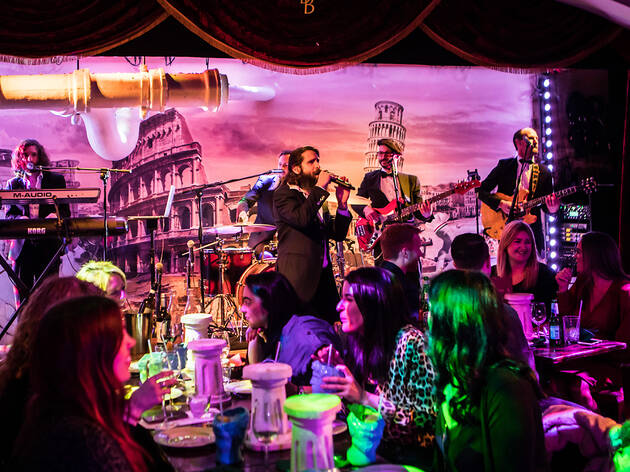 4/10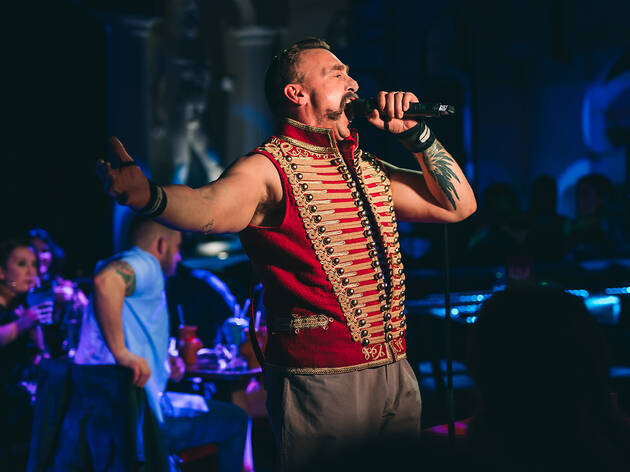 5/10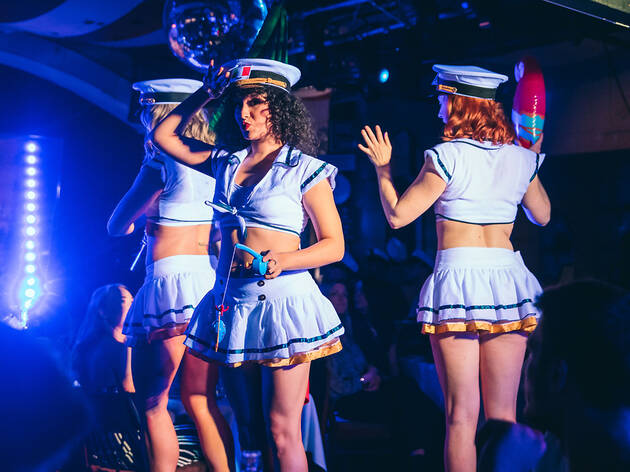 6/10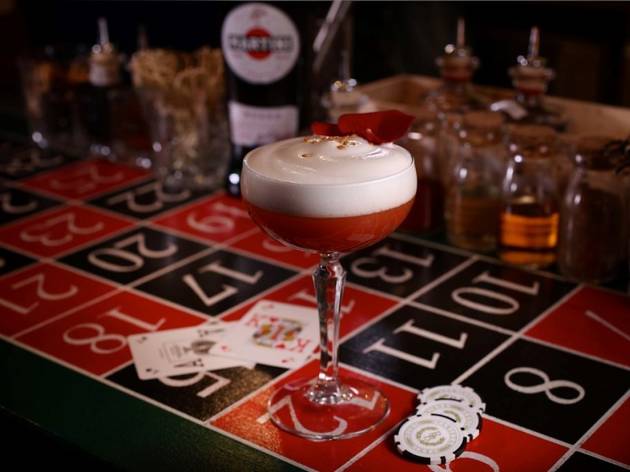 7/10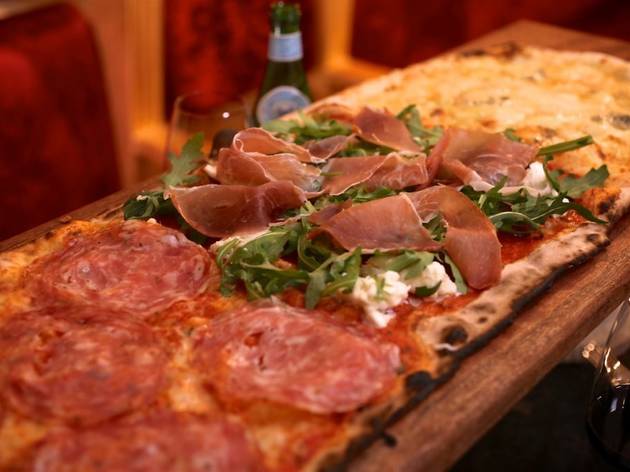 8/10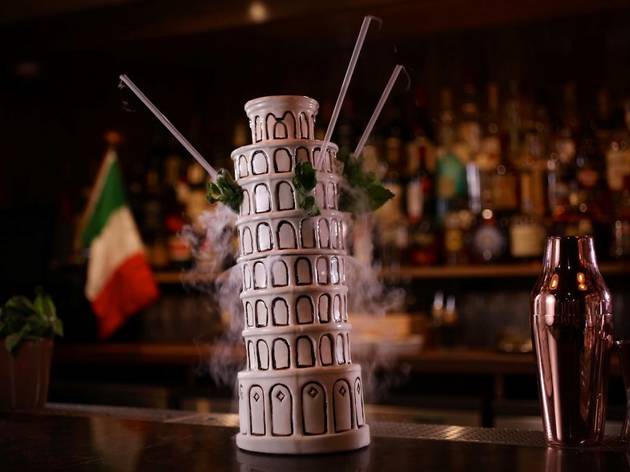 9/10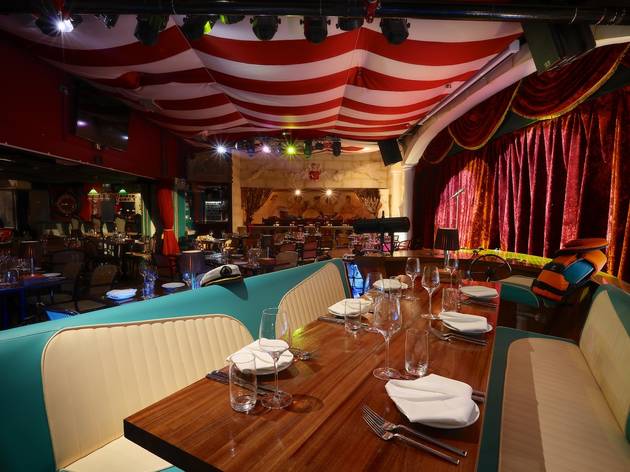 10/10
Time Out says
A gaudy, Italian-themed party bar in Covent Garden.
'If you're not drinking,' cried our compère, a boisterous lady in a slinky ballgown, 'you can fuck off!' It was a subtle intro to the world of Bunga Bunga, an immersive Italian bar-restaurant that began life in Battersea and has spawned a wayward child in central London. Luckily, there's more to it than this go-hard-or-go-home attitude.
For starters, there are marble interiors as gaudy as the Trevi Fountain, rippling torsos jutting from the walls and a speedboat fashioned into a table. Then there's the entertainment, with mafiosi (played by actors) interrupting your conversation and a house band playing Rat Pack tunes. No interlude is left unfilled. It's madder than Mario Balotelli. Incidentally, there's a cocktail named after him, served in a cup the shape of his head.
Italian liqueurs and spirits abound on the vast menu, although prosecco seems to flow most liberally round the room. For £28 per person you can chow down on a sharing menu of Italian staples, including a decent spread of antipasti, and a tipsy tiramisu. And of course there's pizza, served by the metre, for soaking up all that booze.
If Bunga Bunga could stop forcing the fun down people's throats, it could be a bigger bash than Berlusconi ever had. Don't come here for a quiet catch-up or, worse still, a first date. Do come for a hen do or if you like to party with more than a dash of pomp, eh?
Bunga Bunga says
Bunga Bunga Covent Garden offers a secret world full of quirky cocktails, metre-long pizzas and live entertainment!

An incredible secret underworld in Covent Garden, hidden beneath his Mamma's Italian bar & pizzeria, BungaTINI. With the help of his mobsters, La Famiglia del Bunga Bunga host weekly live shows inspired by Silvio Berlusconi's infamous and wild parties. Step through the meat locker, navigate your way past the 'wise guys' and discover an immersive Italian experience, packed with delicious metre-long pizzas, live theatrical shows, bespoke sharer cocktails and our very own Bunga-oke!
Details
Address:
167 Drury Lane
London
WC2B 5PG

Transport:
Tube: Covent Garden
Contact:
Opening hours:
Thurs 7pm-2am; Fri 6.30pm-2.30am; Sat 11.30am-4.30pm, 6.30pm-2.30am
Do you own this business?
Average User Rating
4.4 / 5
Rating Breakdown
5 star:

5

4 star:

4

3 star:

1

2 star:

0

1 star:

0
Saturdays are the best day for brunching and Bunga Bunga have opened their doors on Saturday afternoons for hungry diners who wish to enjoy their Matinee Brunch, but also wish to be entertained. A few weeks back I got the opportunity to attend and I jumped at the opportunity. I have to admit that this was one of the best brunches that I have ever been to! I literally had the best time of my life! If you read on, you will find out why…
From the moment, you enter Bunga Bunga, the staff becomes super secretive, I was taken through a back door and down a set of stairs, which leads to the main dining area. I was a little apprehensive at first, my initial thoughts were 'Where the hell are they taking me?' but I also thought this was apart of the whole theatrics. You see, the entertainment is Italian mob style, similar to popular films like the Godfather or the Italian job.
The brunch starts with warm Brioche bread, served with Burrata and homemade tomato jam. The Brioche is very dewy and sweet, which makes it sit perfectly with the tomato jam. I finished the jam in 5 minutes flat and did the shameless action of asking for more tomato jam and Brioche as if my name was Oliver twist-Embarrassing much! However, for me, the combination was just so moreish!
The antipasto was secondly presented, which is Bresaola, Coppa, Mortadella, and Finocchiona Salami. I still had some leftover tomato jam and brioche so I paired this together.
Before I could even tuck into the metro pizza, I was alerted by the sounds of cop sirens, the entertainment had begun again. An Italian couple graced the stage as the new scene began. Running from the cops, the couple encouraged and advised us to drink up the prosecco, as it may be the last thing we were drinking as the cops were around the corner. After a few minutes of chatter, the couple then broke into a melody rendition of 'Anything you can do, I can do better.' What I loved was the rest of the diners also started singing along. I guess the cops were tailing onto the couple as they ran off the stage and I began to tuck into my pizza.
The brunch metro pizza is one metre long with three different toppings. I glared at the pizza in utter shock! One metre of pizza! Luckily, my friend was here to help me devour the pizza! The topping choices are as followed;
-Tuscan sausage, tomato, mozzarella, pancetta and a baked egg.
-Quattro for Maggi: Mozzarella, Gorgonzola, Taleggio, and Parmesan
-Mozzarella, Spinach, and Stracchino cream
I opted for the vegan cheese and the removal of the egg due to my dairy allergies and for all you veggie and vegan lovers, you will be happy to learn that there are vegetarian and vegan options. My favourite topping was the Tuscan sausage options as the sausage is well cooked and tasty, overall the pizza has a dewy texture but I do think this was due to the vegan cheese.
What to drink? The brunch comes complete with 2 hours of bottomless prosecco and Bellini, but my advice is to drink fast as those 2 hours do fly by. I choose to go with the Bellini, as they are an absolute fruity dream and pair nicely with the brunch menu. Lastly, there is the Drunken Espresso Tiramisu, however, I opted out of due to my allergies.
Overall, this is one of the best brunches, I have ever attended in London, although I am not a huge fan of Italian food (Only due to the fact most Italian dishes predominately contain milk and cheese, which I have allergies for) the entertainment makes the brunch worthwhile. After two whole hours of Bellini drinking, I somehow got nominated by my guest and ended up on stage singing Valerie by Amy Winehouse; oh, did I forget to mention that there is karaoke and live music after the brunch, where you or your guest can nominate diners to sing. Oh, and please note, and if you sing badly the hosts and entertainers will sing over you, and that is your cue to leave the stage, thankfully this did not happen to me!
Price: ££ (£44 per person)
What to wear: Casual (I wore a leather jacket, cashmere jumper, and trainers)
Ambience: Traditional Italian themed restaurant with live entertainment and karaoke