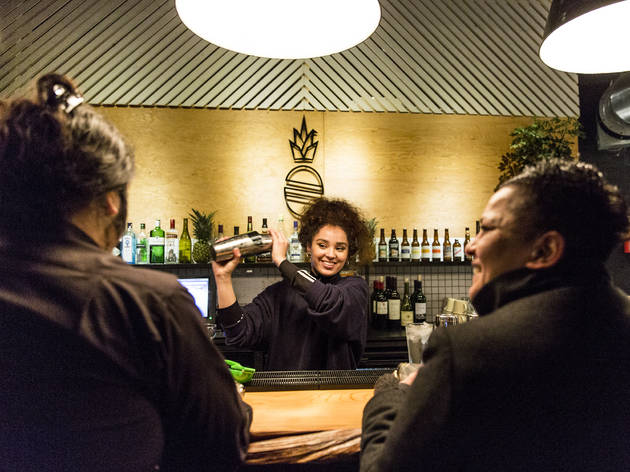 1/5
© Scott Chasserot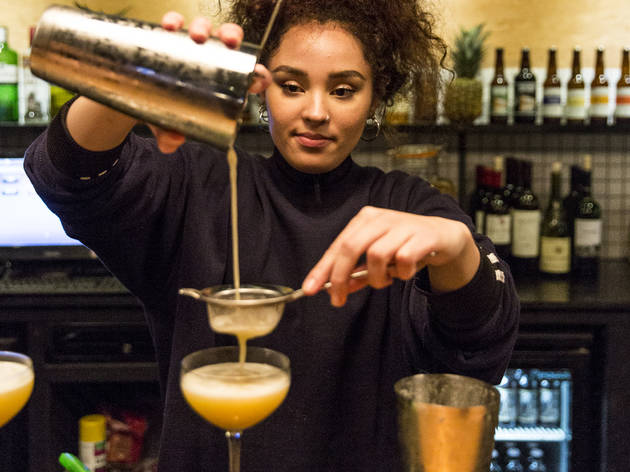 2/5
© Scott Chasserot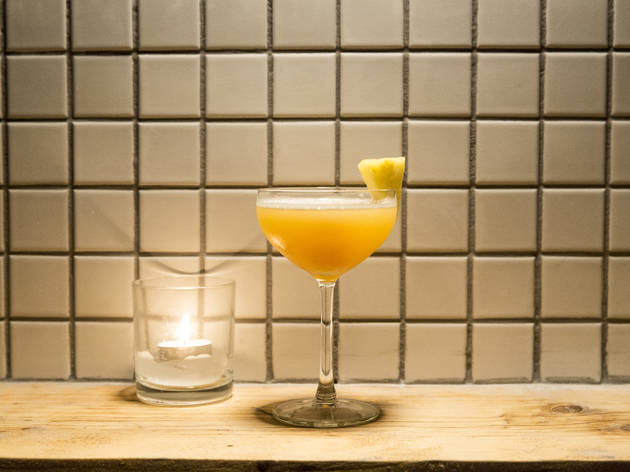 3/5
© Scott Chasserot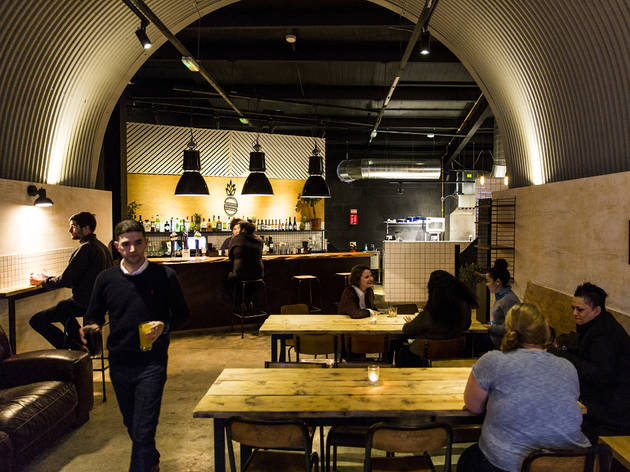 4/5
© Scott Chasserot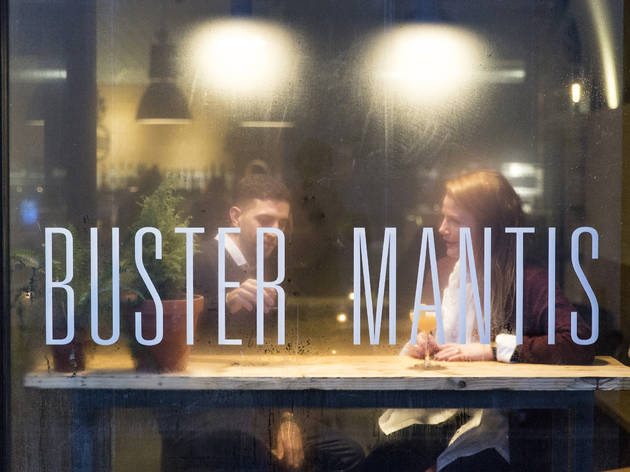 5/5
© Scott Chasserot
Time Out says
A Deptford bar, café and creative space with influences from Jamaica.
It's official: Deptford's getting trendy. Last year the high street got its first cycle café – fixing flat tyres and flat whites – and the year before that a hip new pub introduced fancy beers, retro decor and a little bit of controversy by calling itself The Job Centre. Next up, Buster Mantis, which has taken over two handsome railway arches across from the station and given them a Jamaican twist, devoting one to drinking and dining and the other to showcasing the work of local artists.
Actually, the place feels more like Copenhagen than Kingston, thanks to the polished concrete floors, reclaimed wooden tables, smooth plywood walls and hefty industrial lights. There's a funky pineapple logo hanging on the back wall and you could argue that that's a bit Jamaican, but it's not enough to make people forget that a can of Rubicon from the Tesco up the road is the closest they're likely to come to experiencing anything truly tropical this year.
That said, it's difficult to understand why you'd choose to go anywhere else for refreshment round here given Buster Mantis's small but superb selection of local beers from places like Brockley Brewery and Brick in Peckham. The cocktails are less inspiring – a caramel espresso martini was weak and sickly sweet on our visit – but there's a delicious rum punch that's got a serious kick (a must for anyone concerned about their booze-to-buck ratio).
This being a bar with a Jamaican theme there's also a modest menu focusing on jerk chicken hot off the open kitchen's sizzling charcoal grill, but its dishes all failed to deliver the slap-around-the-chops flavours we'd been hoping for.
People will no doubt criticise Buster Mantis for playing its part in the gentrification of Deptford, and they're probably right. But it's also a place that supports local artists and producers, and that means it's helping the existing community. Besides, it does a damn good rum punch, and who can complain about that?
Details
Average User Rating
3.4 / 5
Rating Breakdown
5 star:

5

4 star:

3

3 star:

1

2 star:

2

1 star:

3
I LOVE this place! It's great to have a Jamaican bar and restaurant in South East London that boasts good service, good food, good drinks and a good space. If you've ever been to Jamaica, you'll appreciate why this space is special and a nice representation of our culture. I have been here almost every weekend for the past few weeks. Alex Plim of TimeOut described it as one that may be criticised for playing its part in Gentrification but for all of you who dare do your research, you'll know that Buster Mantis was founded and is run by a Jamaican man who has called Deptford his home for a number of years. He didn't move here as part of the influx of middle-class/affluent people who are driving locals out, since opening he has elevated locals such as himself and is representing a culture of people that have lived in Deptford for years if not all their lives.
Don't agree with Chris W. I actually live locally and go to this place. I may be typical of the new breed of city professional or creative moving into the area that a bar like this might cater for. Nonetheless in my experience Buster Mantis runs rings around the other watering holes in the area, including the Job Centre. Great concept, great menu (which is varied!), great crowd and fantastic drinks, both local brews and the more exotic. The rum punch is lethal! I finally have a local alternative to bars I would go to say in the City or Shoreditch.
I like the fact the area is becoming more of a mecca for bar hoppers. Roll on the summer when the other 14 plus arches open with outlets across the road in the new station development!

This place is a gem! Proper authentic-modern Caribbean food that is gorgeous, especially their veggie selection - the jackfruit roti is so yummy and the scotch bonnet dip is a nice touch. Decor & atmosphere is beautiful, it's the perfect spot for brunch, dinner or a night out
Buster has a reputation as the cupid of South London and deserves it - you can't go wrong spending an evening here. Its ambience makes it perfect for mid-week date nights or a Sunday afternoon chill with friends & family. Food is authentic and perfectly executed - the chicken burger packs a punch smothered in their homemade jerk marinade and there's a really good selection of vegan & veggie options too.
On Friday and Saturday nights the dance floor is always lively, it has the latest opening in Deptford closing at 2am, and the cocktails are dangerously good with inspired twists on old classics (the scotch bonnet & mango martini is lush as is the Kukumba). The team obviously put a lot of thought into every aspect and it pays off. From their service, to the décor and the selection of music - the place has such charm a whole evening happily goes by before you know it!
Hi, I'm going to leave a review on here for three reasons (I am not biased in any way. I am just informed). 1. Firstly and most importantly at least FOUR of the bad reviews on here are FAKE due to some personal issues from a bitter individual. 2. This is not gentrification the owners have lived in the area for over 50 years and are JAMAICAN. 3. The jerk chicken is off the fking chain.
The venue was nice but the drinks were poor - Aperol spritz was 90% soda water (even though the back of the Aperol bottle even instructs a beginner on the correct ratios) and please do not order a house white wine! It was vinegeary and rancid and had an awful strong smell - the barman's solution when asked to possibly replace it (as it seemed as though it had come from an old bottle) was to top it up with lemonade which obviously didn't make it any more pleasant :(.
Disappointing and unprofessional service from both staff and management, not worth the money for the experience. Can receive the same drinks at any bar for half the price.
Dark, drab place. No life, sucked dry by wannabe-hipsters (even worse!) and their arrogance. Cocktails are poor.
Sad. Very sad. Try-hards only. Average food, drinks and below average people. Unlike other local pubs/restaurants, the atmosphere was unfriendly; as if no-one enjoyed each other's company. Pretend-place.
Slap bang next to Deptford Station, BM has stolen a march on the phoney, still unopened, 'Deptford Project' (buy-off-plan-now-for-guaranteed-return-on-your-investment) over the other side of the high street. Its range is, to be fair, limited: Camden beers, pre-mixed Jamaican-style punches and meat. You can have bits of chicken, goat curry, a burger. Staff are super-friendly, and there is a welcome element of amateurism amid the rather severely twenty-tens decor of unvarnished plywood and industrial fittings. It deserves to be popular in what is still a bit of a eating and drinking desert, though whether it has more to offer than the established Job Centre round the corner remains to be seen. Deptford has been taxiing on the cultural and foodie runway for about 20 years. It's not about to climb heavenwards just yet, but maybe it's getting ready for take off.

Local, visited once and won't again. Food was average, as were drinks, but the real downer was the clientele. Ageing hipsters and desperate cool-seekers make this feel like the real-life equivalent of Phone Shop's "White Man's Reggae Club". Cringey.
Snap up exclusive discounts in London
Time Out's handpicked deals — hurry, they won't be around for long...