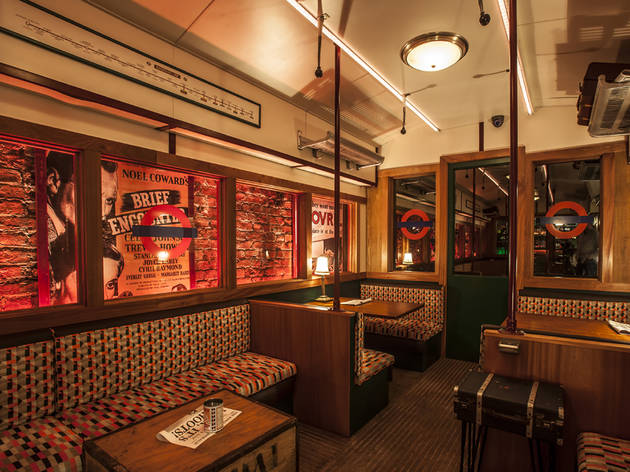 Quirky tube-themed cocktail bar that's hot with tourists.
I really wasn't expecting to like Cahoots, the vintage tube-themed bar that's a bigger hit with tourists than Madame Tussauds. From its 'tally ho' e-comms after making a reservation, to the awkward 'train guard' actor on the door and his sheer refusal to break Mockney character, it was more fear-inducing than rush hour on the Central Line, and that's before we'd even reached the 'platform' (you know, the bar).
Once inside though, we quickly relaxed into cocktail hour thanks to efficient staff, low lighting and retro (read kitsch) underground paraphernalia. It's a little confused about what era it's portraying (we figure it's the Blitz), but you're not really looking for historical accuracy – Cahoots sure isn't taking itself seriously.
It's all aided by a list of drinks spread across a newspaper-sized menu – plenty of options to get in the mood but a bloody long read. Luckily they flag a few from the menu to best suit certain tastes, and staff give recommendations.
Perhaps unsurprisingly, a Judy Garland (£10) arrived in cup and saucer. It was a refreshing citrusy mix of gin, aperol, grapefruit and camomille tea. For more of an edge, the old fashioned (£11) was a jolly good show, its foundations made from the bar's 'grog' mix on the clever 'Cahooch' section of the menu.
Snacks are basic, failing to nail the retro thing (we can't remember our 'vintage' relatives ever craving a crisp and salad cream sandwich) but are an extra bit of silliness presented in ration trays for quirk lovers.
You're allotted two hours of drinking time, and we had to book far in advance to ensure midweek after-work drinks a deux. Our advice: ask for a seat in the carriage, the best spot in house, and save a trip for when friends visit from out of town. Or perhaps when you're celebrating VE Day, or something?
Venue name:
Cahoots
Contact:
Address:
13 Kingly Court
London
W1B 5PW

Opening hours:
Mon-Wed 5pm-2am; Thur 5pm-3am, Fri 4pm-3am; Sat 1pm-3am; Sun 3pm-midnight
Transport:
Tube: Oxford Circus
Do you own this business?
Average User Rating
4.4 / 5
Rating Breakdown
5 star:

16

4 star:

13

3 star:

2

2 star:

1

1 star:

0
Pretty disappointed in this venue. I had booked an area for 8 and asked if two more people could come along, and they point blank refused, saying that "there wasn't enough room". Definitely not worth booking for a birthday, as they don't make the effort to accommodate you.
I loved that Cahoots was kinda hidden, retro costumes of waiting staff and the fantastic underground station decor from 40s. The cocktails were also really nice. The waiting people were very friendly at first. But the free Negroni offer on 5 June 2017 (details here: https://www.timeout.com/london/blog/get-free-negronis-on-monday-by-practising-your-italian-060517) was almost impossible to use at Cahoots!
When we arrived, I told the waitress that I would like to use Time Out offer for a free Negroni, she probably had no clue about the offer so she called the "Negroni guy." I told the same things to that guy and was about to tell him the code that I have already memorised. And he said he'll bring our Negronis, and disappeared. So I couldn't tell him the code when I was about to, because he didn't listen and suddenly went off. Then we switched to different cocktails. They brought our bill without us asking after 2 hours saying that there is a reservation for that table. But if so, they should have told us in the beginning. This was really rude. Moreover, they had charged us for our Negronis. I was cross. It was very very difficult to convince them they should be free as I mentioned the offer to two separate people WHILE ORDERING. The waitress told me at the end she would take them off the bill, and then while I was expecting that, the Negroni guy appeared again. He insisted that I should have told the words in Italian, and I said I was about to and I knew them and I told the words. I told him he disappeared and then I assumed he was convinced I knew about the offer. Nevertheless, he was not still convinced. I finally said I specifically came to Cahoots on 5 June for this offer, and why would I specifically order a Negroni if it wasn't for the offer?! I had to argue with two different people and it took me a long while to convince them to take the Negronis off the bill. In the end, I managed to take the Negronis off the bill, but these people ruined the otherwise pleasant Cahoots experience for us!
To Cahoots: If you don't want to offer something, then that's fine, don't. Nobody forces you to. Or inform ALL of your staff about your offers so that your clients wouldn't suffer. If I knew they wouldn't take Negronis off the bill, I definitely would order something else. Maybe also don't argue with your clients for only £24 (it's a small amount for a bar) and piss them off. I would definitely please the clients and this would let me keep them as future customers. But after this experience, we probably won't go back!
Very cool place, definitely recommend booking though because there will be a queue!
Absolutely love this place, I went for my birthday with a couple of friends and it was a real treat - something very different to your standard central London bar. Everything from the service to the atmosphere to the extensive cocktail list clearly had a great deal of effort go in to it - which made it worth the money and also worth the long waiting list to book a table! Which I would recommend, to really enjoy the atmosphere rather than standing at the bar. The cocktails were very good, although I can't remember what I had I would recommend any of the vodka selection, I tried a few.. Also when the staff got wind of it being my birthday they gave me a card and a mini birthday cake - which was a really lovely little extra. Not sure if the DJ is on every night (this was a Thursday) but he is awesome!
I could not recommend this place highly enough. I had 2 of the most delicious cocktails I've ever had in here. The atmosphere is so much fun. All the staff are in 2nd world war costume and character. Make sure you book early though, this place is ALWAYS full, or maybe try your luck straight after work and you might get a chance to stand at the bar. I LOVE IT!!
Snap up exclusive discounts in London
Time Out's handpicked deals — hurry, they won't be around for long...