Compagnie Des Vins Surnaturels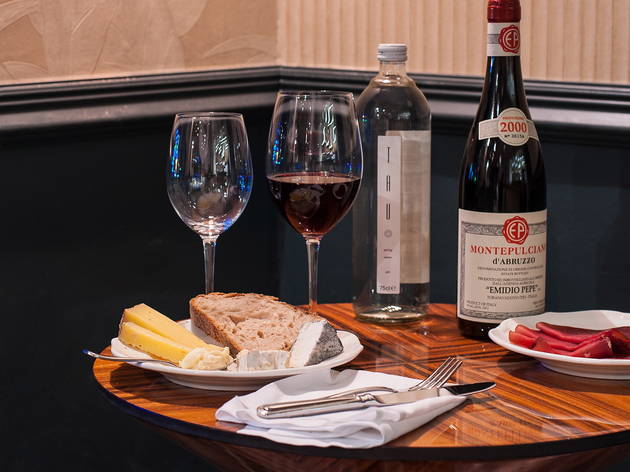 1/5
© Addie Chinn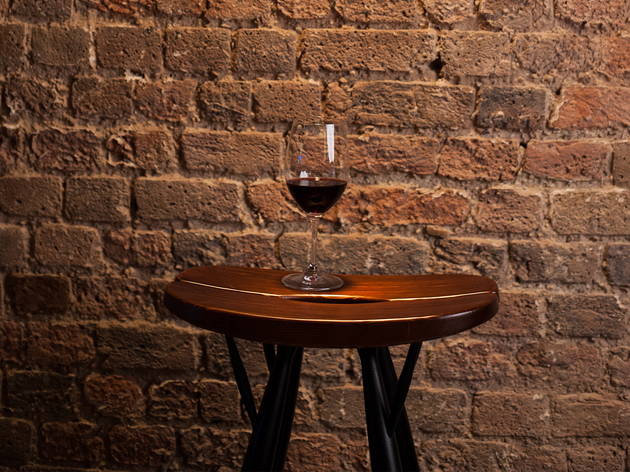 2/5
© Addie Chinn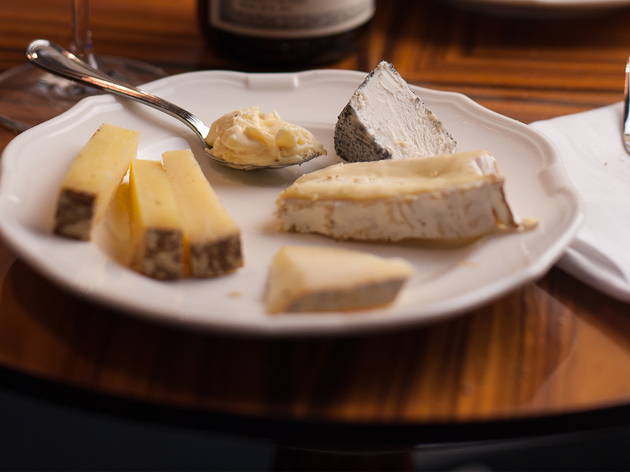 3/5
© Addie Chinn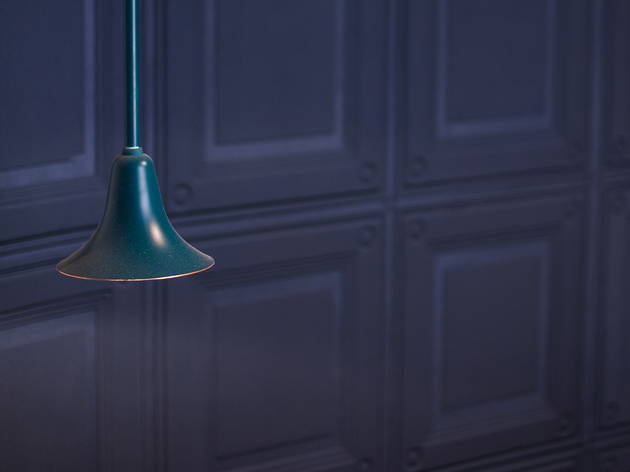 4/5
© Addie Chinn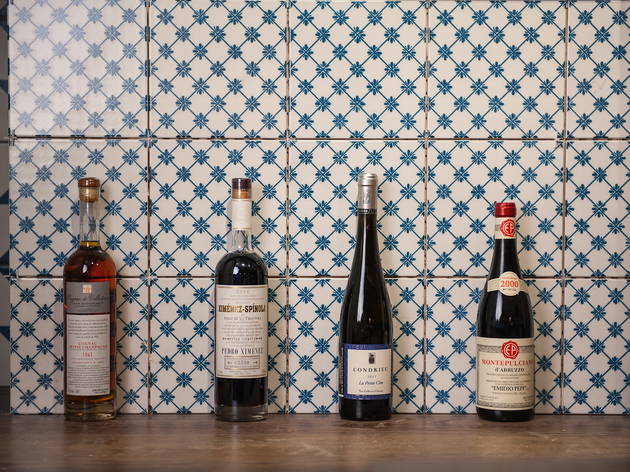 5/5
© Addie Chinn
If you're the sort of drinker who chooses wine by scanning the list and picking the one that's next-up-from-house, this wine bar – from the team behind the bookings-only Experimental Cocktail Club – is not for you. The wine team is led by Julia Oudill, a young sommelier with an enormous talent but not a jot of ego. She'll pull up a stool and talk you through your options, whether you're after something oh-la-la for a special occasion, a thoughtful match for your food, or simply something to lift the soul after a day of 'métro, boulot, dodo' (the rat race).
With Nina Simone crooning in the background and the interiors of a glamorous Parisian boudoir, it's a chic, civilised spot to graze and sample an exceptional drop or two. From more than score of wines by the glass, we savoured a mellow, balanced champagne from the family estate of Aurélien Suenen, ahead of the fruity, pineapple-y notes of a Lugana from Olivini. Our small-plates dishes were equally inspired: from a finger-lickin' bowl of buttermilk-fried frogs' legs to a fat burrata cheese studded with toasted pumpkin seeds and pomegranate arils drizzled with pomegranate vinegar. An all-Gallic staff – who, if they weren't peddling fermented grapes, would look just as at home on the pages of French Vogue – were slick, and brimming with charm. The only slight downside, perhaps, was the hefty price tag at the end; but then mingling with the elite never came cheap.
Venue name:
Compagnie Des Vins Surnaturels
Contact:
Address:
8-10 Neal's Yard
London
WC2H 9DP

Opening hours:
Open midday-midnight daily
Transport:
Tube: Tottenham Court Road or Covent Garden
Price:
Meal for two with drinks and service: around £100
Menu:
View Menu
Do you own this business?
Average User Rating
3.3 / 5
Rating Breakdown
5 star:

2

4 star:

4

3 star:

4

2 star:

0

1 star:

2
I've been here a few times now and the service can be somewhat surly but in summer the lovely outdoor venue makes up for this slight downfall. In winter the comfy chairs and sofas are great for relaxing with a large glass of red which invariably leads to another glass. As for the food, I tried a few of the 'snacks' recently and whilst they were very tasty, for the portion sizes it is expensive. Will I go back, yes. Is it the cheapest wine bar around, no.
Four of us went here on Friday evening just gone and experienced the worst service I have ever experienced in my life, just not acceptable in London. We ordered a bottle of red which three of us were intending on drinking as well as an apple juice for the pregnant lady in our group. We had 30 minutes before our table was due to become available in a local restaurant. After 10 minutes we were told that they didn't have the wine we'd ordered, so we choose another. A further 10 minutes later it hadn't arrived so I went in to the restaurant and asked the waitress where it was. She said they had it now but had to go to the off licence next door to get it. I asked her to bring it to our table in that case. 5 minutes later it still hadn't arrived so I again spoke to the waitress and told her that we no longer wanted it. It was then that what I can only assume was the manager took over, said sorry but the waitress was new. I explained the situation and she didn't seem to understand that we no longer wanted the wine, I was very insistent that we had waited for over 30 minutes without any drink except for the juice and now our table was ready in the restaurant next door and we no longer wanted the bottle. I found her attitude extremely rude and told her that we would't be paying for the soft drink. She told me that we must pay and I told her the service was disgraceful and why should we have to pay when 3 of the 4 of us had wasted over 30 minutes of our Friday evening to NOT have a drink. The place was pretty empty so would hate to imagine what it's like when their busy.
I work close by and will NEVER go back here, one thing to make a mistake, but they never tried to put it right and were actually quite rude. I would advise anyone looking for food and wine not to go to this place, I'll certainly be telling all of my friends and colleagues to give the place a wide berth!
Zero stars!
Outrageous customer service!
I was looking for a small venue to celebrate my bday. Swapped a couple of emails with the Manager who explained that for groups above 6 people there was a minimum spend of £35 pp. Unfortunately only half of the party confirmed so I decided to book a table for 5 but certain that we could
easily spend that amount.

When I arrived, Matthiew - the manager, greeted me by the door in a rather rude manner: "Cheeky, very cheeky!". I explained that I couldn't book a table once my friends haven't confirmed. Then he said: "We have a table reserved for you though, but you know, I help you (giving you a table) and you help me (spending the money)".
He made me feel a bit awkward, insinuating I had lie. Nevertheless, I decided to stay.

Surprisingly, all 10 friends turned up, however the bar wasn't busy and we had a small area upstairs. In a matter of 1 hour we ordered 2 white (WARM) wines (nearly £70) and were waiting for the third bottle. We also ordered some food and was about to order a bottle of red, when Matthiew called me on the side to have a word with me.
He said that there was another big table on the main room who was spending much more than us so he wanted us to give up our table. I was in absolute shock when he said that. I have never been treated like this before. "So, are you saying that you want us to leave, even though we've been spending money on your bar?". "Well yes, I am sorry. But the food is on the house and you don't need to pay the service charge".

Thank you very much, Matthiew! I actually thought of paying the service charge and tip you too for being so rude, patronising and treating me with disdain. Disgusting. You're not only embarrassed me in front of my friends but ruined my birthday.

This was the most hideous customer service I have ever come across.


ps: this bar doesn't even deserve a star.
I have been searching for THE bottle of wine for sooooo long, and stumbling on this place was where I happened to find it. Not very busy when I visited, however the atmosphere was so lovely. The young ladies behind the bar could not have been more personable and made the place. Having the shop a couple of doors down also means you can swing by and pick up a bottle to continue the party at home....Or on the way if you are that kind of person. :)
Great location, great atmosphere
Snap up exclusive discounts in London
Time Out's handpicked deals — hurry, they won't be around for long...