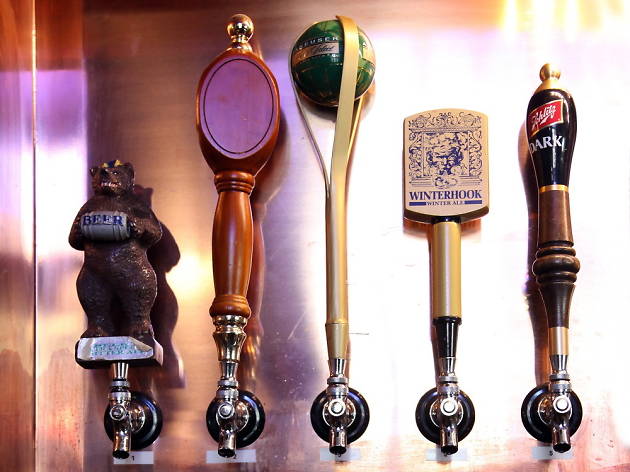 Sure, it looks a bit like a mausoleum from the outside, but the only way you're going to end up horizontal in Euston Tap is if you lose track of the strength of some of those IPAs. The sheer number of brews on offer here is enough to make beer fans go weak at the knees before they've even got a glass in their hand – a selection of almost 30 taps covers ales pale, India and otherwise, wheat beers, porter and stouts, ryes and bitters and everything in between, with bottles housed in two chubby fridges either side of the emerald-tiled bar.
The space is snug but appealing, with minimal seating but plenty of surfaces to lean against. Come summer though the crowds throng on the pavement outside, a seriously unlovely spot by Euston Road made almost Elysian by the brews on offer inside. And if you're really serious about what you drink, check the blog before you arrive – it's regularly updated with the current selection of beers.
Venue name:
Euston Tap
Contact:
Address:
West Lodge, 190 Euston Rd
London
NW1 2EF

Opening hours:
Open noon-11pm Mon; noon-11.30pm, Tue-Thur, Sat; noon-midnight Fri; noon-10pm Sun
Transport:
Euston tube/rail
Do you own this business?
You may be interested in:
Average User Rating
3.5 / 5
Rating Breakdown
5 star:

3

4 star:

7

3 star:

2

2 star:

3

1 star:

1
The guys there are really friendly and welcoming. We got served up some amazing cocktails that I've never heard of or tasted before. Highly recommended for an evening out with friends. Will definetly be going back at some point.
A fantastic little crafty boozer with heated outside space - sure there are beardies inside but don't hold it against them - the bar proffers a wonderful array of deeply satisfying ales and stouts and if you go earlier in the week, isn't too crowded. Perfect!
Went to Euston Tap at 3pm yesterday [13 Dec].Have been before and was impressed. This time one overworked barperson serving, people walking out because of delay. Uncleaned beer slops on bar and brasswork around pumps was dirty and stained. We stayed for one beer[Moor brewery which was excellent ] before conversation inhibiting loud music and the state of the place drove us away. Very disappointing.
I am a huge fan of craft beers, and an even bigger fan of having a large selection of them at a decent price, especially in the heart of London. Euston Tap ticks all those boxes and is one of my favourite water-holes. With their range of beers on offer changing every week, you're never short of a great selection and new ones to try. They are really helpful and give tasters if you want to try before you buy too. Being so close to a main station, it's really quick to get served too which I was surprised at. Great atmosphere in summer when people drink outside, and good in winter with the heaters - but get there fast as limited space! If you're hungry too they get pizzas delivered for punters, whats not to like?!
re: Joan Tue Apr 12 2011 Utter nonsense. Euston Tap charges c. £2.90-£3.30 for cask ales, the Bree Louise £3.50 (and unlike Bree Louise the Euston Tap knows how to keep its beer.) You're obviously comparing fancy 7% American IPAs (they're expensive for a reason, and there's plenty of other stuff if you don't want to fork out) from the Tap with standard 4% British brews from the Bree Louise, which is more than a little silly. The Tap's tiny, can get pretty crowded, and there's not a lot of atmosphere in the upstairs room, but it's never the less heaven for beer drinkers. Five for the beer, three for the surroundings.
Surprised at the (so far) low rating for this place. I mean, have you taken a walk in the immediate surrounds of Euston station?! I worked on Eversholt St for a year and this place is an absolute godsend - quality beers at good prices. Can't think of many station pubs in London as good. By the same virtue - of being by the station - it does get crowded though, most evenings, and being rather small it may not be the best bet if you're looking for a sit-down drink.
Went to the Euston Tap last night with some friends. A small but nice place with a very impressive range of beers at reasonable prices. Don't bother ordering a pizza though. We ordered ours at 7.45 and were still waiting for them 2 hours later. At £11 each you would expect quicker service than that. The problem, apparently, was that it was an unusually busy night and they order them in from a Ray's Pizza place in WC1 somewhere but the delivery driver can only carry 5 at a time. What a joke! It was a Tuesday night so I wouldn't like to be there at the weekend. The staff didn't act too bothered about it either. It was a really bad system.
Agree with ayoy. Euston tap cask beers very keen for London and about 30p a pint cheaper that like minded bars. £2.90 is a bargain . Love a pint outside on a warm night at the tap
Visited this bar last night. The selection of beers is great. The staff were very friendly. However, the drains were up so the place smelt dreadful. The music got hiked up to an uncomfortable level while we were in there and it was extremely expensive. We left and went to the Bree Louise round the corner and got 2 halves of great beer for less than the price of one half in the Tap. Unimpressive.