Grand Union Brixton - CLOSED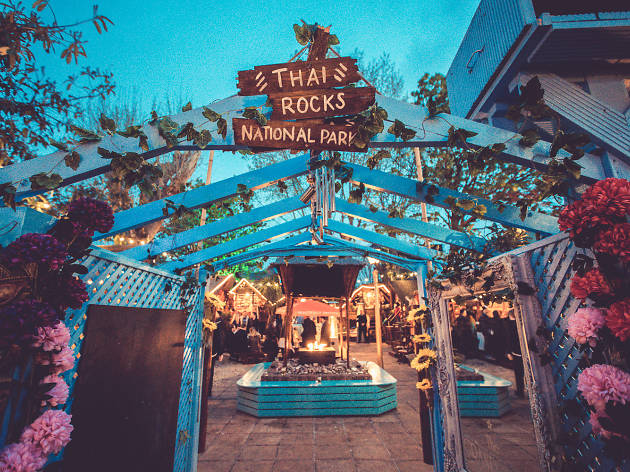 Please note, Grand Union Brixton is now closed and you will now find the Hope & Anchor here. Time Out Food & Drink Editors, May 2017.
Part of the Grand Union pub chain, this gentrified bar-cum-boozer on the border between Clapham and Brixton was previously known as the Hope and Anchor. Nowadays, it offers a typical line-up of gluggable wines, beers and cocktails, alongside an all-pleasing menu of burgers and pizzas. Come summer, the 300-seater beer garden is a big draw, with good-value Sunday barbecues offering up racks of ribs or grilled spicy chicken.
Venue name:
Grand Union Brixton - CLOSED
Address:
123 Acre Lane
London
SW2 5UA

Do you own this business?
Average User Rating
2.6 / 5
Rating Breakdown
5 star:

4

4 star:

2

3 star:

2

2 star:

2

1 star:

8
Shady, awful management/customer service
I rung Grand Union to book an area and was told they were all full so sent them an email asking to be put on the waiting list.
A few days later, an acquaintance rung asking to be put on the waiting list and was told she would be put at the top of the list.
I rung up questioning why a later request was put ahead of mine and the lady blamed it on her assistant, said there were now two people on the list so there was nothing she could do for me.
The next day, the acquaintance got the area and the lady EXPLICITLY told her not to say anything to me!!!!
Not only is the organisation and customer service so poor that a later request was put ahead of an earlier one but then the management continued to try and cover up their mistakes so that they don't have to face the consequences.
Absolutely furious.
Had my birthday here and it was great! Such a great atmosphere, amazing outdoor area at the back and is open late so we stayed all afternoon and night boozing until the early hours!
Grand Union is a great on a summers afternoon – it has a large & colourful outdoor space with a number of cabin style alcoves if you fancy more of an intimate set up… On the not so good side, the customer service can be at times (painfully) slow… I'm not a fan of queuing at the bar (who is?). And the food menu could definitely have a shake-up – more McDonalds than gourmet burgers and a selection of oily chicken wing/ onion ring style platters. But on a sunny Saturday afternoon – it's a winner every time (just bulk buy the drinks and eat before you go).
The staff are so rude and the food is terrible! I took my friend for dinner who was visiting from New York. We were both astounded by the rudeness and general laziness of the staff, who couldn't speak English and just stood behind the bar chatting so we would have to shout ''hello, hello, HELLO!'', then they would answer ''what?!'' I was so embarrassed. What a dump! Sort your staff out, its not hard!
I agree with Lucy, we have just encountered a horrible incident at this dump! Attacked by absolute drugged up peroxide blonde bimbo who thought she was something special of her face on her coke or MDMA. Throwing drinks in people's faces, then cannot handle the drama she caused. DO NOT GO THERE! full of ignorant people from the backwoods of nowhere. Full of foreigners who cannot speak English. Such a dump! Only go there if you like terrible service, terrible atmosphere and awful clientele.
AVOID THIS BAR AT ALL COSTS! Horrible staff, horrible atmosphere and regular fights. I live on the area and wish it would just close down as it really is a blight in the area.
ugh! this place is just sooo awful. went here last weekend and wish i had just stayed at home. far too crowded (took about half an hour to get served at the bar) and full of slappers and chavs. cant believe it survives given the competition round here - plenty of much better places to go to. I would recommned you steer clear unless yu like rubbish bars!!
We went to Grand Union Brixton for the first time last weekend and were very impressed! The staff were awesome, the atmosphere fantastic and our group had a great time! The outdoor marquees were amazing too!
We go here several times a week to enjoy the incredible sharing plates and atmosphere. The staff are exceptional, friendly and really make eating/drinking here a joy. But the best part is the beautiful atmosphere in this pub of an evening, with lit candles, exceptional lighting as intimate seating.
I love this place! Great beer garden and love the tree houses! Had a great time on Sunday afternoon, definitely recommend hanging there on a sunny day!
couldnt agree more with the reviews below - this place is awful and makes me ashamed to live in clapham! it belongs much more on clapham high street AKA meat market central rather than on acre lane which is, on the whole, much more civilised
horrible horrible place. crowded, sweaty and full of posh, graduates who havent learnt to grow up yet. this place epitomises everything I hate about Clapham. much better places to go in this area.
My friends and I really love the outdoor area here! Always good to book in advance in the summer. Sometimes the staff can be a little off, but that is generally when they are ridiculously busy (no excuse), so we tend to avoid saturday nights, but good for food and an afternoon catch up...
Snap up exclusive discounts in London
Time Out's handpicked deals — hurry, they won't be around for long...