1/8
© James Lincoln
2/8
© James Lincoln
3/8
© James Lincoln
4/8
© James Lincoln
5/8
© James Lincoln
6/8
© James Lincoln
7/8
© James Lincoln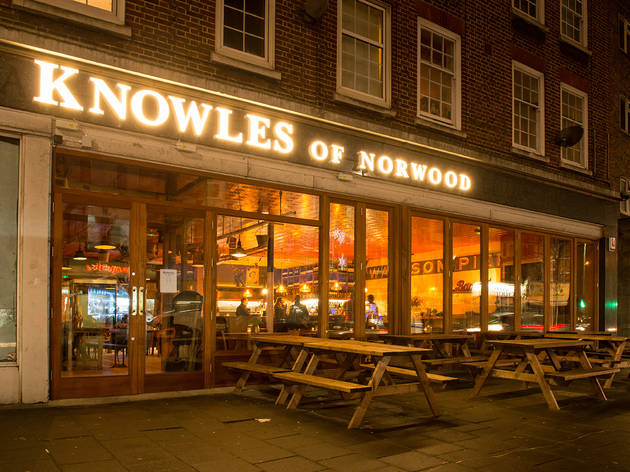 8/8
© James Lincoln
Time Out says
Friendly warning! We're working hard to be accurate. But these are unusual times, so please check that venues remain open.
Large pub with a slightly overbearing hardware shop theme.
There's a weird chicken-and-egg conundrum surrounding the Antic pub group – are its many venues a symptom of urban gentrification, or the cause? To some, they're the middle-class Wetherspoons. Though each is unique, in many ways they're identical – featuring heavy theming, modish cuisine and locally brewed booze. Now, after the Woolwich Equitable (bank-themed), Eltham GPO (post office-themed) and Deptford's notorious Job Centre (take a guess), Knowles has arrived in West Norwood. It's named after a long-gone local hardware shop and has adopted the aesthetic with all the subtlety of a gorilla with a sledgehammer; planes, spanners and other tools are bolted to the walls, manuals and handbooks fill bookshelves and the centrepiece is a giant antique safe.
It's all designed to be hashtagged to the high heavens, of course – which is fine – but such frippery raises questions. Questions like, how the hell do you eat a Sunday roast off an old workbench? You can't, because workbenches aren't designed to be eaten off – there's nowhere for your legs to go. So you have to move to another table and switch your little reservation card with someone called Linda's, then feel bad when Linda turns up and wonders how the hell she's supposed to eat a Sunday roast off an old workbench.
Anyway. Impractical decor aside, Knowles is a great place to drink some pints and have some food with some pals, especially with so few alternatives in the vicinity. The staff are pleasant, the selection of local beer is strong (Gipsy Hill, Brixton, Canopy) and those floor-to-ceiling doors are just begging to be flung open on a hot summer's day.
Unfortunately, if the Sunday roast is anything to go by, the food is nothing special. Our pork belly was overly flabby, the gravy watery and portions on the stingy side. The sticky toffee pudding was great, but the accompanying scoop of banana ice cream was substituted for vanilla without warning. Perhaps the weekday offerings of burgers, bangers and fried chicken are better.
Even though Knowles doesn't quite hit the nail on the head, the unstoppable march of the Antic group means it'll inevitably do well. With families already colonising the place on a Sunday afternoon, it should receive a warm reception from locals – especially those who've just bought property in the area.
Details