Madison Terrace Bar & Lounge
1/10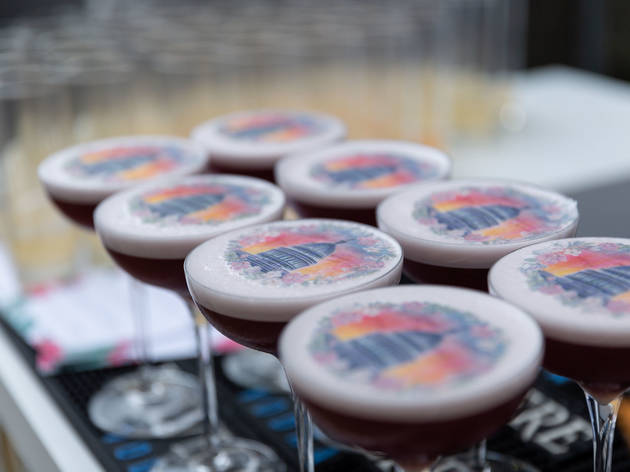 2/10
3/10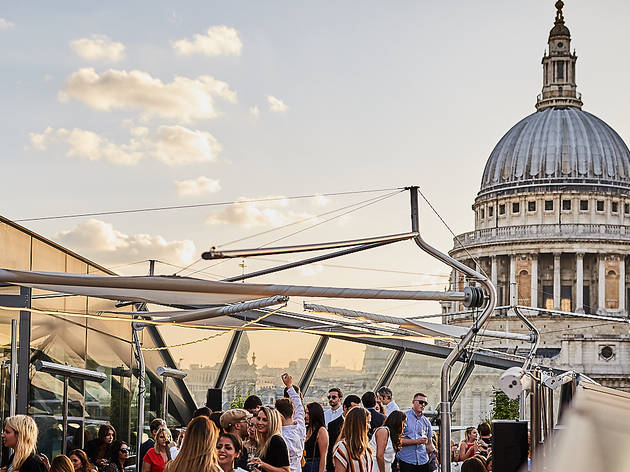 4/10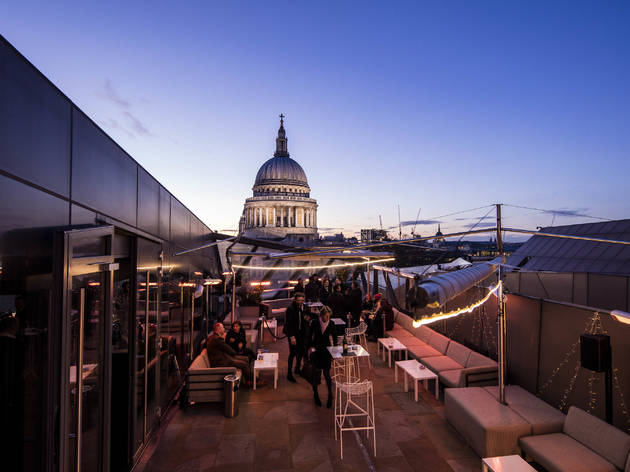 5/10
Thomas Alexander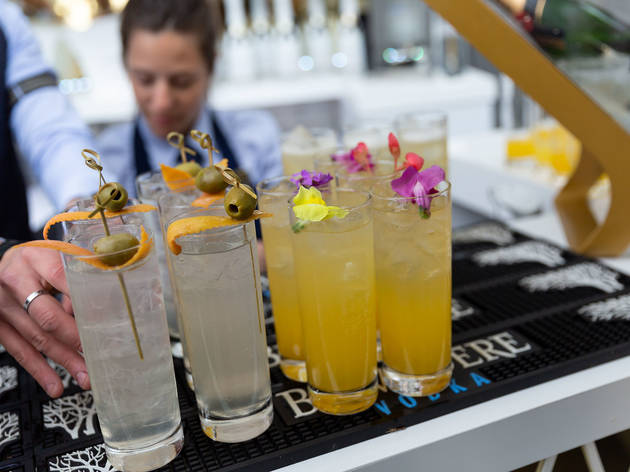 6/10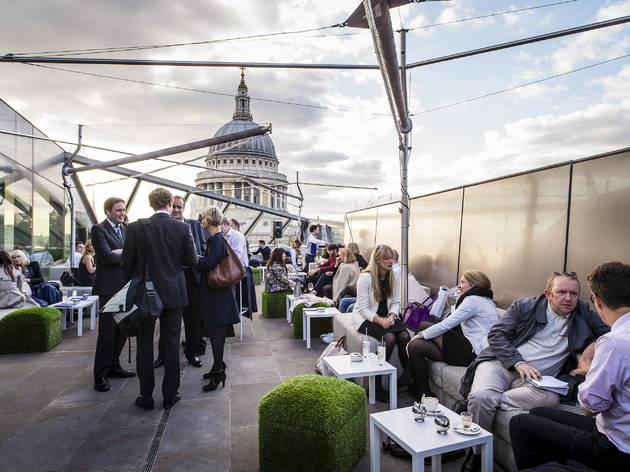 7/10
Paul Winch-Furness
8/10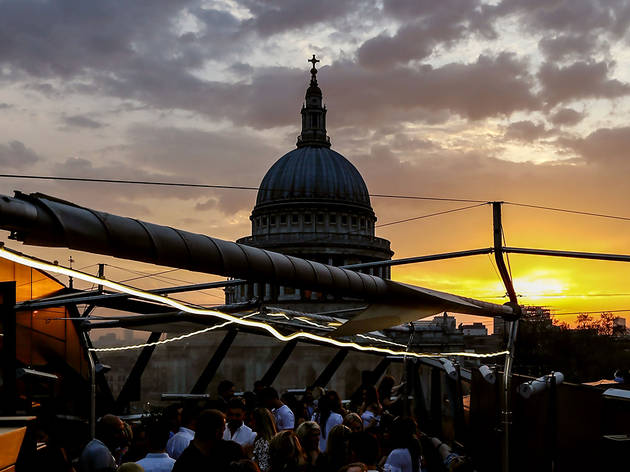 9/10
10/10
Thomas Alexander
Time Out says
Did Sir Christopher Wren adroitly combine the traditional gothic style of church-building with the grace and ambition of Renaissance design, or was his cathedral too decorative for a seat of English ecclesiastical power and a dangerous transgression towards the old faith?
There's no better place to consider the points of debate circling around St Paul's than this new rooftop terrace bar in Jean Nouvel's One New Change shopping complex. The name of the bar is meaningless – a vague attempt at Manhattan glamour. The looks are unimportant, as the whole mall is in thrall to its neighbour. Madison seems to exist largely as a viewing platform.
But what a view it is. A glass lift takes gawpers from the ground floor, sweeping up parallel with St Pauls' east elevation. Once in the bar or its generous outdoor space, an unrivalled close-up is offered of the drum, peristyle, upper balustrade, upper drum, dome and lantern of the cathedral – all the godliest bits – with the ball and cross silhouetted perfectly against the sky.
You can of course drink in more than the views: cocktails range from standards (mojitos and whatnot) to concoctions with names ripe for being cackled at by hen parties (Pornstar Martini, Hot Bitch Martini). There's a good range of spirits, and Heineken is offered by the 'schooner' (a two-thirds of a pint measure).
There are snacks, some of which may cause puzzlement if piled on small plates in Spain, but called tapas here nonetheless: the likes of Welsh rarebit fritters and 'Old Spot turnovers'. A more formal brasserie menu is served in the restaurant area.
If you don't work in the City, you might prefer a daytime or weekend visit, as Madison is, understandably, a post-5pm hotspot. Whether you're entertaining clients or contemplating the physical manifestation of God's glory, both will be easier with a drink – here's just the spot to do it.
Madison Terrace Bar & Lounge says
Overlooking St Paul's, Madison brings bundles of style, fun and a slice of modern Manhattan to London, all complemented by the views of the City skyline.

Perched on the penthouse spot of One New Change, Madison comprises of a glamorous bar, restaurant, cocktail bar and rooftop terraces that make Madison one of London's most sought after social settings.
Details
Address:
One New Change
London
EC4M 9AF

Transport:
Tube: St Paul's tube
Menu:
View Menu
Contact:
Opening hours:
Open noon-'late' daily
Do you own this business?
Average User Rating
2.6 / 5
Rating Breakdown
5 star:

1

4 star:

7

3 star:

8

2 star:

3

1 star:

8
The bar manager & security staff are bulling thugs, They obviously enjoying picking on innocent young men, as they followed them out the bar on Saturday night & proceeded to beat them up for no reason,
So you go there to enjoy overpriced drinks, bottle of vodka £360, yes that right,
& if your group take there fancy, you get followed out by the bar manager, with the security staff closely behind him, & beaten up for no reason,
L
Encountered extreme arrogance and stupidity from the manager and security. Treated the guy picking up the 4-figure bill with aggression and disrespect over a completely false accusation. Even the waitress knew the manager and security were out of line and unnecessarily rude and aggressive. Abusing the "power" of their position. Despite beautiful weather and an area in the sun it was a very disappointing experience. Avoid this place. Its not worth it - average bar, boring crowd, deep fried food, run by tossers.

Rang up on the 5th December to book an area for drinks on the 18 December. Told there was space and to email them to confirm. Heard nothing back and when I rang the week before to confirm was again told to email them but assured there was space. Rang today to confirm and apparently they know nothing and had ignored all my emails because they were full - this is despite twice telling me I had a space and just had to sort the minimum spend which was all done via email no phone numbers or manager available to help. If you need a guaranteed booking pick a reputable company and leave this place off your list.
Picture the scene. Food is delivered to the table. Before a single bite is taken the plate slips onto the floor and smashes. The waiter promptly replaces the dish with another fresh plate. At the end of the night the customers discover that the waiter has added the extra dish to the bill. They confront the manager, saying that it was just common decency for them to be consulted about the extra plate if they were to be charged for it, before the waiter had bought it over. The manager explains that the waiter had asked them first and had been told to bring the extra plate over. The customer says that's not what happened. The waiter is called over to give his version of events. Already the customer is feeling like they're on trial, this is after-all a plate of fish & chips and they've spent a load of money on drink and other food. The waiter proceeds to call the customer a liar to his face, and then throws a strop when the customer refuses to pay the service charge. This is Madison, make your own conclusions.
Hostile, confrontational and rude door staff have ruined what used to be a nice bar with a decent view. The management need to address their staffing problem and not ignore customer complaints. Until they do, you should go elsewhere.
Ugly place with ugly staff and security. Views are superb though. Extremely rude staff and security. Don't go here, likely be thrown of the roof by their gestapo security.
Security guys very rude and racist!!!
Very negative experience
Great little rooftop bar with delicious cocktails
Beautiful view, delicious cocktails, the food is not the best and the place is a bit pricy but I still think it is worth going there!
This place has an amazing buzz about it. I went with two friends on a Thursday evening after work and we arrived a little early thinking we could have drinks first on the roof terrace. We went into the shopping centre to be greeted by a long queue waiting to go up; we weren't the only ones with that idea. An hour later we came back and went up to the terrace; it was heaving and the ambience was great. I felt very much "in the action". The view is pretty spectacular – see photo below. The restaurant is inside but the big windows remind you that you're high up and it's summer. Cocktails are lovely – I had a strawberry cocktail called Angel Lips (I ordered it mostly for the name) and it was delightful, the type of drink that makes you feel like you're in the Caribbean. Food: To start I had Salt Cod Croquettes – they were tasty. Perhaps they could have been teamed up with something a little more interesting (there was only a tomato based sauce). For main I had pappardelle with zuccini, mint and panne granato (parmesan). I wasn't impressed. It was pretty small. You could argue that I'm displaying gluttony here, but my fellow diners agreed that it was more of a side dish portion size. It didn't taste great either. And it looked horrible; it was entirely green. I had imagined a colourful plate of non-green pappardelle with fresh zuccini dotted with shavings of parmesan. It was just all green and the zuccini was burnt. Oh and there was no panne granato! I had to ask for it. Both friends ordered the fish and chips – I tried a little of the fish and it was good. For dessert we shared a rhubarb pannecotta, chocolate sundae and tropical fruit salad. The pannecotta was OK, nothing to write home about. The chocolate sundae very much the same and the tropical fruit salad was basically a tin of Del Monte fruit cocktail. It was my favourite dessert, I'm not dissing Del Monte, I just didn't need to pay 10 times the amount I would have paid for the tin. In conclusion: Go to Madison for the view, drinks and buzz. Order something staple such as fish and chips or a burger. Don't get dessert.
Special offers
Soul House Sessions: 3 course set menu for £45
Soul House Sessions is back! House music fuses with the sounds of soul for a rooftop Sunday experience like no other with live vocalists accompanied by DJs out on the terrace. Terms and Conditions: Maximum of 6 diners. Includes VAT, excludes service. Valid For: 1 - 6 People Sun 12:30PM-2:30PM
Offer valid until
May 31 2020