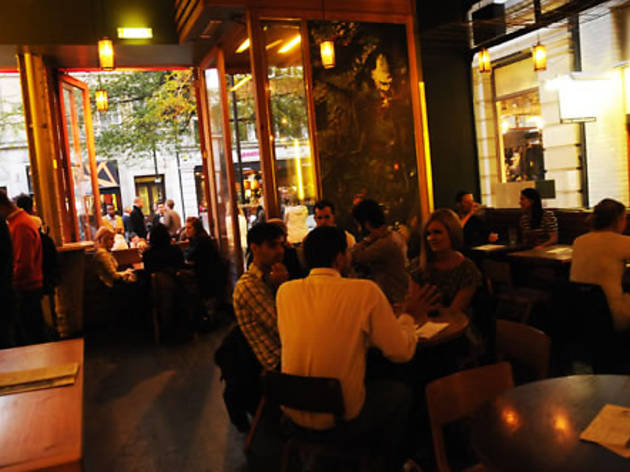 Time Out says
A gregarious crowd gathers at this urban bar-diner, both in the main, street-level bar and in the larger space downstairs where DJs play. It's an industrial space with wooden-slatted walls, exposed iron columns and an open kitchen.
The mixed clientele tucks into a food selection that runs from snacks such as smoked salmon and cream cheese bagels to main courses of grilled squid, butter beans and lamb's lettuce.
Pilsner Urquell, König, Bitburger and Köstritzer Schwarzbier are the pricey continental draught options, accompanied by a dozen wines by the glass. For cocktails, sample the signature Market Place Punch (Pimm's No.1, Finlandia Grapefruit vodka, fresh mint, strawberries, cucumber, citrus fruits and cloudy apple juice).
Details
Address:
11-13 Market Place
London
W1W 8AH

Transport:
Tube: Oxford Circus tube
Contact:
Opening hours:
Open 11am-midnight Mon-Wed; 11am-1am Thur, 11am-2am Fri; noon-2am Sat; 1-11pm Sun. Food served noon-11pm Mon-Sat; 1-11pm Sun
Do you own this business?
Average User Rating
2.6 / 5
Rating Breakdown
5 star:

2

4 star:

1

3 star:

0

2 star:

2

1 star:

3
I visited the club/bar for a friends birthday on 09/02/2018 for the second time and will never be visiting again! My friends and I spent the entire night being pestered and sexually harassed by perverted men. We addressed our concerns to the security on 4 occasions only for them to ignore us. On one occasion a guy persisted to touch my friend and when she asked him to leave her alone, the security laughed and said ''It's a club, What do you expect?''. I then tried to speak to the manager only for him to cut me off mid sentence and walk away. After leaving the club we requested to speak to the manager again, only for security to become increasingly pugnacious, shout at us and tell us to ''f'*ck off and go home''.Eventually, we spoke to a blonde woman who claimed to be one of the managers. She showed no concern whatsoever despite admitting to receiving similar complaints. She said there was nothing she could do and refused to disclose the full names of senior management.This bar knowingly employs disrespectful, misogynistic and abusive staff who do absolutely nothing to protect the safety or well being of their female customers. My friends and I are absolutely disgusted and traumatized by our experience and would advise all women to stay well away.
Unbelievable rude service from the staff and manager(the blond woman)
We had a little misunderstanding about the menu at the bar which was super misleading. We tried to make sense of it. The staff instead of being comprehensive they blamed us for not understanding the menu without saying sorry.
We will never come back and so do our 600 colleagues work next by.
This place is awful. I got punched in the face and dragged out by the neck by crazy bouncers just because I asked explanations, as a friend of mine was kicked out with no reason. I work in the area and I was used to go there after work. O am a very quiet person and I got beaten and the bouncers stripped my shirt. With no reason at all. I highly recommend to avoid this place. O got serious injuries and scratches all over my face and neck
Market Place is a regular haunt for my colleagues and I who work just around the corner. We usually go on weekdays. I chose to spend my birthday there last Saturday (never been on a Saturday). We had a ball! They have music in their downstairs bar. So we ate, drank and boogied away! Brilliant night!!
Oh and to the gentleman that wrote the review before mine....it's a bit sad that you can actually wish the closure of a business because there was a workman drilling, or whatever he was doing. Tut tut! Disappointing "mate"!
Food very good and drinks almost there; pilsner cold and tasty obut champagne and bid orange let down by the fact that they only had orange juice, which they presumed to serve then asked if they was ok.
Real problem was some idiot with a power drill working away in the background, blissfully unaware of the pee'd off customers trying to enjoy their lunch at a peak time on a Sunday. When I asked them to turn it off they laughed. The waitress did apologise eventually but, frankly, surely they shouldn't need reminding that they have customers in their place?
Real shame, I trust the laughing guy behind the bar will shortly be unemployed once his employers go bust. Laugh on mate.
Disappointing.
Had a really fab time at Market Place last night with my girlfriends.
One of my friends is quite a regular and she suggested we all meet there. Really glad she did! The cocktail list was great and we loved the options for sharing. Wasn't pricey either!!!
As for food, the menu was made up of sharing dishes which was absolutely perfect for us. We could all pick and choose what we wanted and eat as much as we liked without the bill being a problem. When it came everything was piping hot and you could tell it was all really fresh and made with good ingredients.
The atmosphere was lively and fun and the setting was perfect with booth seating so we could easily sit and chat to each other.
The terrace looked great too, but last night was a bit cold for us to venture out there. We will be back to take advantage of it when the weather warms up though!
Thanks Market Place! You really made what was going to be a good catch up into a great one!
Will be back!!!