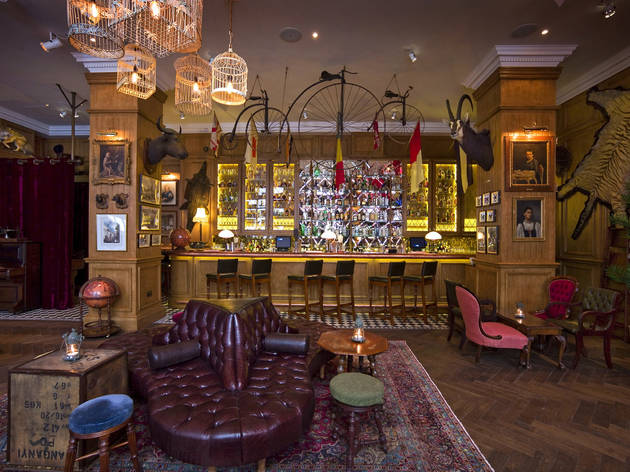 1/6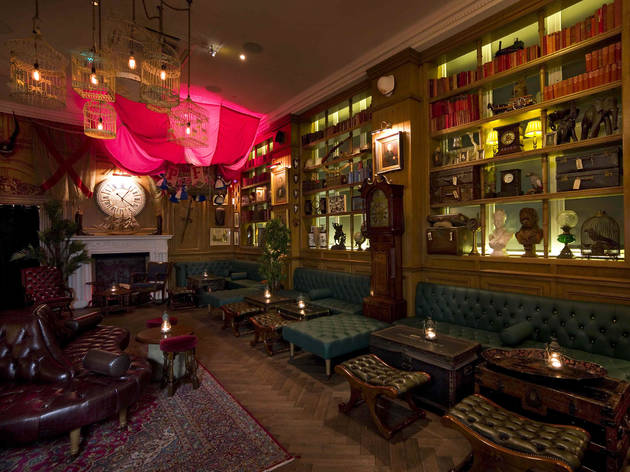 2/6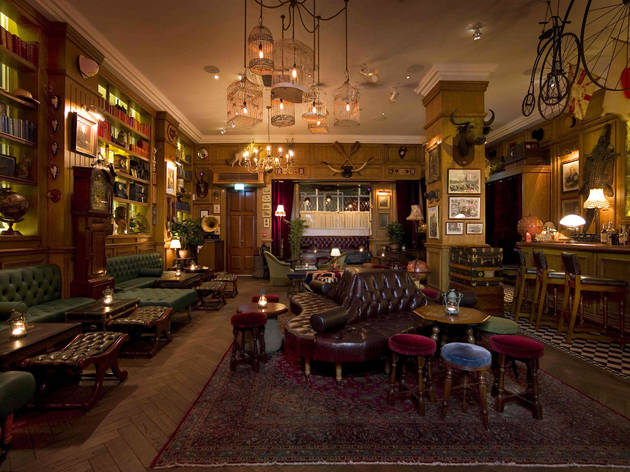 3/6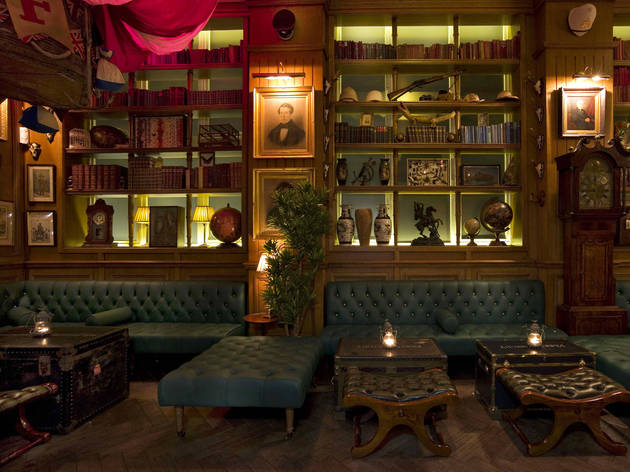 4/6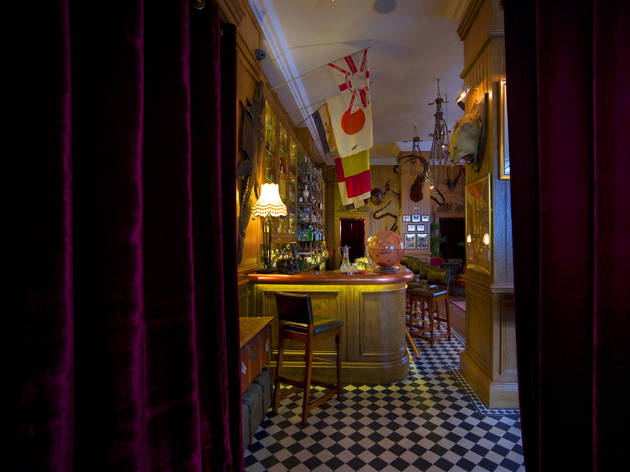 5/6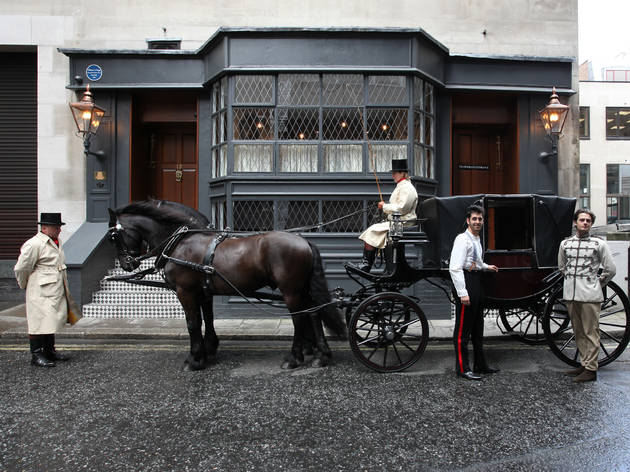 6/6
Time Out says
If you thought you'd collected a lot of crap on your holidays, wait until you see Mr Fogg's. This place is literally stuffed with the detritus of the Victorian explorer of the name: every wall is covered with hunting rifles, stuffed animals, weathered flags and maps. All right, these are just the imaginary souvenirs of an imaginary traveller, but that doesn't make the profusion of clutter any less dazzling – or any less fun.
It'd be easy for cocktails to take second place with an interior like this, but at Mr Fogg's the seriously knowledgeable bar staff make sure they're punchy, exciting and altogether sensational. It's not cheap – this is Mayfair, after all – but for sheer spectacle Mr Fogg's is hard to beat.
Details
Address:
15 Bruton Lane
London
W1J 6JD

Transport:
Tube: Green Park
Contact:
Opening hours:
Mon 3pm-2am; Tues-Fri 4pm-2am; Saturday 1.30pm-2am; Sun 3pm-12am
Do you own this business?
Rating Breakdown
5 star:

12

4 star:

13

3 star:

5

2 star:

1

1 star:

2
When a classy friend, said she wanted us to arrange her a classy hen do, we hit Time Out in search of the best cocktail bars in town. Time after time, Mr Fogg's came up, so we booked a table, agreed we'd spend at least £30 a head (as per the website) and made our way to Mayfair.
Inside the bar is smaller than it seemed online, decked in loads of fun nick naks and top to toe in dark wood. The menu didn't disappoint - it was rammed with what seemed like hundreds of fun sounding cocktails. We ordered and waited what seemed like a short eternity for our drinks to arrive. When they did, they packed a punch and looked amazing.
Whilst it was a perfectly nice place to spend an evening, I won't be going back. This is the sort of bar you come to take photos and say you've been. The atmosphere was really lacking and the service was painfully slow. We would have spent more had we got our drinks a little quicker. Pretty painful on the purse strings too.
Underwhelming. Nice decor and loved the stories played in the toilets. Went for afternoon tea, the food was crude and drinks average.
One of my favourite watering holes! The service is fantastic and helpful. Yes the drinks are quite pricey but the servers make sure to keep snacks topped up for free and it's a beautiful place to while away an hour or two.
I hated thus place. The staff were snooty and rude, the drinks were hugely overpriced and really not very nice and the whole venue was just pretentious and self-glorified. Okay, you're based in Mayfair; who the hell cares? It doesn't mean you can be a jerk, buddy
Quite a little gem to dazzle friends with on a birthday or visit to London. Drinks are creative (but, of course, expensive), atmosphere is warm, music is good, fellow drinkers have style. A little disappointment about a reservation policy requiring a credit card number.. that will never do - please Mr. Foggs have a think about this - but overall such a nice place to go and unfurl. A strong four stars - the only reason not a 5 is cost of cocktails & credit card nonsense.
Simple AMAZING. Great local. Nice bar with his own soul. You must visit it!!
Hidden down a dark side road in town, finally I can see a bar with no name. Kitsch 1920's doorman hang outside and greet me by calling me ma'am. Do you have a reservation they ask, thankfully the answer is yes. They ring an old fashioned door bell and I enter the world of Mr Foggs, escorted to the drawing room to my table I marvel at the lions head and gaitor skin on the wall. Full of Mr Foggs antiquities and 1920's music, the drinks are served in lead crystal, and beers in silver tankards, I love this place. A trip to the bathroom is a delight, old fadhioned and pretty loo's with the Jules Verne novel read out around you. This place is fun, quirky and beautiful. I cannot recommend it highly enough.
Down a rather shabby lane (well, for Mayfair anyway) you'll find this wee little gem of a bar. As we arrived a lovely looking young boy was being turned away; book a table, is the moral of this story. We smugly breeze pass him and a doorman dressed in faux 1920s attire greets us with his little black book. Our names are written down. I thought this was a lovely touch. Sadly, we entered and there was a posh, modern, beautiful iPad with our actual reservation (the app most restaurant managers would dream of). Anyhow, we were seated. Water and crackers were bought to us for FREE! Great, I think. I do love good table service. The bar was busy. Full of the people you might expect in one of these places. I am glad I wore heels! Then we waited. And waited. Discussed the option of heading up to the bar to order. Then finally we were served. I opted for a Fish bowl punch. As alcoholic as you might expect and garnished with a bit of tree. Is this the new thing? Are twigs from the local tree in Green Park in vogue these days? Our bill was noteworthy. Sixty quid for four cocktails. But this is what you get in Mayfair. Overall, I enjoyed it. The little extras are lovely, the décor is superb and the cocktails are delicious. I don't think I would go again but is definitely worth taking the girlfriend as a special treat or just a mid week date.
Incredible attention to detail! Absolutely loved this place....Almost reluctant to let the secret out!
Dear sirs I have attended your establishment recently on two previous occasions, both were very pleasant. I am now very disappointed to learn that upon trying to book a table for four people on the 10th December at 7pm I was requested to give my credit card details over the phone including the security code. This I had to refuse for very obvious reasons: 1. It leaves the card wide open to fraudulent use by anybody your booking personnel gives the details to. 2. No credit card company will cover you for fraudulent use if you give your details to anybody over the phone. This is a ridiculous request by any business - I would suggest that set up a secure on line booking system if the majority of your visitors are of the unscrupulous type. Very disappointed. Dave Sent from my iPad