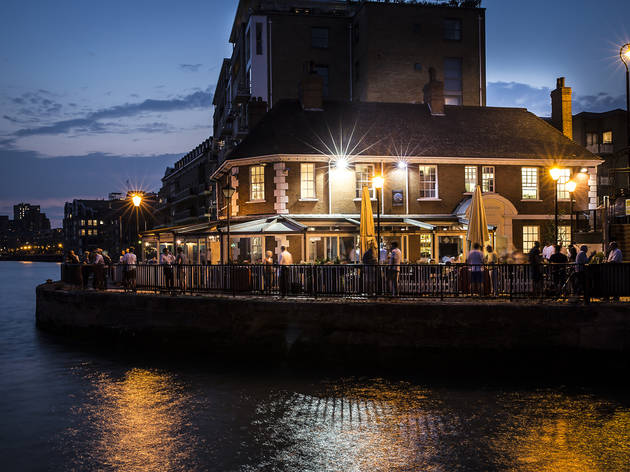 'Fine dining' promises the website of this Gordon Ramsay gastropub: it's either guilty of a bit of hyperbole, or the chef has forgotten the meaning of the phrase. Opened in 2007 and given a typical Ramsay smartening up, the Narrow has started to get a bit scuffed around the edges – not always a bad thing in a pub. But food on our last visit was distinctively variable, as was the service.
Onion and cider soup was creamy and deeply flavoured, but its 'croutons' were no more than squares of bread rapidly getting soggy. Salt and chilli squid looked like a snack in its little dish. Beef and onion pie was better, although not exactly a challenge for the kitchen. A distracted waitress never brought us water, no offer to replenish empty wine glasses was forthcoming, and cutlery arrived after the main courses.
But as pubs go, the prospect from the Narrow is hard to beat, especially at sunset – it's situated on a wide curve of the Thames, and an outdoor area and a conservatory look out to Canary Wharf and Rotherhithe. Ales are well kept and the wine list considered, so perhaps booze and views are its strongest suit.
More
Less
Narrow says
With panoramic views and overlooking the river Thames, The Narrow restaurant, bar and terrace serves simple but elegant food sourced from the best British and European artisan produce, alongside innovative cocktails and a varied collection of wine.
More
Less
Venue name:
Narrow
Contact:
Address:
44 Narrow Street
London
E14 8DP

Opening hours:
Open noon-11pm Mon-Sat; noon-10.30pm Sun. Lunch served noon-3pm Mon-Fri; noon-3.30pm Sat, Sun. Dinner served 6-10.30pm Mon-Sat; 6-10pm Sun
Transport:
Tube: Limehouse DLR
Price:
Main courses £10-£17. Set meal (lunch Mon-Sat; 6-10pm Mon-Thur, Sun; 6-7pm Fri, Sat) £18 2 courses, £22 3 courses
Do you own this business?
You may be interested in:
Average User Rating
2.1 / 5
Rating Breakdown
5 star:

0

4 star:

1

3 star:

4

2 star:

4

1 star:

5
Dirty toilets, dirty terrace, bad wine list, an overcooked £30 steak with 6 undercooked chips, a £22 fish with almost no sauce and 7 undercooked mussels. Star of the show for the disaster, the free martinis. Very nice view and great service though! Thank you to the lovely staff.
This is our once a week Pub! We love the cosy sofas and the friendly staff.
Overpriced tourist bait. They cancelled the great Monday quiz and went way too upmarket. Increasing the price, for exactly the same food, to pay for the new comfy chairs, I suppose. For a while they didn't even serve beer in pints, but in some ridiculous metric measure, that was no where near a pint. Last time I asked for soda water as part of a bigger order, I was charged £2.00 for about 250ml glass full of ice and soda water from the . I said I Expected free refills, which I was given. Though batman was rude and cheeky no told manager, who just laughed and thought it was all a joke. I live nearby and go there once or twice a year. This is usually in summer, for a drink and the weather and the view, and just to remind myself why I don't like this place any more. Also in the blind hope that it has got more authenticity. Nice views of river is only recommendation. I could spend much more time and money in this place and choose not too there are much better places nearby which deserve the tourist and local £££.
Don't go if...You are expecting a gastronomique delight. Don't go if...You are expecting friendly service. Don't go if...Your are vegetarian. Don't go if...You expect excellent food for £35 per head. Don't get me wrong. This is not about how much things cost. I get that. The location and the view are also great. But this has a well known chefs name against it and the food just was not good. The vegetarian option was a cheese and onion pasty (and it was burnt!) The wine is ok and got us through the meal. Just don't go!
Loved the view. We got a great table near window with stunning view. Good service and nice food but a bit chilly in the evening.
Fancy dining out in your coat and scarf, being ignored all evening, and shivering amongst your dirty dishes half an hour after you've finished eating? Fancy being surrounded by diners who are equally depressed, fed up, and cold – coats on, gloves on, hats on, scarves on? Fancy rushing your way through what is actually pretty decent pub grub, shovelling it down because it is getting colder by the minute? Smoked haddock with a side of icy air and a feeling of utter invisibility anyone? What an absolute farce, made even worse by the fact that behind this restaurant is, supposedly, the man who has a hissy fit on TV if someone over-sears a scallop!I cannot describe how thoroughly disappointing the experience was, an evening truly ruined by sub-zero temperatures inside and the most shockingly bad service I have EVER encountered. Almost all seating is in a conservatory area outside the pub, which is heated by one tiny little gas fire, a relic from 1970. It is HOPELESS. Every time someone complains of the cold (which is approx. every five seconds), the feckless waiters move it closer to the source of the latest complaint. I'm not joking, they spent the whole evening moving this pathetic little fire a few inches to the right, to the left, forwards, backwards….. I asked to move inside and was placed at an even colder table by an Arctic draft. We moved back. We ate – barely tasting the food because somehow it's not quite the same when you have to negotiate your thick woolly scarf and coat sleeves, and hold the knife and fork while they slip through your mittens. It may have been pleasant if I'd been able to eat at my own pace, unrestricted by winter woollens, but it wasn't just me, and it was awful. Once we were done with our smoked haddock, we sat in front of our empty plates and empty pint glasses for over half an hour, until my boyfriend was forced to go and ask the waiter if he would please remove them (if it was up to me, I would have left the restaurant and walked out without paying – I honestly don't think they would even have noticed us slip outside into the warmer air – but he's a little more polite than I am…) To make matters worse, each waiter told a slightly different lie about them being understaffed, ranging from a colleague's wife suddenly going into labour, to sickness. I couldn't care less, I really couldn't. If a staff member calls in sick, you get another one in – simples. You have more than three staff looking after a busy restaurant to start with. When they aimlessly walk up and down, the ones that are actually there keep an eye on people they served A WHOLE HOUR EARLIER. Yes, we got 25% off our bill, and a G&T – but seriously. We paid 75% of an already ridiculous price for a wasted evening. PLEASE AVOID THIS RESTAURANT, unless it is thirty degrees outside and you have all day (and your own supply of booze)!!!!
We went here early on a Saturday evening for a casual bite to eat and we were incredibly disappointed. Poor food and awful service. We had to ask for cutlery more than once and in the end we had to go to the bar to get cutlery. They staff weren't rude but they were unfriendly. Once we finished our meals our plates were not collected for over 45 minutes. We left as soon as we finished our wine. I will not return here and I would not recommend it to anyone.
Love the location, but the food was dreadful. Went there for Sunday lunch and the roast spuds were as hard as metal and generally the food was cold. As it was so busy, I assumed they would be cooking food constantly throughout the busy lunch rush, but this felt like it had been cooked before lunch. Such a shame. Will continue to stop there for a pint if I'm doing a river pub crawl but won't make the mistake of eating there again.
The food was good but not as amazing as you'd expect from a Ramsey institution. My potted pork starter was cold and a bit gungy, the apple crumble dessert was more like burnt crumbs spooned onto some cooked fruit than the baked sticky and delicious goeyness I was expecting. Mains were good though. Perhaps we went in expecting to much but waiting 45 minutes for a cup of tea which we had to make ourselves (tea bag in a saucer) was really pushing it! Plus the waiter managed to forget to take half our orders and we had an incorrect bill! The saving grace was an excellent wine, good views of the river and the great company of our friends. Thank goodness we all have a sense of humor and managed to laugh it off as a 'Gorden Ramsey's Kitchen Nightmare's experience'. If you are looking for some fine dining gastropub style this certainly isn't it, the waiters have misplaced all the michelin stars...
There is no ambience in the pub, the food is poor and overprized!