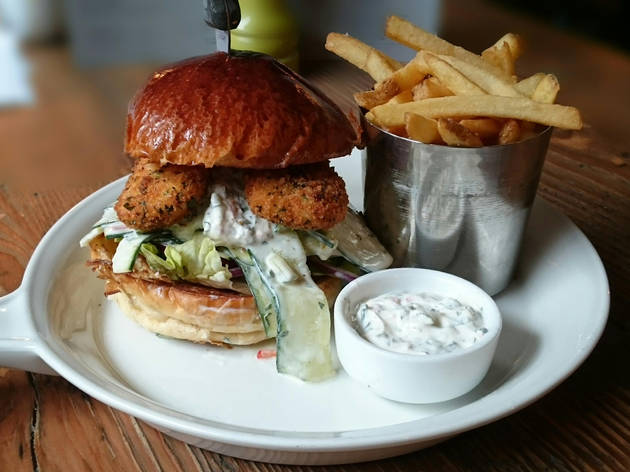 1/7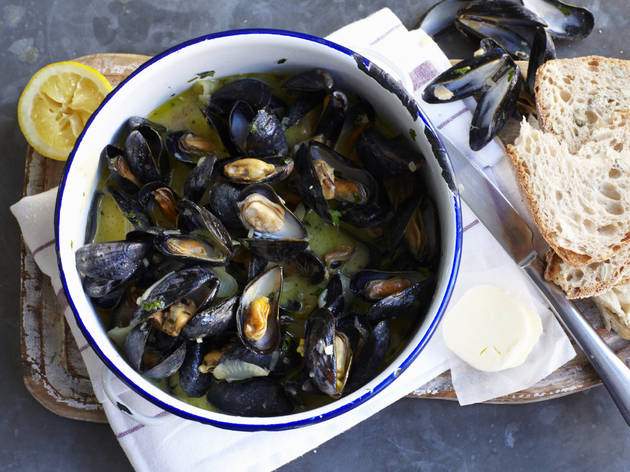 2/7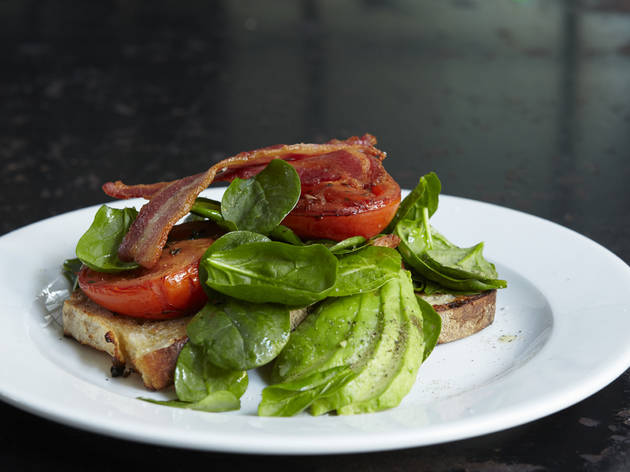 3/7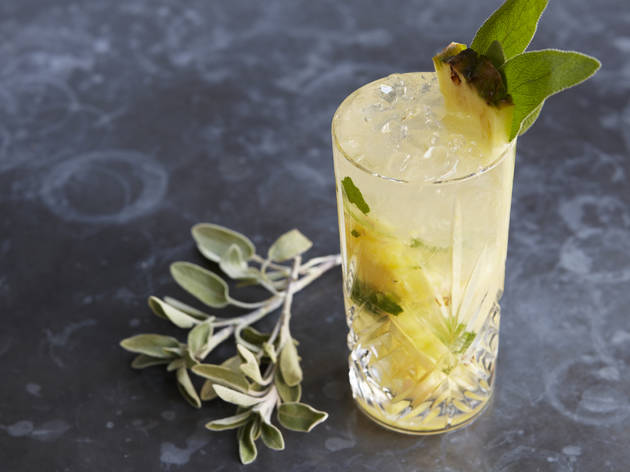 4/7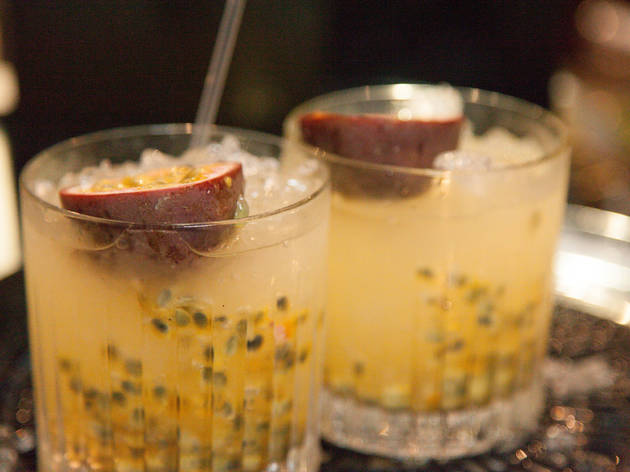 5/7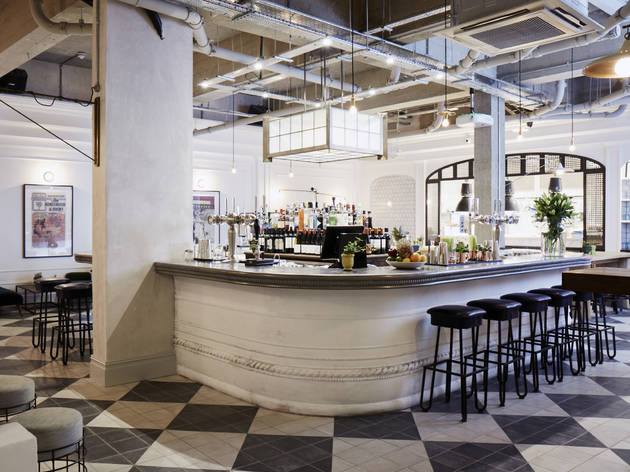 6/7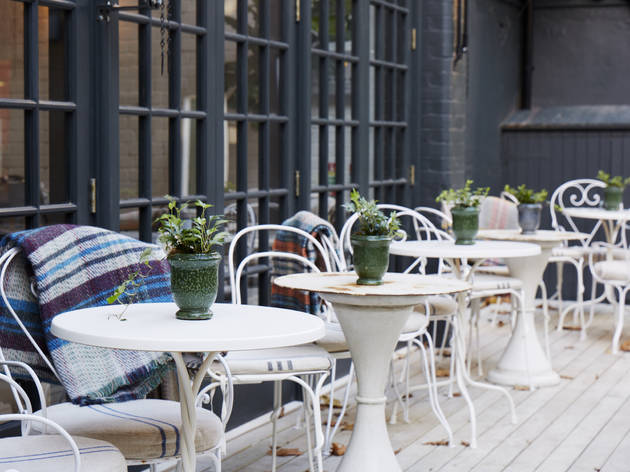 7/7
Time Out says
A bar in Richmond offering cocktails, craft beers and wine, plus a full menu with sandwiches, small plates and a Sunday roast.
Richmond's once-vibrant drinking scene has stagnated over the last couple of decades. Most pubs have taken the easy option of depending on a frequent-but-shallow stream of regulars who are set in their ways, and consider 'redecoration' to be emptying the ashtrays. Those who have ventured from this formula have met with sharp spikes in custom before falling back into line, a question mark hanging over whether it was all worth it or not.
The latest establishment to try and break free is based on the former site of The Lot. Money has been spent. A courtyard, a quaint bar, another brighter-lit bar with a kitchen, an upstairs with a popular miniature games room (four armchairs and table football) and a garden gives you enough to explore and choose from. Emphasis is on service. Staff are attentive and well dressed in ankle-length white aprons, and there's no wait at the bar. Sit outside in the courtyard and they'll bring you blankets for your knees; bring in a dog and they'll serve a bowl of water for the mutt – you get the idea.
They fail miserably on their selection of beers: a small selection of Europe's finest lagers and one pale ale were all that was on tap on our visit; bottled craft beer was also available although not obvious. Spirits are served in double measures – although they warn you first – while cocktails come at the sharp end, as does the food. A club sandwich was £14.95; roast cod and lentils was £17.50. Still, it keeps away what riff-raff Richmond possesses (if any). Punters appeared to be mainly ladies who continue after lunch and first-daters out to impress, but we're assured it's very busy on Fridays (in particular) and Saturdays. It remains to be seen if this one will be the one to break the mould.
Details
Address:
1 Duke Street
Richmond
London
TW9 1HP

Transport:
Richmond rail.
Contact:
Do you own this business?
Average User Rating
3.7 / 5
Rating Breakdown
5 star:

0

4 star:

4

3 star:

2

2 star:

0

1 star:

0
I came across this place on Instagram and it looked like my ideal brunch spot. I couldn't wait to try it, and booked a table for myself and 3 friends one Saturday morning.
It was a lovely sunny morning, but we were seated round the back where there is no natural light. Because the front of the restaurant is so lovely and bright (there is actually a little outside terrace too, but it wasn't quite warm enough for that) we asked to move here as that is the part of the restaurant I had seen photo's of and was so keen to try. This wasn't a problem and we were re-seated. There is a large sharing table with newspapers and the decor is contemporary and relaxed. The perfect brunch setting!
Once moved, however, it took 45 minutes to have even our drinks order taken. We asked 3 times if we could order and kept being told someone would be with us. After finally ordering, the waitress came back 15 minutes later to say that our order had been lost on the system and we needed to re-order. Due to the already long wait, this was extremely frustrating and unfortunately did taint our experience. The manager, however, discounted our bill without question which we appreciated. Mistakes do happen, but if they are dealt with appropriately they can be forgiven, and in this instance I feel it was.
The food was good, but not outstanding. The ingredients feel good quality, but the toast was a little overdone making it very hard to cut into and making it more like a crisp bread the snaps off rather than actual toast. Sounds fussy, but on a simple dish you expect it to be done correctly. Amongst us we had both the eggs benedict and the eggs royale, both of which are served with spinach which makes a nice change and is a fresh twist on the classic dish.
I am hoping we just had a one off bad experience service wise, as I think otherwise it could be a lovely brunch venue. I will give them the benefit of the doubt and try again soon as I so want to like it!
Finally a really nice place in Richmond for not just dinner and drinks but also a bit of a party atmosphere to hang out with friends with. Much more polished than usual pubs in the area with lovely decor and some swanky features, spacious and lively. It doesn't look very big from the road but there's an outdoor area, a dining area with bar, a wide corridor with arm chairs and open fire, a further dining area with open kitchen and even upstairs with private dining rooms.
The food was excellent, the cottage pie had great chunks of tender beef from local farms and the cod on lentils with kale pesto was seriously delicious! Portions were pretty generous, I wouldn't have minded if the dishes had been slightly smaller and slightly less expensive but worth it either way. The staff was fantastic, very friendly, accommodating, attentive and professional, really refreshing to see such good service! The music was a bit on the loud side, making people shout rather than talk, which made it quite noisy for dinner. However it was a Saturday evening after all and they did have a DJ starting around 9pm to keep things up beat. Let's see how it goes but for all I can see this will be our go-to place from now on in Richmond.
Another reincarnated, redecorated pub in Richmond. Comfortable with great service, not really a 'man's pub' – but there a plenty of those in town already – more for couples and groups who maybe want to eat good food as well as drink. Loved the mini games room upstairs, but little chance of grabbing it unless you turn up early. I'm guessing the garden and courtyard will come into its own when it gets a bit warmer.