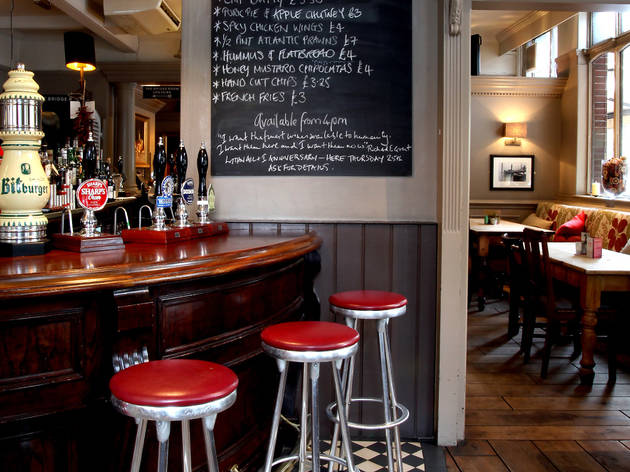 With the Albert Bridge closed for repairs, this big, corner site gastropub – a mere minute's march from where soldiers are required to break step – should have become a quiet backwater, as passing traffic has virtually ceased.
Not so. Our Friday night visit revealed a proper hootenanay in progress. The pub was filled with stiff-shirted men quaffing ale, women in tight skirts fingering their chardonnays, well-groomed dogs on leads (it's opposite Battersea Park), and barely a seat to be had if you were intent on dining.
A small and harried but incredbily efficient team of bar staff sorted out a table after a short wait (even the bar stools are bookable here). This being a Geronimo Inn – a capital chains that puts the quality of drink and food first – the drinks selection from both vine and grain is excellent, including a toothsome guest ale from Norfolk on our visit.
The menu plays fairly safe – fish and chips, macaroni cheese, fishcakes. From the specials chalked on a blackboard, we tried the goats' cheese salad, the little rounds breaded and fried like that 1970s bistro favourite, deep-fried camembert.
Both this and the salad of smoked salmon contained an interesting selection of salad leaves, as you'd hope at £7.50 for a starter.
Main courses prices were also on the steep side for a gastropub, but the kitchen did a good job with the lamb chops (£13.50) – we'd actually ordered pork, but the place was too busy and the wait too long to send the order back.
This Prince Albert has been open for a few years now and is starting to fray, but it still looks good – the interior's a beauty, in a Country Living way, and its popularity seems well earned. Just avoid the seats by the exit to the back yard (their 'garden'), if you can, because the banging swing doors are in continuous use by inebriated smokers.
Venue name:
Prince Albert
Contact:
Address:
85 Albert Bridge Rd
London
SW11 4PF

Opening hours:
Open noon-11pm Mon-Sat; noon-10.30pm Sun. Meals served noon-3pm, 6.30-10pm Mon-Fri; noon-4pm, 7-10pm Sat; noon-4pm, 6-9pm Sun.
Price:
Meal for two with drinks and service: around £55
Menu:
View Menu
Do you own this business?
You may be interested in:
Average User Rating
3.9 / 5
Rating Breakdown
5 star:

5

4 star:

1

3 star:

0

2 star:

0

1 star:

2
Fun place, excellent fish and chips.
Love the atmosphere and the decor.
Come in for a beer after work on the walk home. Absolutely crap service, bar tenders are super slow. Waited 10 minutes without being noticed, went round the other side of the bar and waited, the guy before me got an ale clearly from the bottom of the barrel full of sediment but the bar tender still served it. Then they don't even know who is next i had 2 people served before me that had just shown up and i had been there for 10mins. Was thinking of having my girlfriends birthday party here but definitly not now.
"ABSOLUTELY DREADFUL" Pending review
A group of four of us dropped into this establishment last wed for lunch.We were impressed by the style & cleanliness& the fact that the staff took our drinks & food order at the table.Uhfortunately 20 mins later things started to go wrong We were informed by the waiter that they were unable to make the sandwiches as they had no avocado This was at 1pm ???We revised the orders to steak sandwiches.After 25 mins I asked what had happened to the drinks.Thew waiter sated that the "ticket" had been lost & he would personally prepare them.Drinks duly arrived.After 3/4 of an hour the steaks arrived They consisded of 4 slices of plain white bread with miniscule pieces of thin beef served cold with piles of onion on top. .The waiter returned to ask us about our meal,We responded saying steak should be served hot not ice cold & additionally it was gristly .The gristle was on display on one of the plates.I advised him that he neede to tell "The Management" that these problems needed addressing.He duly returned & said the chef had told him the meat was cold as it had been put in a "Marinade"
I have never heard of anything so ridiculous .No comment was made regarding the "gristle"What planet are these people from ??We directed our complaint for management to address.They failed to see us personally Complaints are for management to resolve they are paid to deal with complaints.You don't put that responsibility on the serving staff they are not paid for it.Unfortunately its becoming more & more evident management keep out of the way of complaints .The prices charged in this establishment are high .Thats fine if the service & quality of food are good .Here its not so .My suggestion is that the "Management" go to Weatherspoons & learn a few basic lessons .We wont be back take my advice "Avoid"
Best pub in the area by miles. Friendly staff, great, ever-changing menu and lovely atmosphere.
The Prince Albert has become over the last year without doubt the best pub in London. Always packed with amusing and watchable people (of course nothing to do with the fact that both Royal Princes have been spotted there) it is run brilliantly by Sile (pronounced Sheila) its exceptional manageress. The staff are all friendly and well trained (no grumpy imports here) and there is even table service. The food is excellent, but it is the sheer buzz of the place that has attracted regulars from all over London. I am trying to replace my card behind the bar with a direct debit