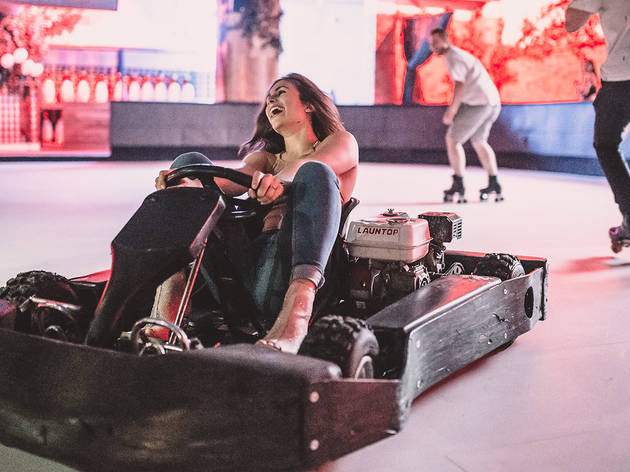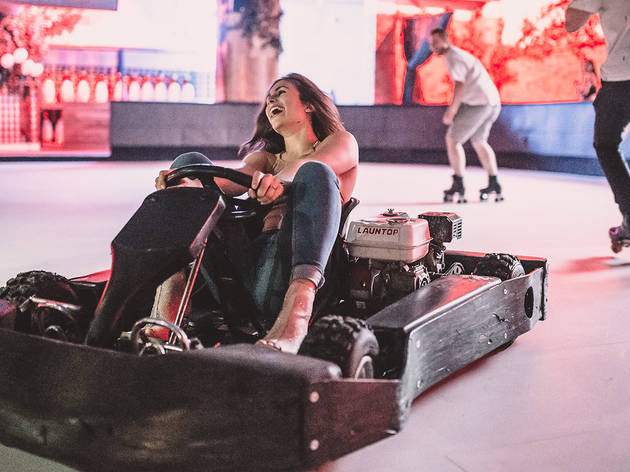 1/20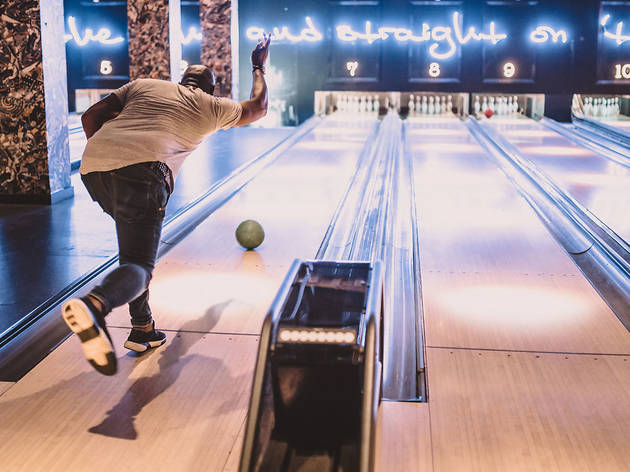 2/20
3/20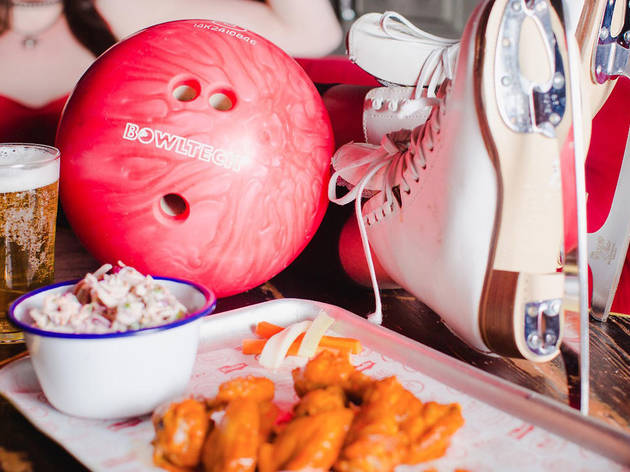 4/20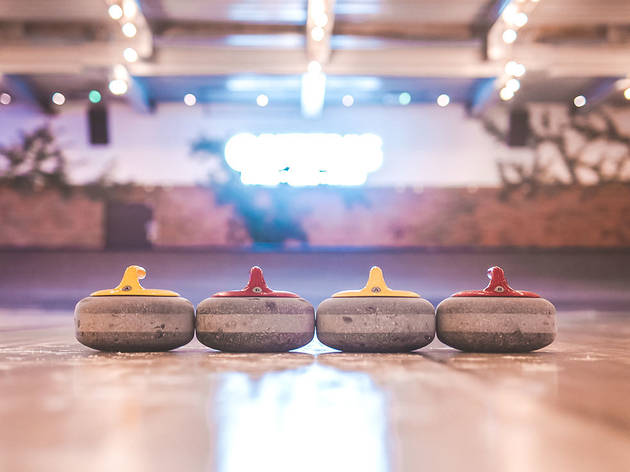 5/20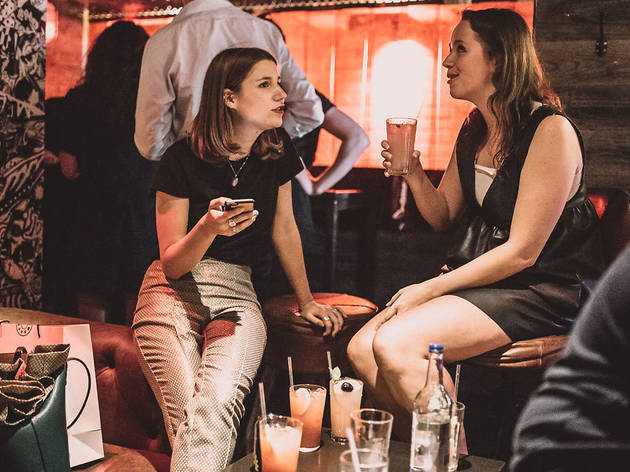 6/20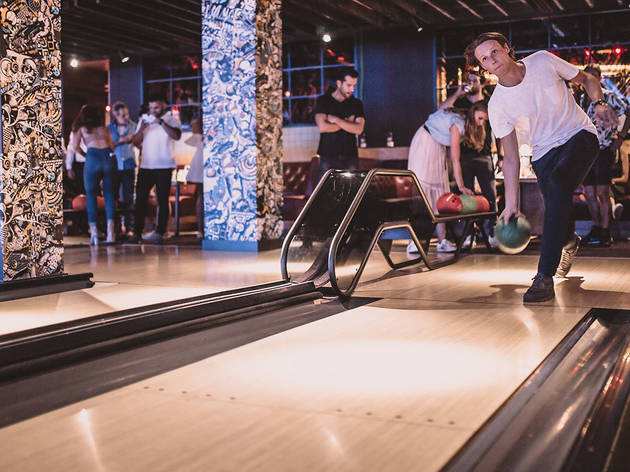 7/20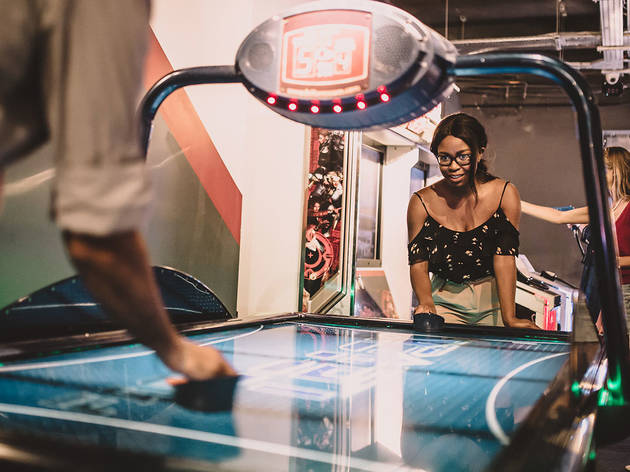 8/20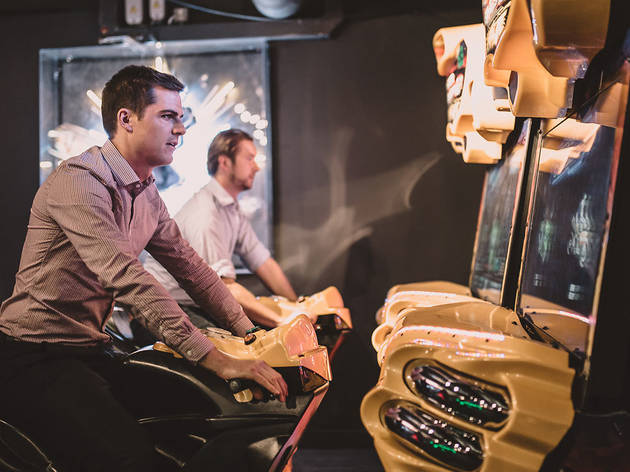 9/20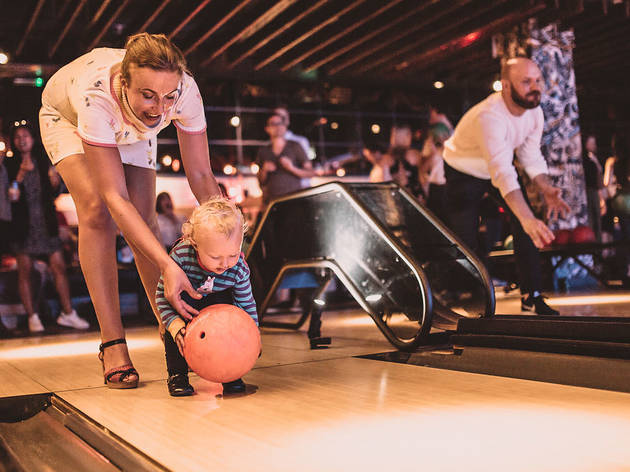 10/20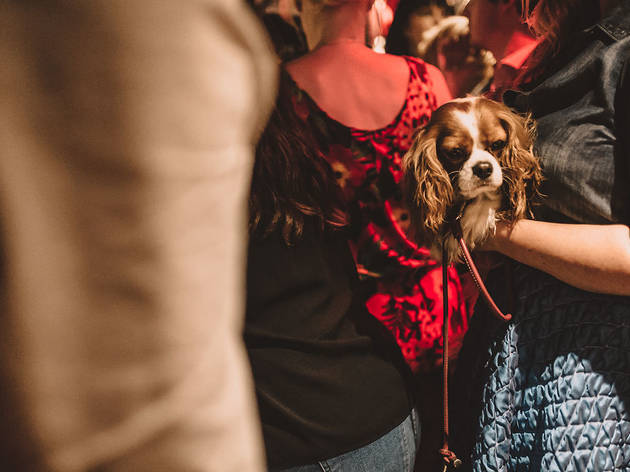 11/20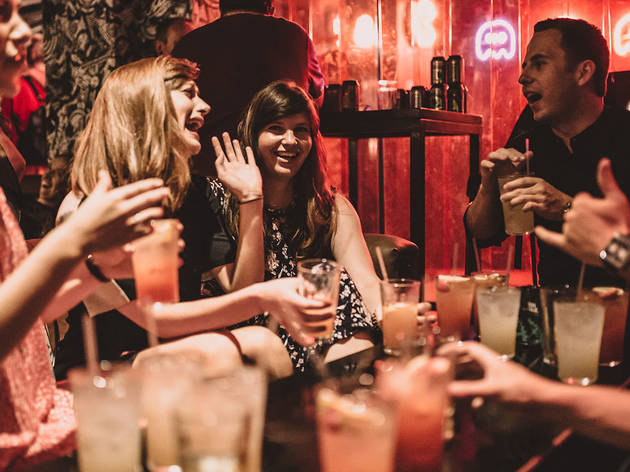 12/20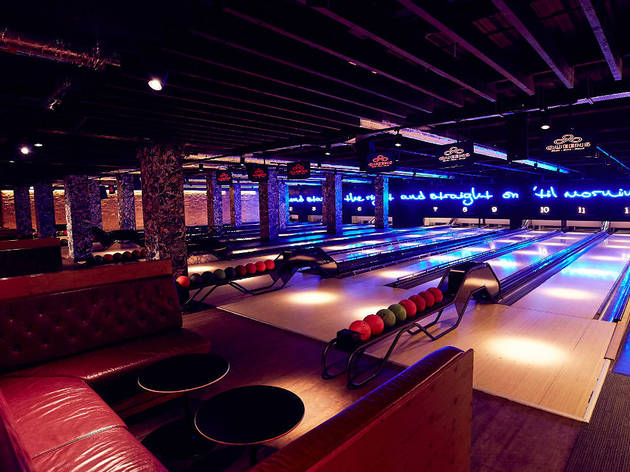 13/20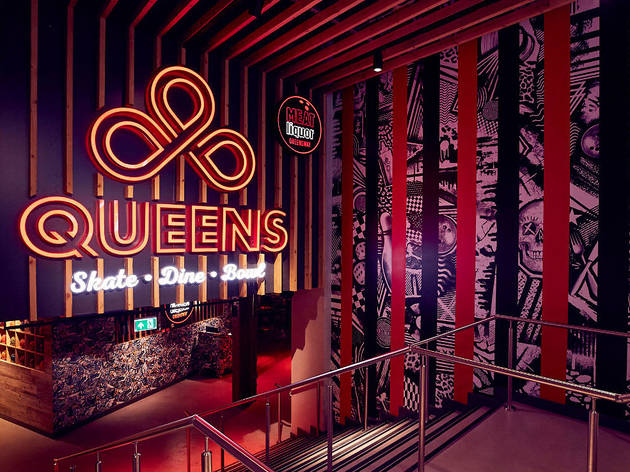 14/20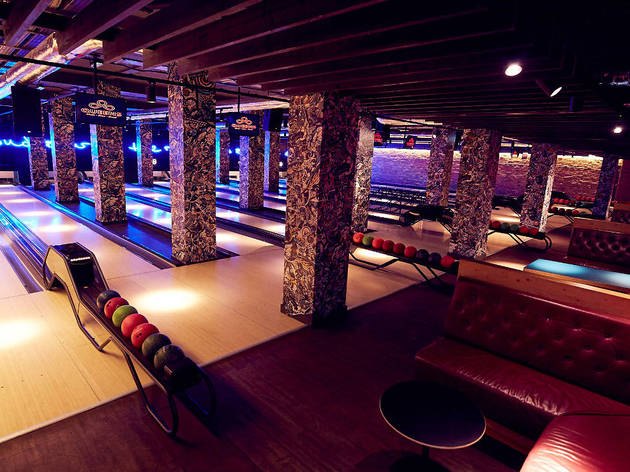 15/20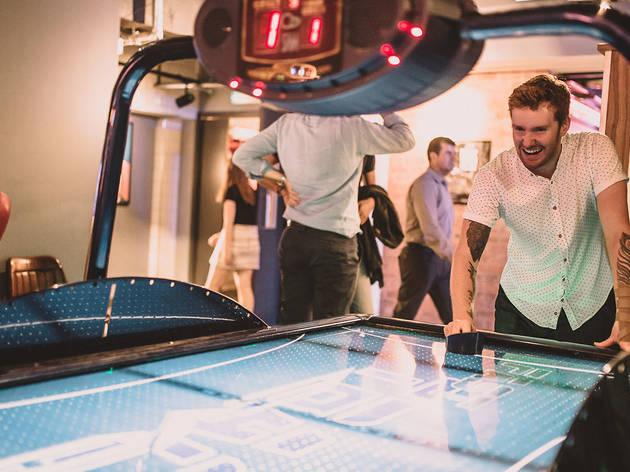 16/20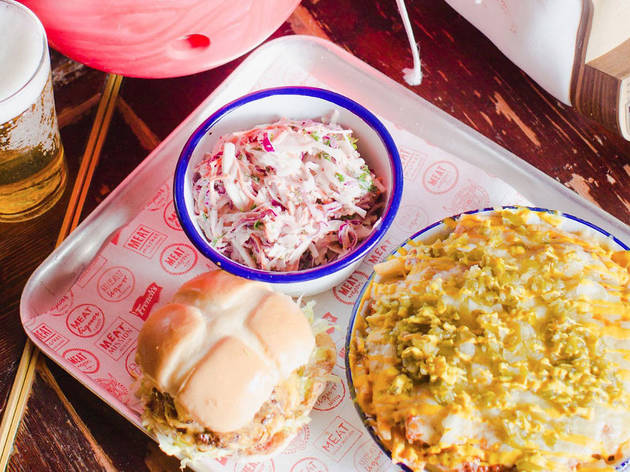 17/20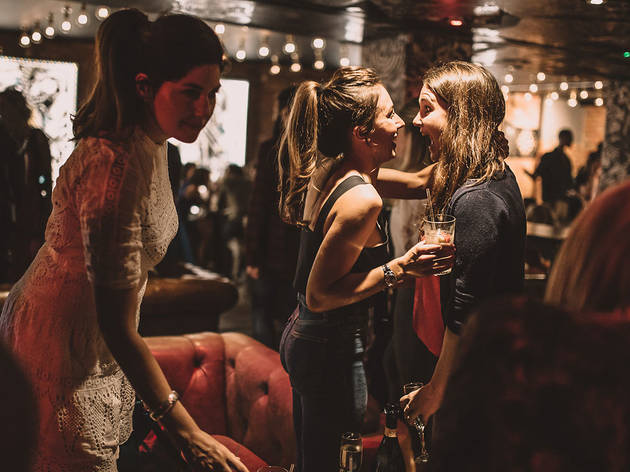 18/20
19/20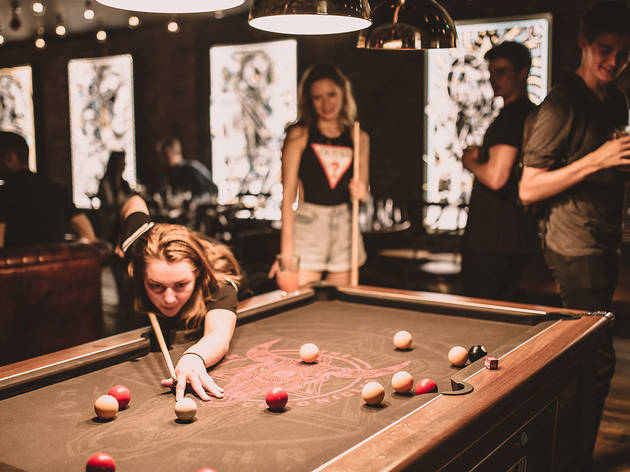 20/20
Time Out says
London's only permanent ice rink location has recently undergone a major revamp. Queens Skate Dine Bowl has been around since the 1930s, and now boasts a fancy new look with a slick ice-skating rink, 12 state-of-the-art bowling lanes and west London's only outpost of the cult-status burger joint MEATliquor. There are also two cafés, and a fun retro games arcade.
QUEENS Skate Dine Bowl says
THE LIQUOR LANES - Private bowling experience
With 5 brand new ruby red lanes plus its own lounge bar & audio, The LIQUOR LANES are inspired by the club movie "The Big Lebowski"!
Opening this November we're taking group bookings of from today.

THE SIN BIN - Ice rink bar & diner
London's only all year round rinkside bar & diner. Whether you are skating, curling or just fancy a bite to eat, be sure to visit the SINBIN. Think Apres-Ski bar vs Canada in Ice Hockey SINBIN. The coolest night out in town. Now Open!
For more information & other bookings please get in touch:

Chat with us.
Call 02072290172

We want to see you've got! We have:

• 12 ten-pin bowling lanes (the most in central London).
• 12,000ft2 of indoor ice-skating rink - all year round!
• Retro & classic arcade games + pool and darts.
• The only west London outpost of MEATliquor.
• Food, Lounge & Bar by MEATliquor.
• Bar, lounge & lane-side waiter service.
• DJs & a couple of cafés too!

Plus we are the home of Ice-Go-Karting & the only on-ice edition of Curling by Sliders!

A great man once said that "QUEENS is a one-stop-fun-shop" and we wholeheartedly agree!
Details
Average User Rating
3.9 / 5
Rating Breakdown
5 star:

5

4 star:

9

3 star:

3

2 star:

0

1 star:

1
Now a definitive one-stop-fun-shop! great grub, cool lanes, great staff. i love the new look & very glad Nottinghill has a new cool spot to hang out in.

I recently celebrated my birthday here at QUEENS, and I was a little concerned that with 30+ people wanting to bowl, eat, drink, and ice skate, it could be a disaster to organise and orchestrate.
Thankfully the staff here at QUEENS were amazingly well prepared for our party. We were given 4 lanes next to each other, with plenty of time to sort out teams and to let everyone bowl at their own pace. While we were bowling, the table service was so quick and the staff were very friendly. Everything went well during the night, with all my friends having a great time enjoying all the activities, good food, and great music. All in all, it was a great birthday, and from start to finish, and I'm so glad that QUEENS were able to make it a stress-free and enjoyable night. I definitely recommend this to anyone looking for a genuinely fun night out in London!
Great place, staff and vibe. Expect to be harassed by the bouncers when you pop out for a smoke: I deeply regret the £100 odd that I spent there tonight: only to be treated so rudely by the door staff.
What an amazing place in the heart of London. It has everything you need to have fun on the night out. It has bowling, ice skating, retro arcades, bar and food all under one roof.
Staff is lovely and very friendly. While enjoying our bowling game, we got waitress service on the lanes which was great as we did not have to make our way to the bar. After the game we sat in the restaurant and had most delicious burgers. They do best halloumi burgers for sure.

Definitely coming back to do some ice skating.
Beautiful place where to spend nice evenings. I think they are modifying it because at the moment the only thing which is open is the ice rink... This winter there were the bowling and the casino as well... Can't wait to see how it will look like.
Skating is perfect for every kind of nights, romantic, with friends or family... Prices are affordable, around 13£ each (adult fare).
Fabulous rink.. go there regularly. and visited again last week.. Only 1 small question: Where is the ice boot??