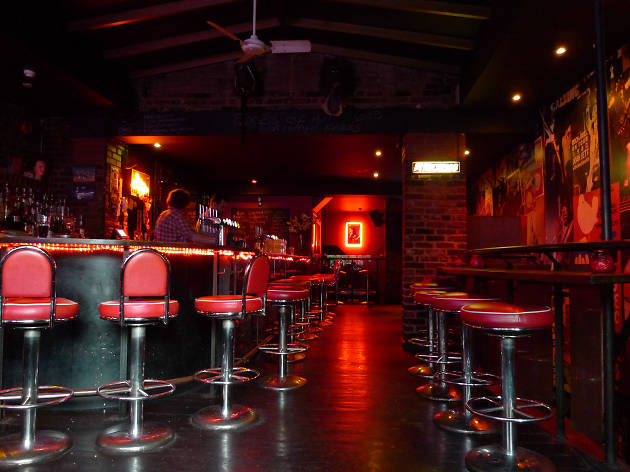 Details
Rating Breakdown
5 star:

1

4 star:

3

3 star:

1

2 star:

1

1 star:

2
A lovely gem on Upper Street, this is one of the few venues that's open till 2 or 3am.
Inside it's full of neon lighting and quirky phrases.
An American style Irish bar, with excellent staff and a wide range of drinks to choose from.
Small and intimate party style bar.
A great rock bar with attitude, a good jukebox, and very cool staff.
Mostly style (and music) over substance. Every time we've been it's been a lesson in rude customer service from bar staff. With so much choice around I'd recommend giving your hard earned pounds to a more deserving bar.
This place rocks ! I am not sure about all the ladies underwear hanging from the ceiling, but the Lynchberg Lemonades were explosive - and the cool sounds got us in the mood for Blackberry Smoke who ROCKED the O2 just down the street. I will be back and just hope I don't come across the service referred to below, as on Monday night all drinks were delivered with a smile. Cool.
I would leave a review of this bar but didn't get further than the front door so i'll leave a review of the door staff. intelligent dress code means they turn away anyone for any reason and appear to enjoy doing it. I was hoping to meet friends inside but as i was wearing a leather jacket and chino's i was classed as a suit wearing city boy. Pathetic, bolloxed the night for everyone. Avoid this uppity reversed snobbery at all costs. In fact avoid Upper St.
Best avoided. Exceptionally rude, clueless staff. Far better places to go on Upper Street.