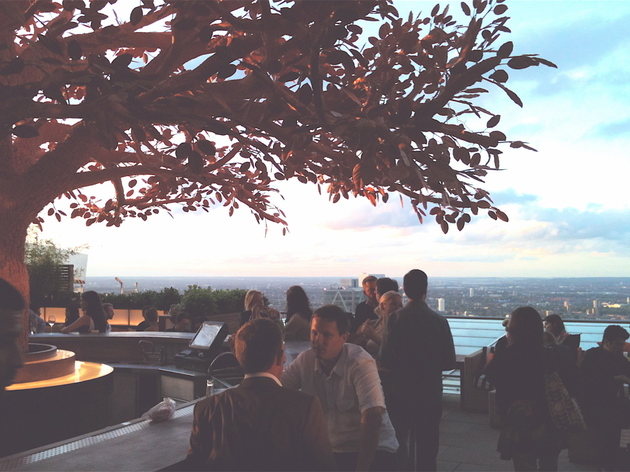 Time Out says
Sushisamba's glass-walled express lift hurtles up the outside of Heron Tower, taking you 38 storeys above the City in under 30 seconds until you're level with the tip of the Gherkin. Once you're up there, Sushisamba also has a pretty impressive rooftop bar open all year round (it's occasionally closed to the public for private parties though, so call to check in advance). Expect to be competing with crowds like Rio Carnival on sunny days. It's less sequins and more suits up here, but you'll still spot bling aplenty.
The terrace's point of focus is a tree sculpture with pretty orange leaves that sparkle when lit up after sunset. A circular bar snakes round it, although it remains unmanned on colder days and you'll have to make do with ordering at either of two bars indoors. It's a blessing this suntrap is so prettily turned out, since the view from this side of the Heron Tower isn't much to shout from the rooftops about.
Visit the interior bar on floor 39 and you'll be able to take in views that extend towards the Thames and far beyond, as well as a close-up of the Gherkin that you could never tire of. Posers invariably fight for window-side seats in an ungracious fashion – views of this calibre can attract big heads as well as big wallets.
We can't help but feel attitude from bar staff too, who made a simple order of bar snacks seem like such an imposition that we gave up on it altogether. They mix a mean drink, though; a short list of signature drinks at £13 each includes a take on the caipirinha, namely the kaffir lime leaf-infused kaffirinha, and a refreshing and fruity nashi martini, more intense on lychee and plum wine than pear-flavoured vodka. If you're happy to persevere with bar snacks, you can sample the Brazilian-Japanese fusion food the restaurant is known for.
Details
Address:
Floors 38 & 39, Heron Tower
110 Bishopsgate
London
EC2N 4AY

Transport:
Tube: Liverpool Street tube/rail
Opening hours:
Open 11.30am-1am Mon-Wed; 11.30am-2am Thur; 11.30am- 3am Fri, Sat; 11.30am-midnight Sun.
Do you own this business?
Average User Rating
3.6 / 5
Rating Breakdown
5 star:

4

4 star:

5

3 star:

4

2 star:

2

1 star:

1
Brilliant door staff at ground level, lift journey is amazing (and free - why do we pay for the London Eye when the view from here is gratis??). What a shame the bar staff (particularly her with the cool neck tattoo - I had plenty of time to study this...) are rubbish at identifying who was next in the queue. No eye contact, and then pre-occupied with serving the restaurant drinks, two different cocktail menus which meant that pointing to the bottom of one menu got you a completely different drink. We waited 30 minutes for someone to serve us and plenty of punters were served before us who arrived later. Perhaps we didn't fit with the decor??
I love this place. The sushi is very good, I tasted "El topo" its pretty good.. the atmosphere and the view are amazing. make a reservation, otherwise it will have to wait, but worth the wait...
I visited here on a Saturday night for a friends birthday. The place was really buzzing with a nice atmosphere. I wasn't ever so impressed with the short, pricey drink list, nor the hefty service charge! A drink each for four of us came to over to £50!
I was really impressed with the service though. The bar staff were really friendly and kept up banter all night. Great views of London and the high speed lift was a cool experience. Would visit again despite the cost.
Watch out for the dress code! If you show up smartish for the bar, but without a reservation, the door staff take great pleasure in informing you they won't let you in...even if you're meeting people there. Horrible, I'm sure its lovely but very awkward
I really enjoyed my spontaneous first time at Sushisamba. Admittedly I was a little tipsy but the lift took my breath away and the views are amazing. My friend and I were allowed in despite wearing casual clothes and the cocktails were perhaps not the best but were certainly potent! Slightly poncy crowd as it was a Saturday night - a lady asked security to speak to my friend after she spilt a tiny amount of drink on her which he evidently found embarrassing and was very nice about it. There was a great DJ playing really fun tunes and it was a night out with a difference.
I was impressed about the view and the decor. Even on Sunday Night it was still quite busy. Staff was polite and the cocktails were ok. Unfortunately the only WOW was the way to restaurant with high speed elevator. Anyway, I would still recommend to go there as it still is one of TOP10 rooftops in London.
Fabulous views, staff are approachable and friendly. Happy to make conversation and share a joke. Drinks are pricey but not OTT. Inside is comfortable but loud. OUtside is great on warm day.. too windy when cold. You need to find one of the fireplaces. Bar is very nice. Cocktails were spot on (4 out of 5 times). Overall, OK and good enough but not amazing.
breathtaking view!! sophisticated cocktails! very good and polite service! If u don't like this, u're only the classic pathetic type of a Saturday night out to get drunk!