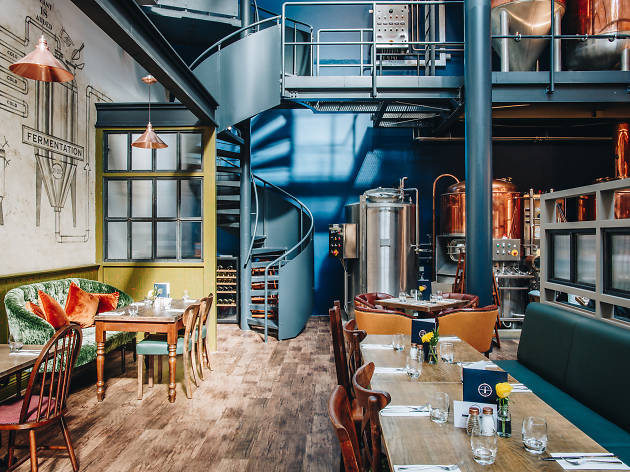 Time Out says
A historical pub that has changed hands from Meantime to Young's.
What was once the bar and restaurant from Greenwich-born Meantime brewery has now been taken over by Young's Pubs. The historical Old Brewery sits by the Royal Naval College and continues to serve food throughout the day, including Full English breakfasts.
Details
Address:
Pepys Building
Old Royal Naval College
London
SE10 9LM

Transport:
Cutty Sark DLR
Contact:
Opening hours:
Bar open 11am-11pm Mon-Sat; noon-10.30pm Sun. Café open 10am-5pm daily. Restaurant open 6pm-9.30pm Mon-Thurs; 6pm-10pm Fri-Sat; 6pm-9pm Sun.
Do you own this business?
Average User Rating
3.7 / 5
Rating Breakdown
5 star:

2

4 star:

7

3 star:

0

2 star:

1

1 star:

1
'The Old Brewery' in London is perfect to have brunch and hang with mates. It's in the heart of Greenwich right next to the University. The lovely restaurant/bar has a mixture of tourists and locals enjoying the simple but delicious menu and array of cocktails.
I discovered it by accident one day after being on a shoot, we fancied brunch and 'The Old Brewery' was staring back at us! It looks over the amazing Cutty Sark, Canary Wharf and The King Charles building of the Old Royal Naval College, some view let me tell you.

The menu is good and thankfully very easy to pick from. I highly recommend the pochedeggs/salmon/avocado with toast combo. They also do a mean sticky toffee pudding if you fancy a cheat day. Every Sunday they serve a good ole tasty roast with all the trimmings! I would suggest you book ahead if you fancy it as it gets very busy! It's also a cool place to go for a drink and catch up with friends with a stunning outdoor area. You can book the venue for parties and events which I think is really awesome. The team there are super lovely, welcoming and very chilled.

I really don't enjoy going to stuffy places where you are scared to ask for more anything…. Ambience is sooooo very important and the food of course this place has both!
This week #MaxRecommendsthe 'The Old Brewery'! Go visit and let me know what you think! Max xxx
If you're in the Greenwich area and are in need of a pint head to The Old Brewery. Although no longer the Greenwich Meantime brand it still offers great indoor or outdoor areas for a pint. With a large outdoor area it's great for a sunny day or to allow kids to run about while you relax slumped in a chair with an ice cold beer in one day. I recommend this pub for drinks only however as their menu didn't seem to impress me.
The Old Brewery, formerly owned and operated by the Greenwich Meantime brand, has recently been taken over by the Young's Pub Group. Has this made the venue better? In some ways yes: the space has been opened out and is now much bigger, to include an additional in door bar and seating as well as a newly renovated outdoor seating area complete with Pimm's bar. But in gaining space, I feel it has somewhat lost its more quaint charm that it had under Greenwich Meantime.
I haven't yet had the chance to eat here since it's overhaul but when it comes to booze, it has a great selection of drinks on offer and what look like sumptuous bar snacks (the pies and sausage rolls look amazing!). It is pricey though! Expect to pay around £5.60 for any of the pints on offer and more for spirits and wine.
Would I recommend it? It's not a pub I would advise people travel to the area for, but if you find yourself in Greenwich and it's a sunny day, it's not a bad shout for a cheeky drink out in the sunshine.
Recently joining the Young's family, the Old Brewery is an all rounded pub, restaurant & cafe, perfectly situated in the heart of the Old Royal Naval College, Greenwich. Their seasonal British menu & vast craft beer offering means it's a perfect stop for everybody & anybody.
So, it's Mother's Day and we decide a boat trip followed by a relaxed meal at a child friendly place in a picturesque setting would be perfect. I call beforehand, we can't book but we're reassured it will be fine.
We arrive at Meantime Brewery in Greenwich at 1.15. The sun is shining. We get a lovely table in the garden. Great. After we've been there 10 minutes we ask if we can order as 5 year old is hungry. I'm told that person I'm addressing (all staff wear the same uniform) can't take our order but he will send someone over. After 5 minutes we ask again and this time the staff member says she can't take our order but she'll send someone over who can. We've been there 15 minutes now and I tell her that this is the second time we've asked and she says 'ok it's just that I have allergies and I...' and then she's off. What on earth could the end of that sentence be?!
I know, I know. At this point we should have read the writing on the wall. We should have got up and left. But it was by now 1.30 on Mothering Sunday and we were in a place we didn't know. What was the likelihood of finding somewhere that could accommodate 5 of us given that my 70 something year old diabetic mum and 5 year old son needed to eat ASAP? Optimistically, we hope, this is a blip.
So someone does take our order. Time passes. 30 minutes later, after we're forced to ask where our drinks are, they arrive. We don't see our food for another half an hour. This is an hour after we ordered and an hour and fifteen minutes after we sat down.
I promise i'm not making this up: one side dish is missing. One burger initially comes without cheese before we point this out and its remedied. The burgers are cooked exactly the same even though we were asked how we'd like them cooked and different orders were given. The salad was requested with dressing on the side so 5 year old will eat half of it, it comes dressed. There are no crackers for my crab so I sit eating chips, salivating over my inaccessible crab while trying to get someones - anyones - attention. As the waitress later points out there's no finger bowl either but that's the least of our worries.
Amazingly when we get someone's attention to point all of this out the guy is just rude, telling us we're not being clear about which side dish is missing. It's the green vegetables. They only have one vegetable dish. He points at the salad and walks off. We call him back; I have to pick up the menu and point to the dish before he appears to be willing to go and get it. By this time my normally very placid mum was pretty upset.
So I don't know about you but when I'm thinking about going to a restaurant and I see a bad review I often wonder if the reviewer was just having a bad day. Or maybe an ulterior motive. Or maybe they revel in posting nasty stuff. This restaurant has enough passing trade to care not a bit about anything I write but if you don't want a lunch, let alone a lunch on a special day, ruined, you might want to leave it to those who havent had a chance to do a bit of poking about online for reviews first.
Full disclosure: halfway through eating and realising that indigestion had set in obliterating any chance of enjoying the food I went to speak to the manager. By the time I was halfway through the sorry tale he (all but with his hands over his ears) just started repeating 'I'll get rid of it, I'll get rid of it'. Meaning the bill. The problem is we won't get our Mother's Day lunch back and when your mum is 70 something, well...obviously, I'd just rather have paid for a good meal.
My girlfriend and I relished a superb Tuesday night (billed as "Ribs Night") at the Old Brewery, each indulging in an enormous plate of smokey baby ribs, the most delicious and generous serving I have ever eaten.The accompanying bowls of hand cut chips and home made coleslaw and bbq sauce were wonderful too. As I was feverishly hungry, I also ordered a side serving of roast potatoes, which just melted in my mouth, they were so soft and flavoursome. Both of us struggled to finish our meals and it was tempting to 'bag-up' the left-overs. We have drunk at the adjoining bar on several occasions - which I highly recommend -, but this was the first time we had dined in the restaurant - a large, high ceiling room, softly lit, calming, and so comfortable, we didn't wish to leave! We ordered a rack of Meantime beers: four 1/3 pint glasses served in a wooden rack (which drew looks of surprise from the neighbouring diners), allowing us to sample the superb Yakima Red, Pale lager, and American Quad (a guest beer which surely needs to be a permanent fixture in Meantime's repertoire!). It's the ideal way to sample the extensive array of brilliant Meantime beers, but one rack is not enough given the choice. The unobtrusive eclectic jazz and soul music suited the decor - the acoustics are terrific! There are few restaurants and meals that have left such a memorable impression on me (and my girlfriend). The knowledgeable staff are highly professional and attentive. We were told about their "Lobster Night" on Thursdays (£15 for a whole grilled or poached full lobster!), and based on the standard of culinary quality on offer that night, we shall definitely be returning. Top marks all around. An absolute gem.
Tried the Yakima Red for the first time which was great, and the bar snacks, real pork scratching very cool! Bar tender was great too let us sample the beers first! Haven't tried the main restaurant yet but will on our next visit!
I was excited to go to this microbrewery/pub/restaurant. The beer was nice and the burger I ordered was tasty. However, there is no customer service in this place. The lady who took our order looked like she's depressed, annoyed and doesn't want to be there at all. She was just rude! The food took 30mins to be served. she even sneezed loudly near us.. hopefully our food didn't get infected.
This is a Marmite pub, you either like it or you don't. Its different, sort of a coffee shop crossed with a cafe crossed with a pub. The beer is good, the service is excellent, the staff are pleasant and very helpful but I wasn't too comfortable with the three ladies openly breast feeding over a coffee when I was having a pint - each to their own, but I'm not too sure if breast and beer really go together, then again, that's my problem.