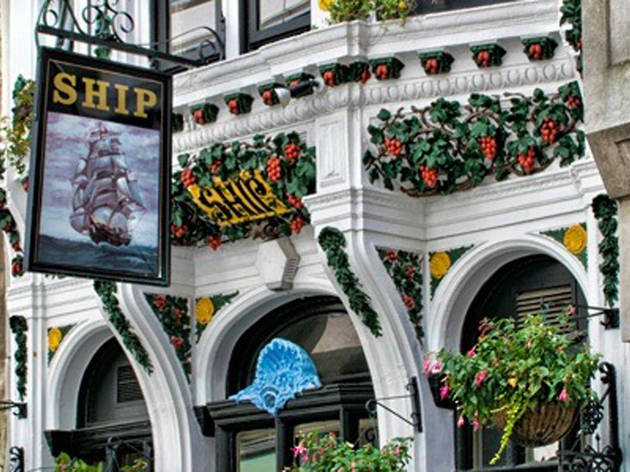 Time Out says
This traditional boozer on Hart Street, close to Fenchurch Street, looks like it's fighting a one-pub battle against the City, its characterful sliver of a facade squeezed but resolute between two modern buildings. The decor inside sticks to the outside's traditional look.
True to the feel of the place, it's mostly about the booze, with beer a particular focus. Expect a regularly changing list of cask ales, with more by the bottle. A short wine list includes bottles from France, Chile, Italy, Australia, South Africa and Argentina, with most available by the glass.
The main food menu draws influence from across the globe too, with dishes ranging from Welsh rarebit and ham, egg and chips to shredded duck wraps, vegetable spring rolls and chilli con carne. A range of burgers do brisk business, with beef alongside lamb, cajun chicken, cod and a veggie option made with chickpeas, mixed beans, aubergine and couscous.
The Ship says
The Ship in Hart Street is an award-winning, historic City of London pub, a stone's throw away from the Tower of London, Tower Bridge and Fenchurch Street.
Details