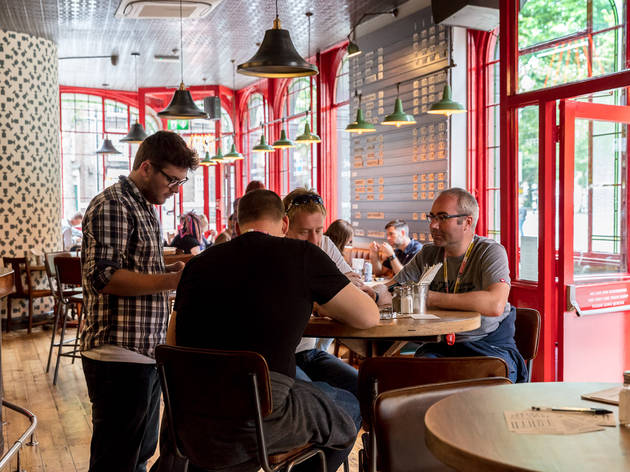 1/5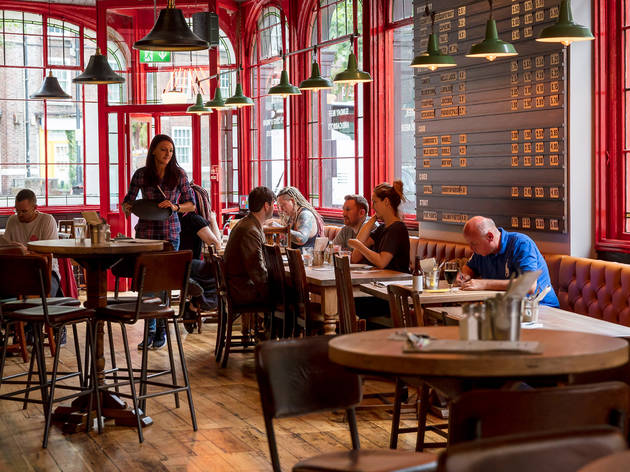 2/5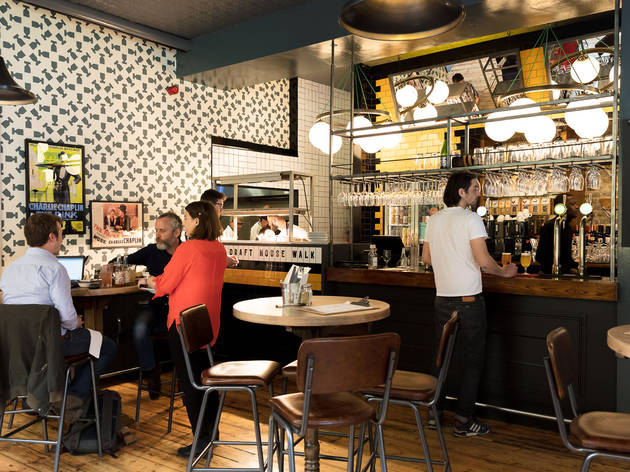 3/5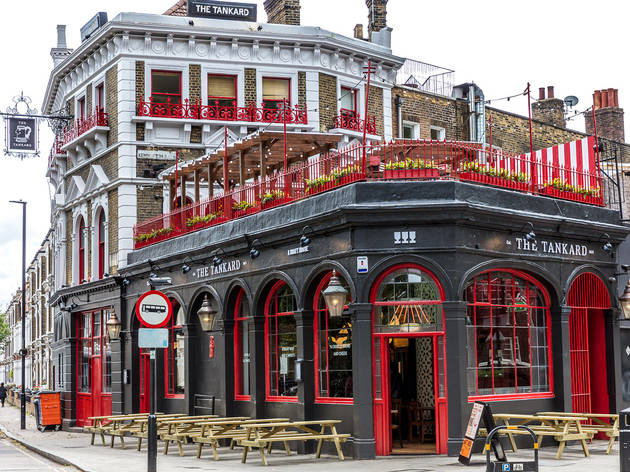 4/5
5/5
Time Out says
Charlie Chaplin's old local, taken on by the Draft House chain.
Kennington was once the epicentre of London's music hall scene, with luvvies propping up the bars of rowdy taverns lining Kennington Road. Fast forward 120 years and The Tankard – the latest from beer-focused pub group The Draft House – is harking back to this colourful history. Reverting to its original name from 1825, the old-school boozer once overlooked the grounds of infamous asylum Bethlem Hospital (aka Bedlam) and was frequented by a young Charlie Chaplin, sent in by his mum to fetch his music-hall-performing pop from the bar. The old soaks at the pub are said to have influenced Chaplin's slapstick and The Tankard has taken this heritage to heart. The striking – if slightly gaudy – red-and-black décor nods to the area's former theatrics, as do illustrations of the 'Little Tramp'.
As is to be expected, the beer selection is top-notch and friendly bar staff are on hand to guide you through the colossal menu. There's everything from cans courtesy of small-scale British breweries (notably Northern Monk, Magic Rock and Gypsy Hill Brewery) to European lagers and American pale ales. There's a healthy selection of sprits, too, including the juniper-rich Victory Gin, straight from the group's distillery in Bermondsey. Cheese is the watchword on the food front, with a section of the menu dedicated to beer and cheese pairings.
The spacious downstairs bar was quiet when we visited on a Saturday night. But, head up a twisting, red spiral staircase and you'll find the cause – a charming roof terrace full of twinkling, festoon lights and pergolas.
It's fair to say the Chaplin-esque look feels a little trite. But, it's nothing a long drinks list and a pretty view over the Imperial War Museum (thankfully, not Bethlem any more) can't fix.
Details
Address:
111 Kennington Road
London
SE11 6SF

Transport:
Tube: Lambeth North
Contact:
Do you own this business?
Rating Breakdown
5 star:

0

4 star:

1

3 star:

0

2 star:

0

1 star:

2
If it was possible to give no stars (0/5), I'd be overjoyed. As this is a HORRIBLE, HORRIBLE, HORRIBLE PLACE! Don't visit.
The incident took place on Saturday 20th April 2019 between 20:45pm-21:30pm.
Myself, Friends and family (which include three children all under the age of 3) decided to have diner at 'The Tankard' as we had good hopes, however those positive expectations prior to our visit were completely shattered.
I'm still extremely disappointed with the poor service, foul and revolting attitude we received from the members of staff working that day, two men to be precise.
Two members of our group arrived at 19:30pm and the rest of us arrived at 20:45pm. Giving us more than enough time to place our order. As soon as we arrived not one member of staff said hello or offered to help us, as we were struggling with finding a table that'd fit the 9 of us including three kids under 3 and locating three high chairs. The members of staff literally stood there and gawked at us. After some time passed, we managed to handle it with no support from the people that actually work there. We got everyone seated, pushchairs packed to the side and began to look through the menu. I observed the members of staff serving another group and being very attentive to them.
One of us decided to go over to the member of staff, to ask what the next step was, do we wait for someone to take our orders? Do we go up to the bar to place our orders? What happens next? We don't know because that was our first time visiting 'The Tankard' and the members of staff were mute, uncommunicative and not welcoming at all. Hence why one of us had to approach them, at this point it was 20:58pm. She went up to the bar and asked the member of staff "how does it work, do we have to place our orders here or do you get our orders at the table" He then responded bluntly "kitchen's closed!". He was so frank, not one ounce of remorse. Ok fine, the kitchen closes at 9pm and I assume we had to order at the bar. But we were not privy to this information due to the fact that the staff members failed to make this essential piece of information accessible to our group prior to the kitchen closing. At least provide basic customer service to your customers. They watched us the whole time and said nothing. They literally gapped at us while we settled ourselves into out seats and never approached us not even to say exchange a hello all they shared were stares. We were only informed about the kitchen closing because they were approached. They had so many chances to say "Hello, just to let you know the kitchen closes at 9pm.. place your order here" it could have been that simple. We all sat there in disgust, we were so disappointed. We had to let what happened sink in and then gather our belongings and leave the pub. We all travel far from all over London to visit this pace but instead we all went back home with our empty stomachs.
Not one word was said by the members of staff during our time there, apart from "kitchen's closed", two words.
We were blatantly not welcome at 'The Tankard', they didn't want us in their space or eating from their kitchen. Terrible place.
I'm going to speak candidly about this establishment this is one of the nastiest places I have ever entered. The employee's treated our party of eight as though we were pisher we had children in our party all under the age of three. The staff failed to help seat us and ask us if high chairs were needed for the children. The ill-mannered and lousy behaviour was overt from the moment we stepped into the establishment. The staff could not even manage to offer pleasantry's so simple as a salutation. These actions made it a very unwelcome and hostile space to be in. We entered and seated the establishment in a time sufficient enough to order our food, yet we were not alerted by the staff that the kitchen would be closing soon. Standard protocol is to inform customers that the kitchen is closing before it actually does so that people can place their order and receive their food. The unpleasantly disappointing encounter was very avoidable had we not stepped into such a place. The employee's actions from the outset made it clear that they did not want to serve our group talk less of wanting us to eat there. This experience reminds me of all the non verbal ways people choose to be discourteous.
This experience took place over bank holiday weekend on Saturday 20th April
Recently refurbished, Tankard is our local go-to pub.It has a beautifully lit terrace bar, with extremely pleasant and helpful staff. The range of beers on tap is phenomenal and the food is delicious. Needless to say, we will be back (frequently).
Snap up exclusive discounts in London
Time Out's handpicked deals — hurry, they won't be around for long...