The world's best bars: North America
Quintessential drinking experiences in the USA – local bars the locals love…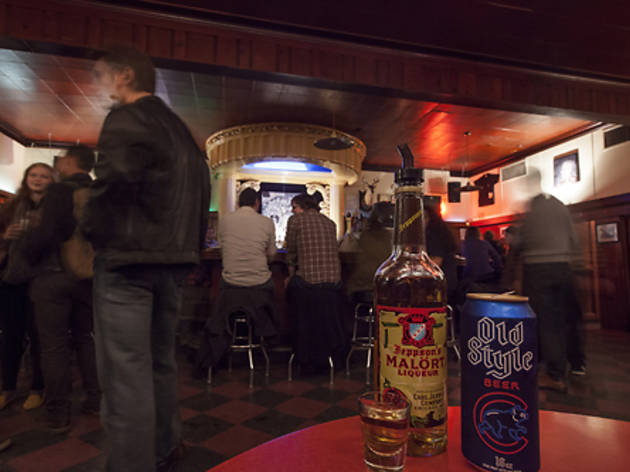 1/3
A shot of Jepson's Malort (and an Old Style) at the Rainbo Club
One thing divides real Chicago drinkers from the posers: the ability to put down a shot of Jepson's Malort, Chi-Town's medicinal, locally made booze. (The Old Style, a local beer, is there to cleanse the palate.)
The bittersweet reality of great little dives is that they often lose charm when overrun by masses of clingers-on. Somehow, this Ukrainian Village spot has managed to escape that fate. The Rainbo remains populated by the same mix of art-school students, art-school alums, art-school professors and, um, art-school wannabes, all of whom are in at least one band, and all of whom hold on to terra firma with cans of beer in one hand and a shot in the other, nodding along to everything from Aesop Rock to Black Sabbath.
Of course, sometimes posers do meander in to take a few turns in the photobooth (the pictures can serve as proof later that, no, really, they're cool!). Here's an easy way to suss them out: if they can take down a shot of Malort, they're Chicago enough to stick around. If they can't, well, there's a sports bar down the street waiting to serve them a cosmo. Amy Carr, executive editor, Time Out Chicago
Rainbo Club, 1150 N Damen Ave, Ukrainian Village, Chicago, USA. +1 773 489 5999


Discover Chicago's hottest bars with Time Out Chicago's weekly 'bar chart'


Picture by Martha Williams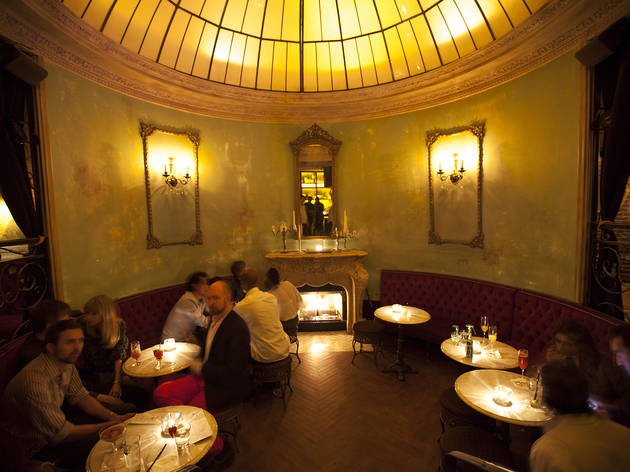 2/3
A 'Sazerac Fix' at Pour Vous
The 'Sazerac' is thought to be the oldest American cocktail, first blended in the mid-1800s when California was in its infancy. And at Melrose Avenue's Pour Vous bar, a heady mix of belle epoque Paris and golden-age Hollywood, it's conjured up using rye whiskey, lemon, bitters, pastis, evaporated cane, classic burlesque and a host of special effects...

An evening at Pour Vous is an immersion in sepia-toned, jazz-age Parisian salon – it's also one of the classiest cocktail outings in Tinseltown. Bring a date and grab a seat near the fireplace before 10pm when the place gets packed. It'll soon be standing room only when unexpectedly a burlesque bewitching hour descends (literally) upon the crowd.
Reservations are encouraged but not necessary for a small group dressed in proper 'cocktail attire' which is the only way you're getting in. Dress code is enforced, the details of which (no T-shirts, hoodies, baseball hats, sneakers) are posted on their site and reiterated on a plaque at the entrance. Inside, blue and amber theatrical lighting illuminate various corners of a parlor-style room. The central fixture is a cozy fireplace that gives way to circular, café seating under a dome that could be construed as a miniature version of the Grand Palais.
An exemplary team of mixologists may surprise you with an aperitif not on the menu, such as 'Floc de Gascogne', a vin de liqueur fortified with Armagnac (id="mce_marker"0). The cocktail list is simplified to feature tried-and-true staples (including our tip, the classic-with-a-twist 'Sazerac Fix' for id="mce_marker"2) and some ingeniously experimental concoctions. The beautiful and the damned should try 'Le Samourai' (id="mce_marker"4), a deadly mix of Armagnac, framboise, rhubarb and umami. Jonathan Cristaldi, Time Out Los Angeles
Pour Vous, 5574 Melrose Avenue, Hollywood, Los Angeles, USA. +1 323 871 8699. www.pourvousla.com


Discover LA's best cocktail bars


Picture by Jakob N Layman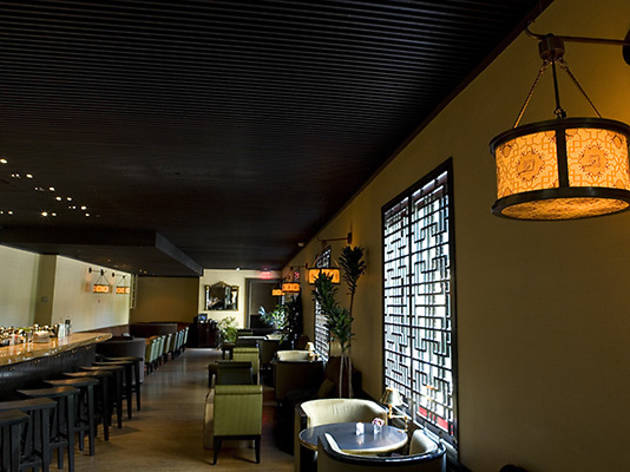 3/3
A 'Gin-Gin Mule' at the Pegu Club
Booze hounds can toss back a Manhattan at any bar on the planet these days. For a true New York tipple, swing by Audrey Saunders's world-renowned Pegu Club and order a 'Gin-Gin Mule' – a vivacious elixir of homemade ginger beer with Tanqueray gin, fresh mint and lime juice. The contemporary classic helped usher in Gotham's gin revival, along with America's craft cocktail rebirth, and sips just as fine today.
The far-reaching influence of New York's reigning queen of cocktails, Audrey Saunders, is hard to measure. Her storied drinks den, the swank Pegu Club, begat many of New York's current bar-scene standard-bearers, including Death & Company, PDT and Mayahuel.
When the pioneering spot opened in 2005 – with 27 gins on the back bar and a cadre of pro drinks-slingers – the city was awash with vodka, cheap mixers and careless bartenders. Back then only hideaway joints like Milk & Honey offered artfully made tipples to a select few drinkers. It was Saunders who broke open the world of serious mixology to the masses with her capacious 90-seat lounge, accessible to any passers-by via a carpeted candlelit staircase.
In that second-floor sanctum, a long maple bar doubles as a stage for nimble bartenders, armed with hand-cracked ice, rare spirits and scholarly drinks knowledge. Perch there and choose from mighty classics (the namesake 'Pegu Club' cocktail) or signature quaffs (the zippy 'Gin-Gin Mule').
Even as young bucks churn out new hot spots around town, the legendary bar has kept its edge, maintaining a rigorous level of quality little seen elsewhere and even evolving over the years – rock and roll now breaks up the swing-era jazz soundtrack. It's a deft blend of throwback craftsmanship with just the right amount of novelty: Welcome to New York boozing in the modern age. Mari Uyehara, Food & Drink editor, Time Out New York
Pegu Club, 77 West Houston Street, New York, USA. +1 212 473 7348. www.peguclub.com


Discover the 50 best bars in New York


Picture by Jeff Gurwin
Sponsored listing
Radio Rooftop Bar
Since first opening in 2013, Radio Rooftop Bar high above the Strand has secured its status as one of central London's prime rooftop drinking destinations. But it's also drawn its fair share of negative attention from customers stuck in queues or turned away at the door, by staff described in very unflattering terms across social media. Timing is key. On a Monday evening, we were up on the terrace faster than a raincloud could appear. Service once we found a seat wasn't quite so pacey, but that only buys you more time to absorb those extraordinary 360-degree views of every star of the London skyline. The terrace is much like a slick Ibiza sun lounge – although you probably won't find such plush blankets and patio heaters in the Balearic Islands. There's a soundtrack to match, with background house beats a hit with the inevitable flashy Essex boys in town for a knees-up. (It's worth noting that same-sex groups of more than five are barred.) It can be a strange mix of people here, spanning the aforementioned lad crew, older American tourists, fashionistas in floppy hats and work colleagues on awkward outings all rubbing shoulders. Expect the usual rooftop prices, but if you're just stopping in for a one-off drink with a view, wine (fizzy and still) is served by the glass. For summer sipping, G&T comes in fifteen forms, with different brands of gin, flavoured tonics and fruit infusions in the mix. With each costing £14, you're paying for the altitude.