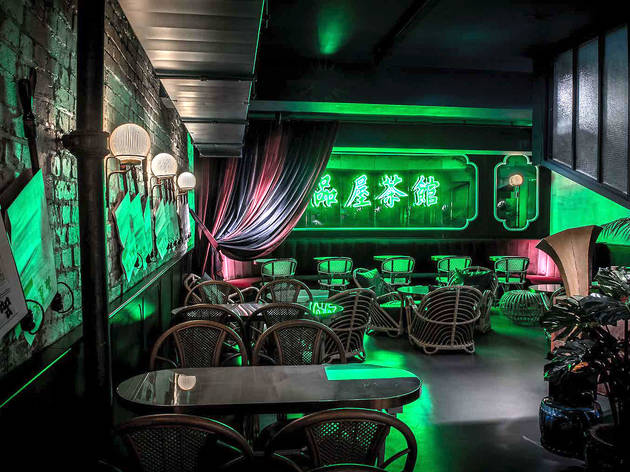 1/11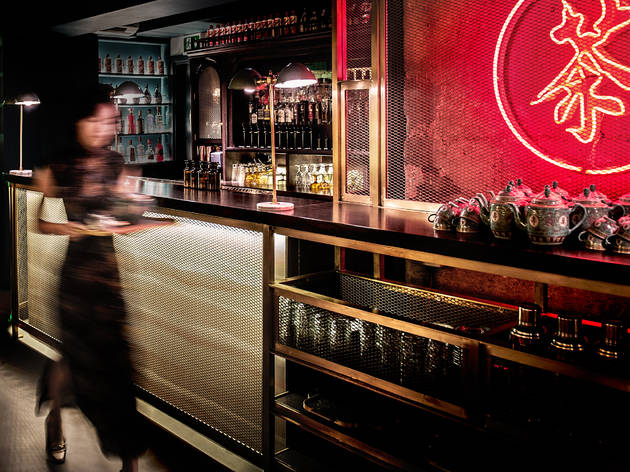 2/11
3/11
4/11
5/11
6/11
7/11
8/11
9/11
10/11
11/11
Venue says
Split over 2 floors, serving steamed buns & cocktails to match; Soho's most exciting new late night bar officially opens on 24th July!
Time Out says
Hong Kong-style speakeasy below Soho's Bun House.
Bun House: a whole lotta fun with its steamy takeaway counter, informal layout and Cantonese decor on a buzzy corner where Old Compton Street meets Greek Street. But there's even more fun hidden below ground at the Chinese joint's speakeasy-bar-meets-tea-room. It's lit by the glow of Cantonese lettering in green neon, which bounces off luxurious red drapes, creating a room as saturated in colour as a Nicolas Winding Refn film (although the owner is said to have been more inspired by Wong Kar-wai's 'In The Mood for Love').
In among gorgeous design, there's a lot of novelty in a trip to the Tea Room. The menu is printed on a newspaper and a jukebox loaded with vintage vinyl sourced from Taipei, Singapore and Hong Kong warbles out '60s tunes, although a bold sign warns punters to look but not touch.
Authenticity is in your glass as well as on the airwaves, with drinks featuring Chinese spirits and flavours. There's a whole list of imported baijiu, China's national drink sometimes referred to as 'Chinese vodka'. If you're not up for a one-way journey on the vodtrain, ease yourself in with a Mango & Chilli cocktail, which features baijiu in the background of a bold fruitiness and heat that builds and tingles. It's also the base spirit in the Peanut & Goji, a syrupy-sweet short drink served over a large rock of ice and good enough to treat as a dessert. Both were served with playful, almost-garish garnishes.
Bar snacks were just as good to look at, with the likes of pork-neck skewers and garlic chicken wings playing second fiddle to the excellent lacy dumplings, five pan-fried gyoza with a crispy lattice web joining them all up.
Of course there's a list of Chinese tea blends, too. And with the Tea Room open until 3am at weekends, you could easily work your way through both exotic lists at your leisure. Anything goes below Bun House.
Wun's Tea Room and Bar says
We speak Chinese. We serve Chinese. Drink fast or eat slow. Hong Kong Beer, China-only cocktails, Salted Lime Soda! Imported drinks, imported music, Westerners welcome!

A throwback to 1960's Hong Kong tea rooms serving up gourmet Cantonese forgotten favourites, no steamed food! Famous clay pot rice with fat pork, velvet, underground, coal grill barbecue, original jukebox with original hits, new spirits and old liquor, rattan and leather, house brewed rice wine! All day every day, come soon!
Details
Address:
23 Greek St
London
W1D 4DZ

Transport:
Tube: Leicester Sq/Tottenham Court Rd
Contact:

New

Private events:

This venue has areas available to hire for private events

More info

Do you own this business?
Average User Rating
3.2 / 5
Rating Breakdown
5 star:

1

4 star:

3

3 star:

0

2 star:

0

1 star:

2
Got kicked out after 2 hours!
I made a reservation on the weekend for a date. We ordered some cocktails first but wanted food for later, and, as you do, started chatting and forgot the time. After 2 hours (I admit might've been sooner) we suddenly get the bill put on our table, which obviously we didn't ask for. I asked the waitress why she did this, as we wanted to order food as well, and she said bookings were for 2 hours only. NOWHERE DOES IT SAY THIS! Also the place was 70% empty, and there were other parties around us who had been there longer, although I'm guessing they ordered food as well!
Nice cocktails though. However to note service charge on top, which does make them over-priced for the quality.
For those not likely to read the review in its totality – I'll save you some time by just saying I strongly recommend against visiting this restaurant. Conflicting information leading to an unwarranted charge and ultimately a condescending and dismissive reply from management completely undermined our experience of the food.
We booked a table in the Tea Room (downstairs) for a Thursday lunchtime, with a reasonably large party. Upon arrival at the restaurant, the downstairs section was empty save several members of restaurant staff eating their own lunch. While we had no issue with this at all, we felt the more informal upstairs section would be more comfortable and suited to the mood of the group. We let the front-of-house staff know that we had arrived for our reservation, and explained the situation. We also asked at this time whether, since we were still planning to eat at the restaurant, it could be confirmed we would not be charged the £60 deposit required for our original reservation. It was verbally confirmed that this charge would not be levied.
During our meal upstairs it was confirmed by a second member of staff that, having spoken to the restaurant manager, this deposit charge would not be made. Later in the meal we were told actually, in the time that had elapsed since our original reservation, the deposit had been charged for not showing up. This was despite (a) actually physically being there to be told this and (b) the multiple confirmations it would not be levied. We were told we could contact the manager by phone – and upon doing so they flatly refused to refund the deposit charge and were entirely dismissive of the situation.
Echoing another reviewer on this site the experience was entirely shaped by miscommunication around charges, rather than of the restaurant itself. In future we will not be returning to the restaurant, and strongly recommend against others visiting too.
The guys running this place don't seem to have any kind of idea what good customer service means. Or customer service of any kind really. Upon arrival, the place was deserted apart from three surly members of the kitchen staff all eating their own food at separate tables. No welcome to speak of.

Not being a very welcome environment we decided to go upstairs to eat (in the same building) instead and were told by two members of staff that we could use the £60 deposit we'd paid upstairs. A group of us all spent our money upstairs and left having been given the managers phone number to insure the deposit would be returned having just eaten with them.
Instead the manager laughed on the phone and told us the deposit isn't refundable. Bad experience, unclear communication, and unhelpful service.