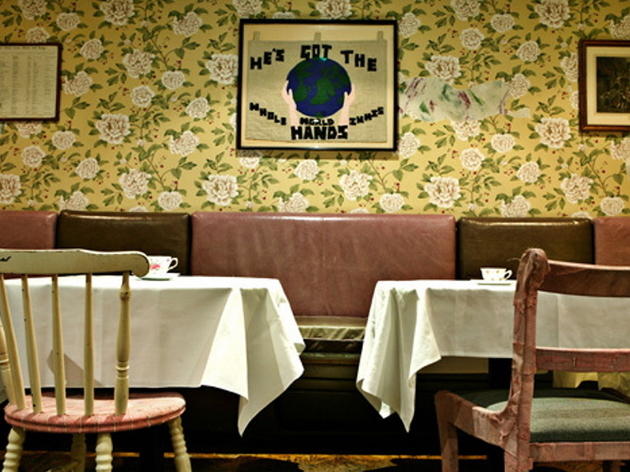 The decor at this Fitzrovia cocktail bar is just about as twee as you can get - think floral wallpaper, frilly bowed-empire lampshades, lace tablecloths and doilies quaint enough to send grannies into quite a fluster. There's a china cup on each table too, just to reinforce the point.
The drinks list brings things firmly into the present, though. Expect creative concoctions like the Chimps Tea - a mix of Monkey Shoulder, peach liqueur, Earl Grey tea syrup and orange zest. A solitary Asahi tap caters to lager drinkers.
Keep an eye out for special events and parties, too.
Venue name:
Bourne & Hollingsworth
Contact:
Address:
28 Rathbone Place
London
W1T 1JF

Opening hours:
Open 5pm-1am Mon-Tues; 5pm-1.30am Wed-Sat
Transport:
Tube: Goodge St/Tottenham Court Rd
Do you own this business?
You may be interested in:
Average User Rating
3.5 / 5
Rating Breakdown
5 star:

6

4 star:

4

3 star:

2

2 star:

0

1 star:

4
What an absolute gem. ...a hidden tiny bar that has most quirky, cool and relaxed vibe with the star of the show being the perfectly blended cocktails with mighty fine staff that know their stuff! Think grandma's living room meets Bonnie and Clyde. So pleased to have this dandy place on my doorstep.
One of the best nights out! To my surprise the door guy was very polite, bar staff were pretty quick and the cocktails were mixed in a timely manner. To top it off, after we left the, the door man even said ''thank you', which is very rare to hear in most of other cocktail clubs and is a nice touch. The impression was that they appreciate their customers, as it should be. The music was great, a bit of 90's hip hop, electronic and some more classy brass music. Overall, very impressed and would recommend this venue to others looking for a fun night out.
Buzzy, relaxed and original - one of my favourite bars in London, with its great atmosphere, very lovely decor and delicious and interesting cocktails. The mixture of vintage decor/teacups and cool, trendy music makes it a great place for an evening with a few friends; if you find space (only downside: it gets very busy) you can sit but it is also definitely lively enough to dance. The crowd was nice too each time I went. Perfect!
please..gimmicky drinks in jam jars..sultry staff..get over yourselves and start serving decent drinks in PROPER GLASSES.. gimmicks = product isn't good enough on its own. Weird cold atmosphere and zero service..average at very best..there are plenty of better deserving bars of your pound than this lot..
I have been to this bar some many times and had too many good nights to remember :). Keep up the good work fellas. Only 4 stars because sometimes it's hard to get in and it takes a while to get served.
My friends and I had a great Friday night at this bar, fantastic drinks whilst dancing away to the Djs tunes.
One of my favourite bars in London. Great atmosphere on busy nights, excellent cocktails, the 'quirky' receptacles are not a way if glossing over substandard drinks and bar staff are good enough mixologists to go off menu without batting an eyelid. It does get very busy. If you want a seat get there early.
NOT IMPRESSED - booking not respected My friends booked a table here for last night, booked several weeks ago, for early evening drinks for the start of my hen party. The table was booked for 7.30pm.... at 7.25 as we are in the cab 5 minutes away we receive a voicemail saying our table was being given away as we "had not arrived for the booking". We called back immediately by which time we had arrived, to see people standing on the street outside queueing to get in... and it emerged that, actually, a wine tasting had overrun and our table was not free to give away to anyone, let alone to us. We were understanding about the situation, and were given a free cocktail, whilst waiting in the street in the rain... but after 35 minutes we we decided to opt for a next door bar but were assured by Bourne and Hollingsworth that they would call us as soon as the table became available..... and hour later again, and i returned the bar - which was full, our table was being used by someone else and the manager had no explination what so ever. Perhaps you're thinking we were a bunch of drunk / slutty hens and they didnt like the look of us.. but nope... we're pretty much their target consumer, and not drunk or dressed badly. I think their total lack of customer service and respect for a pre arranged booking, should make anyone planning to book here for a party of any kind think twice. I'm sure the teacup cocktails are super great, but I'm not sure it makes up for them being totally inept.
This is pretentious horribly decorated bar. The cocktails are over priced and the bar tenders need to learn manners and must received some customer service training. I strongly advise you not to go...
I rarely write reviews, but was driven to do so after visiting Bourne & Hollingsworth's sister bar, The Fourth Wall. I was so disappointed by this place, and dismayed that I had chosen it for a friend's party. Weird, rude bouncer on the door who told us that someone had taken our table (which turned out to be untrue when we got in). Rude bar staff who denied all knowledge of my booking when I'd paid a £50 deposit. Obnoxious drunk girls dancing on tables and pushing in front of us to try to get free drinks. Terrible music. One of the most overrated and up-its-own-a*se places I have been to.
Lovely venue with excellent food and cocktails and the staff are attentive but not over fussy. Ben a few times now and would recommend it to anyone.
More venues
Sponsored listings