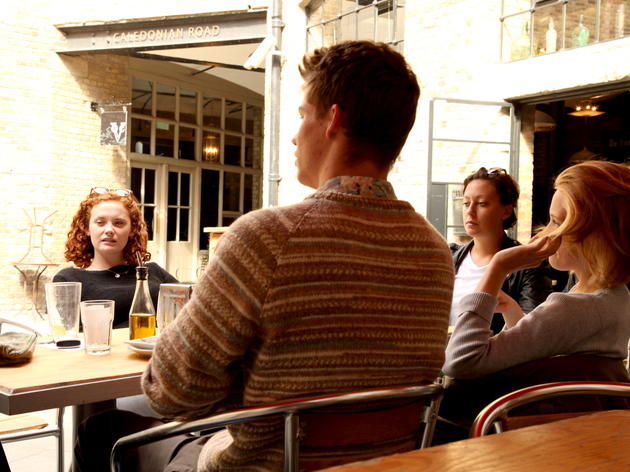 1/5
Ed Marshall / Time Out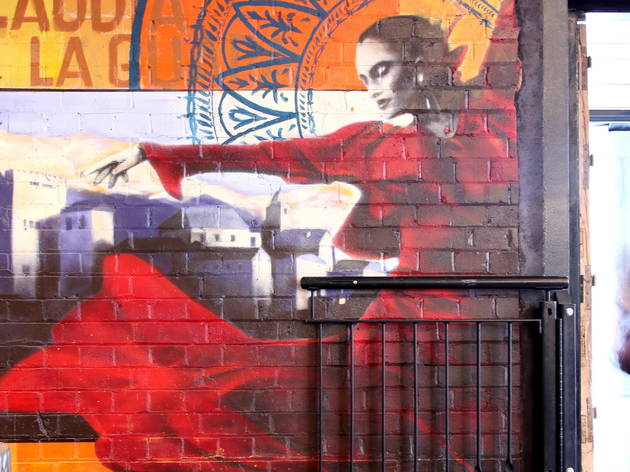 2/5
Ed Marshall / Time Out
3/5
Britta Jaschinski / Time Out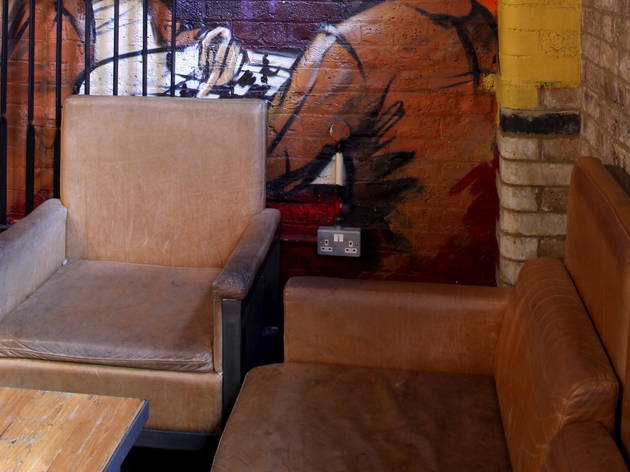 4/5
Ed Marshall / Time Out
5/5
Formulaic but effective, Camino gives King's Cross punters what they need in a night out: a menu for sharing, an open courtyard for social smokers (or those pretending it's warm enough to sit outside), Latino-inspired DJs, table football and cocktails. Tapas are a savvy blend of classics (croquetas de jamón, meat platters, patatas bravas) and the more adventurous (squid-ink rice with cuttlefish, Asturian bean stew or black pudding).
Vegetarians are also well-catered for: not often the case in meat-centric Spanish restaurants. With such an accessible menu and a focus on platters, Camino is set up for group dining – and customers even get a free small tapa with every drink on Tuesdays. You'll need to reserve a table on a school night though, as the informal bar and sit-down restaurant both fill up quickly with sociable office workers. Fun, relaxed, and not taking itself too seriously, Camino exudes the true spirit of Spain. You won't be blown away by the food, but you'll be having such a good time, it won't seem to matter.
Venue name:
Camino King's Cross
Contact:
Address:
3 Varnishers Yard
London
N1 9FD

Cross street:
The Regent's Quarter
Opening hours:
Bar Open noon-midnight daily. Restaurant Breakfast served 8-11am Mon-Fri; 8am-1pm Sat, Sun. Tapas served noon-3pm, 6-10.30pm Mon-Sat; noon-3pm Sun
Transport:
Tube: King's Cross
Price:
Tapas £2.75-£49.50. Set meal £18 tasting menu
Do you own this business?
You may be interested in:
Average User Rating
3.2 / 5
Rating Breakdown
5 star:

7

4 star:

6

3 star:

2

2 star:

3

1 star:

6
Great place. Alfresco dining and drinking. The tapas is really good and they have a very large menu. The best place for alfresco in Kings Cross.
Nice food, very tasty , The roast pork is very good.
Great tapas, went with some colleagues the other day. Only i'd wish the music were a little softer. food is tasty, not big portions and pricey. But it's a popular place in kings cross so a visit here is inevitable.
If you've dined in Spain you'll know how poor this restaurant chain is by comparison. Viva Espana by numbers and a low score at that. The service is slow and surly, the tapas bland, and everything very very overpriced. I've been before and it's getting worse. I went recently on a Monday evening. It was quiet but the bar staff surprisingly took affront to taking an order for tapas. Service was no better in the restaurant where waiting staff circled about for 15 minutes or so before speaking to us. Then when our food eventually arrived my vegetarian Muslim friend was treated to grilled asparagus with an additional covering of bacon / ham. Nunca mas.
A lovely setting with a beautiful courtyard, plus there's a great table football inside, but this place is let down massively by the service from some of the bar staff. One of my friends wanted another mojito but we were told sulkily that they couldn't serve them any more because they didn't have the right ingredients. They also poured the wrong beer. About 10 minutes after we'd got our drinks we were forced to pour them into plastic glasses and herded outside by an aggressive barman, who said they were closing the bar. However, there were still plenty of people in the bar, including some people at the bar who were being served mojitos! Finally, outside in the lovely courtyard, we were harrassed by various members of the bar staff, insisting that we drink up and leave, despite people still drinking inside. Such a shame, as the place has huge potential if it weren't for some of the people who work there and shouldn't really be in customer-facing roles.
Disgraceful. Food is supposed to be free of glass. My girlfriend ordered tapas and it had glass in it. She cut her tongue and spat out blood. Totally unacceptable.
I'd been to El Camino in Canary Wharf and enjoyed the food, so was surprised to read negative comments on this site. Since the location was perfect for a dinner before going to Scala for a gig, we opted for Camino despite of the reviews. I'm glad we did. Service was friendly but professional, and our waitress was very helpful with drinks recommendations. Food was tasty and arrived relatively quickly, which wasn't for granted since the restaurant was full. Really nice atmosphere with Spanish music in the background, all in all a very enjoyable experience. We'll definitely be dining at Camino again.
disappointing food quality
Wanted a quick lunch, popped ibto Camino. Good atmosphere, Ok food but so overpriced. Tiny side salad and equally small bowl of bean stew- bill almost £12.
I am not quite sure if we went to the same place that the previous reviewers did. After reading those I was a bit apprehensive. Anyway it's Friday night and the place is bursting at the seams. We arrived with two big suitcases and the girl at the desk was charming and spend the next five minutes creating space in the closet to accommodate our stuff and all this with a smile. The waiter was brilliant and though clearly under a lot of pressure managed to be engaging throughout. Food was good, great patatas bravas, good rape, and the mixed grill was lovely and a good size portion. Mixed desserts were well presented with a special mention to almond tart, the pastel de chocolate and some free sherry on the side. It's not quite Barrafina quality but then again you actually can reserve here. Had a chat with the waiter about the reviews and he seemed genuinely surprised as he thought that the place was great to work and he seemed to enjoy being there. I'd definitely go back if I am in the area and given how busy the place was a lot of people seem to think so, too.
Myself and my partner went to Camino yesterday afternoon to meet some friends of his that he had not seen for a very long time. We received a phone call from the friends that had already arrived and told to becareful of an apparently rude waitress on the front entrance. We arrived to be greeted by a grumpy, greasy looking lady who told us that it was very inconvenient for us to just turn up without calling first and that the table had originally been booked for 4 people. I was shocked at her manner and appauling customer service skills. When I explained to her that I thought her approach to us had been uneccessary she turned to me and said: 'I don't think you are very nice'. Just shocking. We arrived to meet our friends to find that she had behaved in the same way towards them. On leaving the restaurant one of the party took her name and complained about her again. What followed was a barage of pointless statements about how we should have booked and organise ourselves!! To top it all, the restaurant was less then 20% full!!! Needless to say, we won't be going back.
Great tapas, fun place for a night out and wonderful food, I'm Spanish and I can tell this place did very well.
Really bad.The quality of the food is awful, really shocking that they define themselves as Spanish (I am Spanish myself) The staff was SO rude. The place is just in a mess. Drinks overpriced. It is a shame that are places like this.
More venues
Sponsored listings