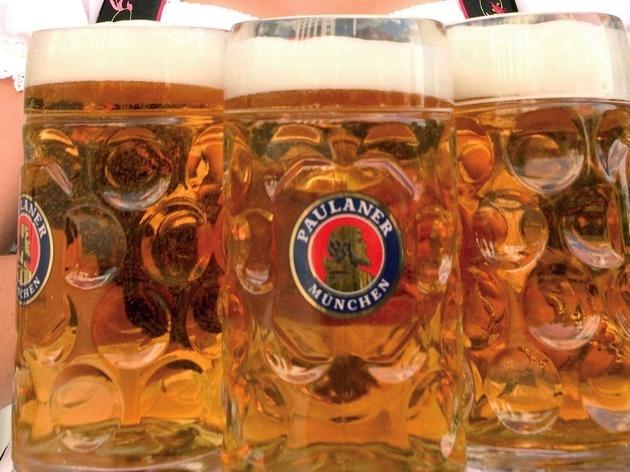 Although the vaulted basement rooms are very attractive, the big draw at this underground bar is the German beer. There are seven on draught, plus more than a score by the bottle; among them is Paulaner Hefe-Weizbier, a wonderful wheat beer, alongside a comprehensive selection of weissbiers and dunkels, kölsch beers, dark lagers, pilsners and more.
The food is as German as the beer selection: wursts in various guises, a couple of roasts and schnitzels. And pretzels among the starters, of course. Sides include red cabbage and sauerkraut, and Sacher cake is one of the two desserts bought in from the Backhaus bakery in Borough Market.
Live music from an oompah band combined with a heaving crowd can make this a fairly noisy place. But the beers alone make it worth considering.
Venue name:
Katzenjammers
Contact:
Address:
Hop Exchange
24 Southwark Street
London
SE1 1TY

Opening hours:
Open noon-11pm Mon-Sat. Food served noon-10pm Mon-Sat
Transport:
Tube: London Bridge tube/rail
Menu:
View Menu
Do you own this business?
You may be interested in:
Average User Rating
2.2 / 5
Rating Breakdown
5 star:

1

4 star:

4

3 star:

3

2 star:

1

1 star:

10
I have to say that it was a very dreadful experience tonight being out in this restaurant/pub… or whatever it was…. Getting the bill serverd before the meal was quite a surprise for the whole bunch of 15 people I was there with… Overpriced beer (0.5l Augustiner Edelstoff 4.95 GBP, of course a luxury to get it in London) Poor service, who didn't even apologize to my complaint.. The dish i ordered was the saussage platter, it looked appalling and has nothing to do with the food I know from my own country. The saussages looked like cooked with a hair drier!! How embarrasing, for me as a German to go out on a night with friends in a place like this. Never again….
One star is probably doing this bar a favour. The food is not genuine and over priced, however the beer is okay. Although I do doubt beer from each pump is different.
There is also no friendly atmosphere in this bar and I would save your money and drink in another pub.
If want a better Bavarian atomspere head to Tower Hill.
Absolute rubbish! Took my family on a birthday celebration. Couldn't book as no one was answering phone or emails for two days. Oompah band didn't turn up. Food over cooked and kept warm under glass so just a mush. Staff were miserable. No manager available to complain to when I asked. No explanation provided for absence of band. A ruined birthday!
Just a few steps from London Bridge tube station, you can find the small door leading to the basement that is Katzenjammers beirkeller.

Theres two floors, the first being the smaller of the two with low ceilings, close proximity to the bar and a better atmosphere. Downstairs is much larger room with four long traditional tables, each of which could probably fit around 50 people.

A group of 8 of us had a good early evening drinking session working our way through a few steins and a large Mishwurst platter which was pretty substantial.The steins were a good price for the quantity and service speed was pretty fast for the number of people in there.
As the other reviews seem to point out, it was heavily policed by bouncers and they did a good job restricting the fun downstairs in the beirhall. If you're looking for a beer chinking cheers do it out of sight.
Violent bouncers at weekends, would avoid if you are serious about your safety
Does not even deserve one star. The 'bouncers' assaulted a girl who was just trying to get her bag. They were getting people to leave by shouting at them to 'Move' they were giving people plastic cups and making them drink outside in the street which is probably not legal. The 'bouncers' appear to be thugs - that's all I can say - I have never witnessed such disgraceful behaviour with the bar staff just standing by.
A nice change from the louder Bavarian beer house's over in Towerhill or Old Street. A lot more relaxed and enjoyable with no teenagers and tourists just there to get drunk. It was a nice relaxing atmosphere and nice and close to Borough Market.
I will definitely be back to visit when their new, bigger and improved beer hall opens later in the month.
I was a regular until tonight but won't be going back. The food was undercooked and I could not eat part of it. Got that "potential food poisoning feeling". When I complained I was asked to move to another table as the one I was sat at would be occupied in half an hour.
Would never set foot in this place again. The guy behind the bar (think he was the manager) was so rude and obnoxious and basically complained that I ordered two drinks one after the other - not at the same time!! When I pointed out that this was surely his role as bar man he took the drinks away and wouldn't take my money. Not the kind of service you expect in a bar... after that I would avoid at all costs. Aside from that, its hot, dingy, stinks of stale beer, and far from the beer halls of Germany. Save your money, there are a lot more nicer bars in the area.
Annoying, OTT bouncers who shout at you if you so much as raise a glass to cheers with friends. It feels like if you so much as move they are immediately over your shoulder giving you a warning. Unbelievably rude, snappy bar staff who either ignore you or just have a really bad attitude. It seems the vast majority of them have no customer service skills whatsoever and skulk about like they despise their jobs. Overpriced, underwhelming food which you are made to pay for before you even see it. And god forbid if you take a few minutes to decide what you'd like to eat! And i'm sure most who've been on a busy night would agree that it gets staggeringly hot in this place - they are in dire need of air conditioning, or atleast a fan! Someone desperately needs to teach the staff at Katzenjammers about good customer service and manners, because they completely ruin what could otherwise be a brilliant place to eat and drink. I have been here with friends a few times and every time the night has been ruined in some way by the staff. The only positive about Katzenjammers is the band, who are good fun and a good distraction from how terrible this place is..
I am absolutely shattered by the level of rudeness of the person who I believe is the manager of this place. After ordering a couple of jugs of beer and food I ordered another pint and was informed to my surprise there was an extra card charge of 50p. I kindly said it was the first time anyone had told me about the charge and in return the man said there was an ATM outside if I didn't like paying extra charges. I thanked for that information but my friend made a sarcastic remark of their 'great' customer service. 'There is an off licence outside if you want to get some cheap drinks' was the answer!!! How very rude!!! I am never coming back, nor are my friends. Service doesn't exist, very avarage food on top.
Great beer, great atmosphere, good food
One to avoid. So we were removed from the premises before we'd even finished our first drinks. We weren't being rowdy, or offensive, and the bouncers refused to explain why we were being asked to leave. If you're after German beers, the Bavarian Beerhouse up near Old Street is much better.