Heads up! We're working hard to be accurate – but these are unusual times, so please always check before heading out.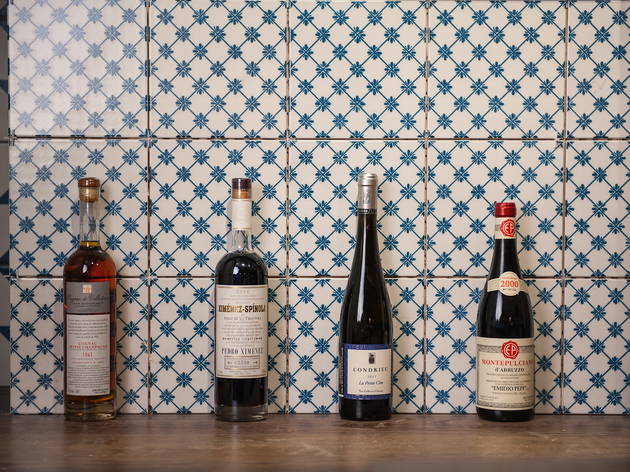 Where to buy wine in London
Look beyond the supermarkets and delve deeper into London's wealth of wine sellers
Forget unadventurous supermarket plonk – London's independent wine shops stock some truly exceptional bottles. Time Out rounds up the best outlets.
Simon Taylor, owner-director: 'I was at Sotheby's for 23 years, as a picture expert and then as a manager. But I got fed up with meetings, admin and making people redundant, so I left in 2002 and set up my wine business the next month. Now I'm owner, director… in a small wine business you do everything.

'We tend to like wine made on the edges [of familiar regions]. For instance, this malbec (Vicien Malbec, Argentina 2006, £6.25) is from some of the remotest vineyards in the world, 5,000 feet up, on the edge of the Andes mountains in Catamarca, north-west Argentina. There's no hail, no bugs, no fungus – no rain, either, they get their water from snowmelt. It's a frankly insane place to make wine. But this tastes pure and fruity, with none of the jamminess Argentinian malbecs sometimes have. The sauvignon blanc (Fryer's Cove, Sauvignon Blanc, Bamboes Bay, South Africa, 2007 £10.25) is from another place on the edges: Bamboes Bay, 300km up from Cape Town, where the vineyards are in sight of the sea. The Atlantic is freezing there: the wind off them keeps the grapes cool and means they can make intensely flavoured wines.

'But if you told me I was only allowed to drink the wines of one region for the rest of my life, I'd go for Languedoc-Roussillon in France. In this country, we think of their wines as chugging wines but there are some marvellous small producers. They're fantastic value – this is the best source of good reds in the £6-£9 bracket in the world. And the area's full of young, hungry winemakers like Geraldine and Xavier Peyraud (Mas des Brousses, Coteaux du Languedoc, Terrasses du Larzac, 2005, £10.95). Her family have been here 500 years; his are winemakers from Bandol. Their land is crammed right up against the Massif Central. They work hard, they know what they're trying to achieve and the result is a wine like this, balanced, elegant and rounded. It's for drinking now – all our wines are, it's in the nature of mail order. We have a warehouse and a courier and if you order before 1pm you can be drinking your wine by the next working day.'
James Bloom, partner: 'I was a focus-puller in the film industry before I fell into the wine trade. Swig started in 1996 as a Hampstead shop but by 2001 we'd outgrown ourselves - we either needed more shops, which we didn't like the idea of, or none at all so we became exclusively mail order. We try to find wines that punch above their weight, like this New Zealand red (Waipara West Two Terraces Red 2003, £9.95) which costs a tenner but tastes like £15. It's one of our top-selling reds.

'We're like our customers: we have to be careful what we spend, so we look out for wines that over-deliver. Like this Chilean (Vina Leyda Pinot Noir Cahuil Vineyard 2006, £11.00). Lots of New World pinots are just fruit bombs but this is earthy and delicious. And, while often you can open a Burgundy pinot noir for £20-£25 and be disappointed, this delivers at less than half that price. And it gives a real sense of the place it's from. The Priorat (Artigas Bodegas Mas Alta 2005, £16.00) does too: it's good value for a Priorat, which is an expensive part of Spain, but you do get what you pay for - the vineyard is very near Clos Erasmus, which goes for hundreds of pounds a bottle, so it really is good value.

'Swig got a reputation as a South African wine merchant because one of the founders was from there and had good connections, and four years running we won SA specialist in the International Wine Challenge [the wine world's Oscars]. But that seems a bit limiting… we want to say "that's not all we do!"
Ewan Murray, Head of tastings & events: 'The Wine Society is a cooperative that was founded by the Royal Albert Hall architect, Major-General Sir Henry Scott, in 1874. He'd organized an International Exhibition and some of the Portuguese wine had been mislaid, and the Portuguese complained. So Scott held luncheons to sell the wine and they were so popular they evolved into the Society. People have to join, but they don't need to be recommended now – you can sign up online. And although we have to make a working profit, of course, all other profit gets ploughed back into offering members the best possible wines at the best possible prices.

'This Champagne (The Society's Champagne, £23) sums up the Society. It's from a small house, Alfred Gratien, that we've been dealing with since 1906. The winemaker is the fourth generation to hold the job. So there's a fair bit of stability there. The Maby (Domaine Maby La Fermade 2005, £7.50) is from the southern Rhone, just across the river from Chateauneuf-du-Pape; it uses the same grape varieties but you can drink it much younger – and of course it's a lot cheaper. It's a lovely wine, made by Richard Maby who's the younger generation of an old Rhone family.

'Chardonnay has had a hard time: winemakers targeted Chardonnay Girl like the Conservatives target Middle England, with the result that lots of people turned their noses up at it. But this New Zealander (Kimeu River Chardonnay 2004, £15.50) isn't in your face or oaky, like lots of New World chardonnay; it's more like a Burgundy. With these three wines, I wanted to show you what the New World can do, what the Old World can do in new hands – and as for the Champagne, well, I think it's just the Wine Society in a bottle.'