London's a brilliant place to be around Christmas, but what's it like for the people who make the magic happen? Alexi Duggins witnesses some kiddy crowd control at The Toy Store on Oxford Street.
Harry Potter, a Stormtrooper and a Minion walk into a shop. Sounds like a joke? It's not. This is the reality of Christmas at The Toy Store, where dozens of adults become walking cartoon characters in order to whip kids into a present-buying frenzy.
'I just love it! I don't even know where I get all my energy from!' squeals Harry Potter, before pulling a Usain Bolt pose. 'It must come from Jupiter! WOOOO!!!' In his vicinity, a huge blue teddy bear is waving as if auditioning to be Her Majesty's stand-in, while a bulbous Mr Man waddles around and a scarlet Stormtrooper (Disney owns the licence to the white ones) patrols a selection of £129 toy robots.
'That's the biggest seller,' grins Chris Ashton, The Toy Store's head of buying, pointing at a 'Star Wars' BB-8 droid - this year's must-have. At some point this month, it will be the focus of a pan-London shortage that will lead to in-store tugs-of-war between yummy mummies turned feral in their eagerness not to disappoint their gadget-hungry sprogs. 'We always get caught short,' sighs Ashton. 'It's so difficult to predict what'll be big; and as they're all made in China, the quickest you can get anything shipped over is three months.'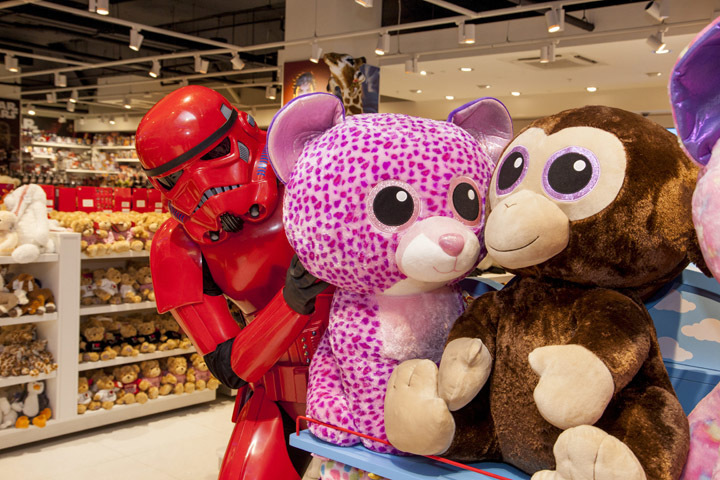 Ed Marshall
It's not just the parents who lose their shit over the festive period. The store is keen for kids to try out its toys, so there's a Nerf shooting range, a wall of frou-frou princess dresses to try on and even a life-size Thomas the Tank Engine.
'We've had children pulling the ride-on cars down, then crashing,' says Ashton with a smile. 'There was one girl who saw our "Frozen" section and just started screaming,' adds a passing Supergirl. 'You should see some of the little kids with Mr Fun. He's so big that when he gets close it's like, "Oh God! Please no! It's gonna eat me!"'
As I prepare to leave, Pharrell's 'Happy' plays on the in-store Tannoy, Harry Potter screams 'Flashmob!' and a dozen kids' characters start conga-ing around the shop. They finish with a dance-along to 'Head, Shoulders, Knees and Toes' in the shop's doorway. This cannot be an easy way to spend Christmas.
'Actually it's great,' grins a passing Minion. 'Seeing the looks on kids' faces is so rewarding. And when it's this cold, the costume is brilliant!'
The Toy Store, 375-383 Oxford St, W1C 2JS.
See behind the scenes at Santa's grotto at Westfield and the Hackney Empire.