We know: you're broke. Tell us about it. So isn't it a good job there are so many brilliant things to do in the city that don't cost a penny? We asked 19 in-the-know Londoners for their top cash-free things to do.
Recharge your batteries down on the farm
Ella Paskett: 'When I want to escape the city without putting a hand in my pocket I don wellies and denim and make tracks to an inner-city farm to pretend I'm in the countryside. Surrey Docks, Kentish Town and Hackney City Farms all let me get back to nature for a few hours, and if I'm still keen to avoid opening my wallet, I'll hop along to Maltby Street or The Rosewood Slow Food Market and go on a foodie sample hunt!' Ella blogs as The Little Brown Book. Follow her on Twitter @EllaPaskett.
Break an outdoor sweat
Faya Nilsson: 'Hampstead Heath is the ultimate outdoor park - parts of it feel like an enchanted garden whereas other bits offer vast open spaces. There's Parliament Hill, aka 'kite hill', which boasts some amazing views of London while fitness fanatics will love the three swimming ponds, athletics track and lido.' Faya blogs at Fitness on Toast. Follow her on Twitter @FitnessonToast.
Find love on the South Bank
Lucy McGuire: 'The Festival of Love is back at the Southbank Centre this summer, and it's a great place to go to enjoy free exhibitions and even dance classes in and around the Royal Festival Hall. Head down during The Big Wedding Weekend on August 29 and 30 and you're bound to spot brides and grooms posing for romantic pictures by the Thames.' Lucy blogs at Oh So London. Follow her on Twitter @OhSo_London.
Belinda Lawley
Discover a forgotten mural
Kieran Meeke: 'I love the quiet oasis of the church of Notre Dame de France, off Leicester Square, next door to the Prince Charles Cinema. It's open to all, and owes its unusual round shape to the fact it was originally a panorama (a precursor to cinema) before the Catholic Church bought it in 1865. Murals by Jean Cocteau - sadly now under glass because of vandalism - decorate one wall; he spent a week painting them in the 1950s, with the newspapers reporting his every move. Now, thousands of people walk past every day without even noticing them.' Kieran blogs at Secret London. Follow him on Twitter @SecretLDN.
Tap into your inner artist
G: 'Discover your inner Van Gogh at a Friday afternoon drawing class at the National Portrait Gallery. Guided by an artist who provides all the knowledge and materials you need, you can create your own masterpiece. You don't have to be a seasoned artist - anyone can join. And so what if your final piece unintentionally looks more Picasso than Vermeer?' G blogs at The Magnificent Something. Follow him on Twitter at @magnisome.
Rob Greig
Wander through a treasure trove
Flora Tonking: 'You might usually expect to pay a small fortune to visit a staggering private art collection or a historic house, but at 13 Lincoln's Inn Fields, there's a museum that manages to combine the two, without visitors being asked for a penny. Sir John Soane's Museum was the home of the celebrated architect who recorded his life's work in his collection of art and objects, which he left to us lucky Londoners in his will. The museum is so stuffed with paintings, sculptures, books and furniture that you can easily while away an entire afternoon there.' Flora blogs at The Accidental Londoner. Follow her on Twitter at @accidentalldnr.
Michelle Grant
Get a new view of St Paul's
David Styles: 'Adjacent to St Paul's Cathedral is shopping centre One New Change. Ignore the plethora of shops and restaurants, and take the glass-walled lift to the top. A platform there gives unparalleled views of Londoners' favourite historic building. The novelist Guy de Maupassant ate daily at the Eiffel Tower's restaurant so he didn't have to look at the structure, and from this vantage point you can't see the goldfish bowl beneath you.' David blogs at CabbieBlog. Follow him on Twitter @cabbieblog.
Saddle up!
Manolis Zografakis: 'Summer is my favourite cycling season. At weekends, I love riding along Regent's Canal from Limehouse to Paddington, passing Camden Market, London Zoo and numerous beautiful Victorian warehouses on the way. On a sunny morning I'll stop off to have breakfast and watch the ducks, the water and people passing by.' Manolis blogs at Broke in London. Follow him on Twitter @brokeinlondon1.
Head to the green and pleasant south
Matt Hickman: 'Escape the cricket crowds around The Oval by ducking into the magical Harleyford Road Community Garden. A secret doorway leads you through to idyllic Bonnington Square and Garden, where Italo Deli, Bonnington Cafe and exotic greenery await. From there, either head to Vauxhall Pleasure Gardens for a free cinema screening or The Cavendish Arms near Stockwell for free comedy throughout the summer.' Matt blogs at Matt The List. Follow him on Twitter @mattthelist.
Go medical specimen-spotting
Dan Calladine: 'One London museum I love is The Hunterian at The Royal College of Surgeons in Lincoln's Inn Fields. As you'd expect, it's pretty grisly, with all sorts of skeletons of people with unusual medical conditions and lots of odd things pickled in jars. It's a fascinating place to spend an afternoon. The gift shop even sells teddy bears in surgical scrubs.' Dan blogs at London Popups (www.londonpopups.com). Follow him on Twitter @LondonPopups.
Take a breather in Mayfair
Chris Osburn: 'I love finding free public outdoor spaces where I can relax and zone out for a while. My latest favourite is Mount Street Gardens, where sitting on a park bench admiring the dappled sunlight and abundant greenery is one of the most pleasant (and definitely most affordable) ways to spend time in Mayfair.' Chris blogs as TikiChris. Follow him on Twitter @TikiChris
Soak up some dockland culture
Imogen Parson: 'Trinity Buoy Wharf in E14 is one of those places you probably won't just stumble upon. Located on the Thames with dramatic views towards the Millennium Dome, it's an oasis of riverside art and creativity. And it's all free! Follow the chewing-gum art trail, take a peek in Michael Faraday's Shed, admire the Sculpture Park, visit the stunning lighthouse and listen to 'Long player', this is a piece of music that started in the year 2000 and is intended to play continuously without repetition for a thousand years!' Imogen blogs at Miss Immy's London. Follow her on Twitter @MissImmo.
Ascend to a cloud garden
Emily Gibson: 'Access to London's most spectacular views usually comes with a hefty bar bill or a flat £25 lift fare, which is bloody outrageous in anyone's language. At 38 storeys up, the Sky Garden at 20 Fenchurch Street isn't the highest building in the city, but the view is still spectacular and it's 100 percent free. There is a waiting list of a couple of weeks, though, so make sure you book in advance.' Emily blogs at Curious London. Follow her on Twitter @CuriouslyEmily.
Binge in Borough
Patrick Dalton: 'One of my favourite free things to do is to take a walk along the South Bank, all the way down to foodie heaven Borough Market. There, using a variety of disguises and accents of varying quality to avoid detection, I like to see how many free samples I can consume before either falling into a cheese-and-cured-meat-induced stupor or being chased out by security and angry stallholders.' Patrick blogs at Shit London. Follow him on Twitter @shitlondon.
Tour Stokey
Rachel Claire & Tom Ford: 'On weekends before payday, we have to get creative with our social plans. Thinking outside the moneybox, we usually cycle to our long-term London love: Stoke Newington Church Street. We love dipping into the unique shops, including our favourite 'lifestyle store', Search & Rescue. Just the smell of this place is worth the trip. Then we'll visit Abney Park Cemetery. It might sound morbid, but this overgrown maze of Gothic madness is incredible, and exploring it never gets dull. Finally, we'll retreat to Clissold Park to snooze in the sun, take a tour of the animal park, lob bread at the ducks on the pond or play on the giant adventure playground, pushing kids out of the way to get to the zipwire…no, no, of course we'd never do that.' Rachel and Tom blog at I love London Town. Follow them on Twitter @Ilovelondontown.
Kate Elliott
Get snap-happy
Jacintha Verdegaal: 'I'm a big fan of all London museums, but one of my favourites is The Photographers' Gallery in Soho. It's where I get to see the work of famous artists and discover new up-and-coming photographers. Plus it has an amazing bookshop. I always leave feeling inspired, ready to go out and capture London with my camera.' Jacintha blogs at Urban Pixxels. Follow her on Twitter @urbanpixxels.
Walk along the South bank
Kerstin Rodgers: 'I'm a dyed in the wool north Londoner and I rarely go south of the river unless bound, gagged and kicking. But I am willing to pop over the bridges to do that wonderful walk from London Bridge, via The Globe, the Wheel, the South Bank centre to Waterloo. And of course, window shopping or as the French call it "lecher les vitrines" – 'lick the windows' – is free through High Street Kensington, Marylebone or Mayfair. Some windows are works of art and it's lovely to dream that you can afford a designer bag or dress.' Kerstin blogs at Ms Marmite Lover. Follow her on Twitter @MsMarmiteLover.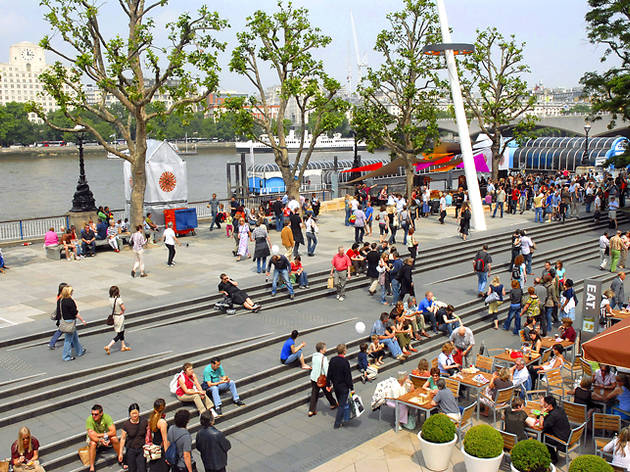 On yer bike
Andreas Kandanis: 'Whether it's a £100 beater bike you salvaged from Gumtree, or a £3500 super-bike, there's no time like the summer to enjoy a bike ride around London. My favourite largely traffic-free route? Start at Tower Bridge and stay glued to the Thames all the way to Island Gardens. Use the Greenwich Foot Tunnel to travel under the Thames. Tan up in Greenwich Park and enjoy the pleasant ride back to Tower Bridge, once again following the Thames as your guide. Revel in your chic eco friendly travel ways.' Andreas blogs at London Cyclist. Follow him on Twitter @LondonCyclist.
Be a big kid
Jules Pearson: 'The parks in London are always a great place to spend time and spend no cash. At Clissold Park in Stoke Newington you can look at the goats and deer, walk around the reservoir and take a dip in the paddling pool. Yes, yes it's for kids but you're only as young as you feel...Lets not mention the pully swing in the playground.' Jules blogs at London On The Inside. Follow them on Twitter @LondONtheinside.
Find more free things to do in London.