From pumpkin doughnuts to black widow pizzas, we've rounded up the spookiest food you can get your hands on in London this Halloween.
BIRD

Anyone for deep-fried bat wings? Come on, live a little – it's Halloween! Okay, Bird's special Halloween 'bat wings' are really chicken wings served in a black sriracha and black bean sauce glaze, which sounds way more appealing than eating real bat. And if you've still got room for dessert, they'll be serving up pumpkin-spice glazed doughnuts, fresh out of their dedicated doughnut hatch. Until November 4. 81 Holloway Rd, N7 8LT.
Brace yourself for more blackened food and pumpkin fare at Shoreditch-based Boneyard, where they've got a spooky burger special stuffed with bone marrow, pumpkin hash and served on a black brioche bun. 168 Shoreditch High St, E1 6JE.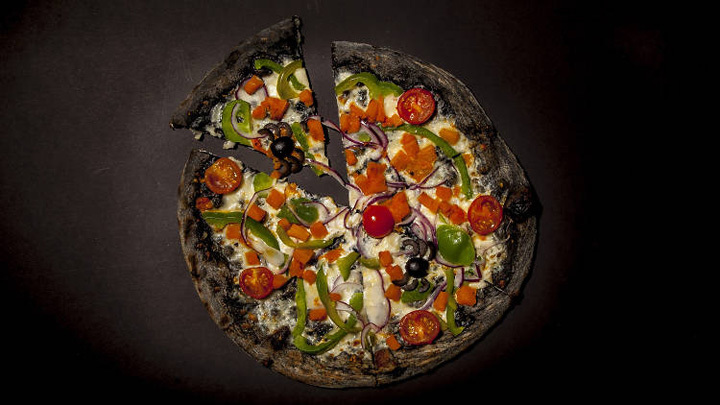 Rob Greig
Spoiler alert: blackened foods are a recurring theme here. This time it's Pizza Buzz's 'Black Widow' pizza, which looks like it's had too long in the oven but is actually made with black squid ink. It's topped with mozzarella, butternut squash, red onion, green peppers, cherry tomatoes and black olives, which are unconvincingly shaped like spiders. Until November 1. Alphabeta Building, 2 Worship St, EC2A 2AH.
Dirty Bones is giving a classic deep south combo a Halloween makeover with fried chicken served on spiced pumpkin waffles, drizzled with smoked chilli infused maple syrup. They've also got a dessert special of white chocolate gelato with a salted fudge bottom, served with shattered sugar glass and 'strawberry blood'. 20 Kensington Church St, Kensington, W8 4EP.
Yeah! Burger
You can never have too many burgers, can you? Patty pros Yeah! Burger are also getting in on the black bun action with not one, but three Halloween specials including a beef burger with bloody Maria sauce, a chipotle chicken burger and a panko-crusted pumpkin veggie burger, as well as side dishes of pumpkin croquettes and crispy pig's ears. Star of Kings, 126 York Way, N1 0AX and Strongroom, 120-124 Curtain Rd, EC2A 3SQ.
Forget about trick or treating and get high on e-numbers at Cereal Killer Café, where they've teamed up with Kellogg's to create special Halloween-themed cereals including Scare Croco Pops, Krave Stones, Rice Cryptsies and Franken Frosties. They've also concocted some seasonal 'cereal cocktails', served with skeleton marshmallows, decapitated Kinder hippos and a syringe filled with yet more 'strawberry blood' to flavour your milk.
And if you're still craving something sweet, head to Shake Shack, where they've got a special Pumpkin Pie Oh My 'concrete', which has got nothing to do with building materials and everything to do with vanilla frozen custard blended with a slice of pumpkin pie. 24 Piazza, Covent Garden, WC2E 8RD.
Still hungry? Check out these nine appetite-killing Halloween food and drink specials.