Steve Ullathorne
We've got December all wrapped up with our guide to festive fun in the run up to Christmas Day.
Visit the beautiful Wilton's Music Hall for its very first family pantomime. Dick and his cat will be setting off on a madcap adventure to see if London's streets are paved with gold. Poor guy - sounds like he's not heard about the housing crisis. 1-4 Graces Alley, E1 8JB. Aldgate East or Tower Hill. £10-£30.
The dynamic jelly duo have worked with scientists to create a wintry wonderland. The Height of Winter will transform The Shardís seventy-second level. Get festive with mulled champagne and Christmas candy floss. 32 London Bridge St, SE1 9SG. London Bridge. From £25.95.
This masterclass covers everything from sibling rivalry to coping with cabin fever, helping you to stay calm even if you are spending the big day watching endless 'Royle Family' reruns with your in-laws. 70 Marchmont St, WC1N 1AB. Russell Square. £45.
Manuel Harlan
The Old Vic's 2015 Christmas show is a new adaptation of Dr Seuss's kooky storybook 'The Lorax'. The mustachioed Lorax is on a mission to protect the world from a tree-chopping entrepreneur. Get ready for zany humour, puppets, songs and an environmental message for our times. 103 The Cut, Waterloo Rd, SE1 8NB. 􀀀Waterloo. £12-£60
Hosting more than 300 indie makers and traders, the Crafty Fox Market is a great place to grab a gift that doesn't scream 'bought at the last minute off Amazon'. You can treat yourself while you're at it: mulled wine will be flowing and treats will be on offer at the Tea's Knees tea room. The Dogstar, 389 Coldharbour Lane, SW9 8LQ.􀀀 Brixton. Free.
'Tis the season to be 'jolly', which everyone knows is code for 'getting royally pissed'. Head to this festive cocktail class, where you'll learn how to make eggnog and champagne cocktails from the mixologists behind one of London's most inventive bars. Book at www.69colebrookerow.com. £40.
Do you love nothing more than rolling with your homies? Bump is a wooden-floored roller disco that's popping up under Hungerford Bridge. There'll be a line-up of special club nights taking place in the evenings too. So you can relive every children's birthday party circa 1994. Belvedere Rd, SE1 8XX. Waterloo rail. £10.
The plot: a bunch of idiots try to write the next Christmas Number One. No, this isn't a behind-the-scenes look at 'The X Factor', it's an alternative panto packed with singing, dancing and lots of silliness. Heroes Grotto of Comedy, Throgmortons 27c Throgmorton St, EC2N 2AQ. Bank. £10.
Fife-born singer James Yorkston is back in the capital once again for his special Christmas show. This year, it's set to take place at Winterville - Winter Wonderland's grown-up, slightly edgier cousin. Expect country blues and surprise special guests. Victoria Park Rd, E3 5SN. Bethnal Green or Mile End. £14.50.
All the rumours you may have heard about this south London, squat-dwelling rock band are true. Yes they did once ride a donkey into a pub and yes the frontman is known to rub butter on to his naked torso. No doubt about it: you can expect one filthy show. Bussey Building, 133 Rye Lane, SE15 4ST. Peckham Rye Overground. £15.
Brian Cox, Robin Ince and a bunch of special guests come together for a science-comedy-music show that isn't a mile away from a live version of their Radio 4 show 'The Infinite Monkey Cage'. All proceeds go to charity, so buying a ticket should put you on Santa's good list too. Eventim Apollo Hammersmith, 45 Queen Caroline St, W6 9QH. 􀀀Hammersmith. £30-£45.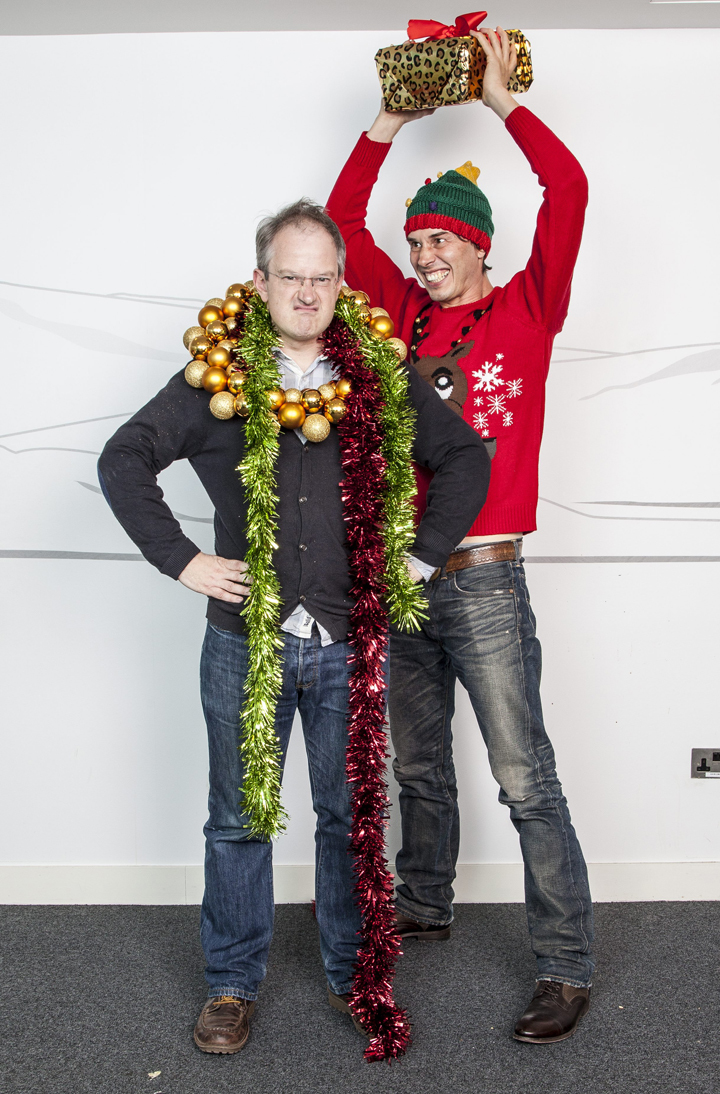 Rob Greig
On the twelfth day of Christmas my true love gave to me... an ethically sourced, fairly traded, organic-hemp tote bag with a screenprinted design by a local independent trader. Okay, it doesn't have quite the same ring to it, but that's no reason not to go to this guilt-free shopping experience. Regent Hall, 275 Oxford St, W1C 2DJ. 􀀀Oxford Circus. Free.
December 13: Think Ink Christmas tree shop and rum bar
If you've given up on the dream of a white Christmas, why not have a black one instead? The world's first all-black Christmas tree shop opens up in Hoxton for one week only in conjunction with Miss Cakehead and The Kraken Rum. Perfect for a Christmas that looks like it's been reimagined by Tim Burton. 186 Hackney Rd, E2 7QL. Hoxton rail.
Undoubtedly the jewel in South Ken's winter crown. On the perimeter there will be a café and bar overlooking the ice and a pretty fairground carousel. Which should make up for the massive bruise you'll probably have on your arse the next day. Cromwell Rd, SW7 5BD. 􀀀South Kensington. £12.65, £8.80 children, £39.60 family.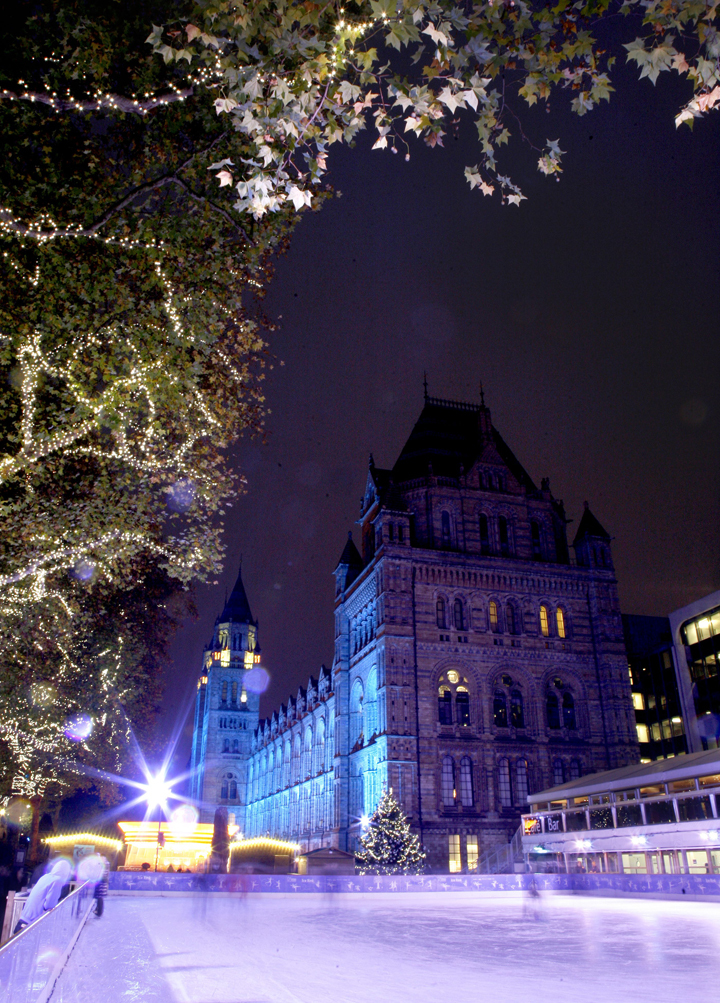 Rob Greig
Plonk are bringing their petite putts to Victoria Park as part of Winterville. The self-contained, nine-hole golf course will have you avoiding all sorts of seasonable obstacles from snow drifts to yetis. Get ready for some serious ballplay. Victoria Park Rd, E3 5SN. 􀀀 Bethnal Green or Mile End. From £7.
Does a craft workshop conjure up images of your dear old nan? This one's nothing like that. Learn how to make your own alternative Christmas wreath while knocking back prosecco and listening to the sweet, soothing sounds of, er, hip hop. 338 Hackney Rd, E2 7AX. Hoxton rail. £75.
In a galaxy far, far away... or actually just in your local cinema, the seventh instalment of 'Star Wars' is due to touch down. It's time to pick up those Jedi robes from the dry cleaners and get your lightsaber out for what is likely to be the film event of the year. May the Force be with you!
Rooftop Filmtop are heading inside and underground for a season of festive films in Waterloo's The Vaults. If you've heard enough Mariah to last a lifetime, we suggest going to critter classic 'Gremlins' - it is one of the least schmaltzy Christmas films ever. Leake St, SE1 7NN. 􀀀Waterloo. From £15.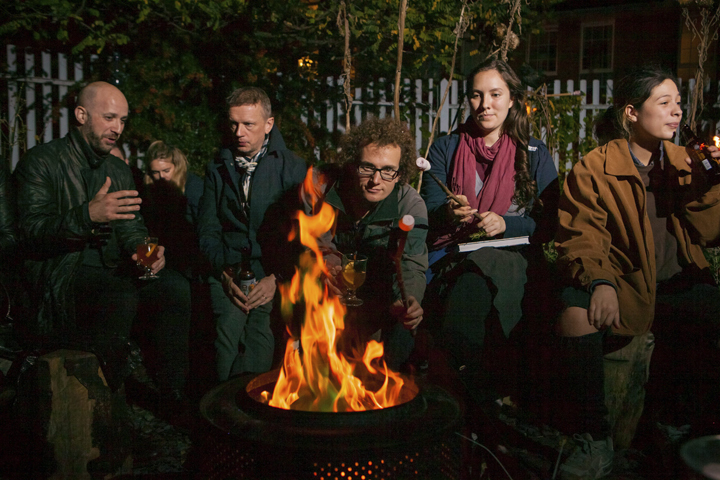 Jack Latimer
The Brunel Museum's pop-up garden bar is keeping things cosy this winter with botanical cocktails and toasted marshmallows by the fire. Plus the puntastic Greek grill I Should Be Souvlaki will be providing sustenance as well as a break from all that festive grub. Brunel Museum, Railway Avenue, SE16 4LF. Rotherhithe rail. £5.
Everybody knows that Christmas is the time to eat, drink and get really, really merry... So how better to celebrate the festive period than by exploring Britain's relationship with booze through painting and sculpture. Millbank, SW1P 4RG. Pimlico or Vauxhall. Free.
Before you go into full glutton mode, get your heart pumping with some outdoor exercise. This evening cycle tour of London's best lit-up spots starts at the South Bank and goes through Hyde Park and the West End, with stops along the way to take the ultimate #Christmas selfie. Book at www.londonbicycle.com.
The stunning harmonies of Bazil Meade's inspirational vocal troupe are guaranteed to give even the most committed atheist goosebumps. Their annual Christmas shows in Camden are always a sell-out. Jazz Cafe, 5 Parkway, NW1 7PG. 􀀀Camden. £21.50.
Mark Brenner
Explore the dark side of Christmas at the South Pole Saloon, a fabled site of Christmas-themed debauchery and whimsy brought to life by the creative team behind last year's 'Heartbreak Hotel'. Enjoy performance, music, food and drinks as part of a surreal festive experience like no other. Valentia Place, SW9 8JH. Brixton.
Acting legend Jim Broadbent returns to the West End this Christmas to play miserly moneylender Ebenezer Scrooge who is taken on a journey through Christmases past, present and future by a bunch of old ghosts. St Martin's Lane, WC2N 4AU. 􀀀 Leicester Square. £10-£60.
For more festive fun, take a look at our ultimate guide to all things Christmassy in the capital.
Or get stuck into London's best Christmas burgers.
And here are 11 scenarios to avoid if you're going Christmas shopping.