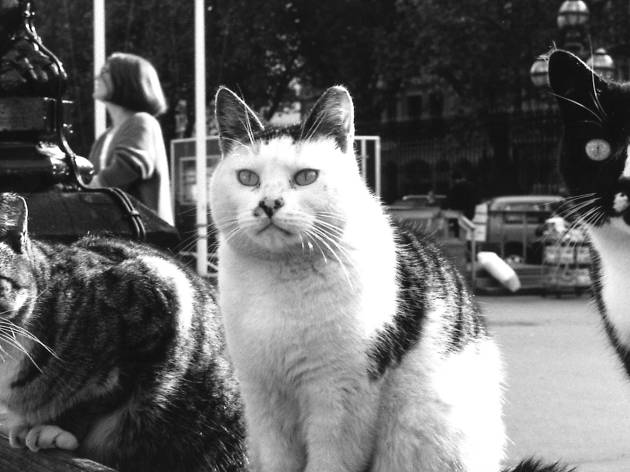 Did you know that the British Museum used to have cats on its payroll?
Posted: Friday April 28 2017, 4:03pm
Mummified Egyptian moggies aren't the only famous felines to have inhabited the British Museum. Back in the early 1960s, the place became overrun with a colony of real live stray cats and kittens that infiltrated the building and bred like crazy. The place was a pussy magnet, and these squatters were semi-wild. They scratched and hissed at staff, shat on important deliveries and were a general nuisance on the site for more than 15 years.
Records in the British Museum's archive contain reports of kittens being born in the loading docks and running through the books of the museum library. The staff were banned from feeding the illegal tenants, but they couldn't resist. Some were caught making 'cat warrens' out of the library books to ensure safe kitty-passage. At one point, there were as many as 100 prowling through the nooks and crannies at Great Russell Street.
The invaders were set to be exterminated, but were saved by the museum's cleaner, Rex Shepherd, who set up The Cat Welfare Society and had the strays safely neutered and adopted. The number decreased from 100 to six or seven museum cats who went on to become international celebrities. There was Suzie, Mike, Pippin, Wilson and Poppet, all under the care of Rex, who gained the proud title of 'The Cat Man'. For a crowd pleaser, he trained the cats to roll over on command (all you had to do was say 'sayonara') and made them Christmas dinner.
Throughout the 1980s and 1990s, the BM's cats became a serious tourist attraction. They were even on the museum's payroll. Their story became more elaborate by the day: A British newspaper published an article claiming the cats had developed super-intelligence from sleeping beside ancient Egyptian artefacts. And in 1993, the New York Times ran two pages on their pigeon-catching prowess (Pippin and Poppet had been known to nab the birds mid-air).
But as they all had their equipment 'fixed', these celebrity pets couldn't breed, and the cat population eventually disappeared. All that remains today is an old sign that reads: 'it's strictly forbidden to feed cats in this area'.
Why were they never replaced? Maybe it's just not practical to have a squad of tabbies rubbing their little faces against the Rosetta Stone and using the Lewis Chessmen sculptures as scratching posts. But if you ask us, London could do with a British Mew-seum revival.
Hear the full story of The Cat Man on the British Museum's podcast.
Main image: the British Museum cats Pippin, Maisie and Poppet.
All images courtesy of the British Museum.
Want more famous moggies? Take a look at our definitive Pet Power List.
Share the story