The weekend is in sight and it's time to start planning some fun. Here are our top four party picks this week…
I Predict A Riot
Drink, Shop & Do. Thursday.
Party like you just discovered MySpace with DJs Skanks and Goldbars, who'll be dropping all things indie, alt rock and dancey from the '90s to now. Expect the likes of The Cribs, The Coral, Bloc Party and Blur.
Read more about I Predict A Riot.
King Original
Village Underground. Friday.
Newham Generals' Footsie brings his King Original party home to east London for an all-night session of wall-to-wall grime. Expect beats, bass and bars from veterans and newcomers alike, plus one very special secret guest.
45 x 45s with Maseo
The Book Club. Saturday.
OMG – everybody's talking about vinyls nowadays! With record players selling like hotcakes and even supermarkets stocking records again, you too have probably got some vinyls. But you surely don't have as many vinyls as De La Soul's erstwhile DJ Maseo, who tonight plays an all-45s set. NB: never use the word 'vinyls'.
Percolate: MIND Fundraiser
Oval Space. Sunday.
This Sunday early-starter will be a secret guest fest, as DJs from labels like Warp, Ninja Tune, Feel My Bicep and more lend their services to raise money for Mind.
Read more about Percolate's MIND fundraiser.
And two essential events for your party diary…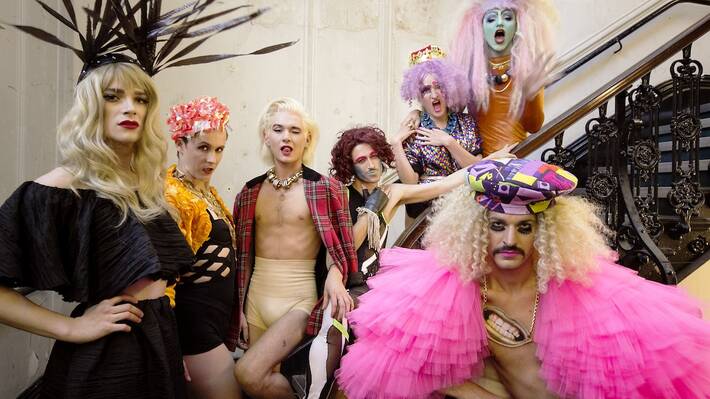 Sink The Pink © Charlotte Mayhew
Church of Sink the Pink
Troxy. March 12.
Hallelujah! Drag mavens Sink The Pink have come over all ecclesiastical for their first big ball of 2016. No communion wine here: it'll be a hot mess of pop, performance and glitter with a headline set by B*Witched. Make like Whoopi, dig out that wimple and get yourself to the church on time.
Read more about Sink The Pink.
Bad Company
Fabric. March 25.
Party like it's 1999 as the pioneering drum & bass super-group of DJ Fresh, dBridge, Vegas and Maldini make an unexpected return for one night only at Clerkenwell. It's the first time they've played together for ten years, so expect this one to be in demand.
There's plenty more after-hours action over at the Time Out London Nightlife page.